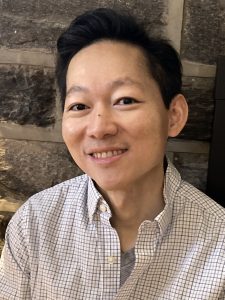 The tears started welling up as I watched another man drive off with my dog, Bewley. Bud, an elderly man, had come about an hour earlier to meet my dog. For three weeks, I had been meeting people, searching for a new home for Bewley. And while almost everyone seemed interested, I always hesitated. "The only way I'm giving him away is if I know for certain he would be in a better situation," I'd say to each person. A part of me hoped no good candidate would appear. Then I got a call from Bud. He told me that he was a veteran, long retired, and looking for a new dog because his beloved dog died unexpectedly about a few weeks before. He sounded heartbroken, and as he described his life, I felt a growing discomfort in my heart. I knew that Bud was the one.
***
When Heather, my wife at the time, and I first found Bewley, he was at a local shelter. I spotted him first. He was the only dog that didn't bark as I walked up and down the row. He had a beautiful coat mixed with dark chocolate, caramel, and white. He appeared about 50lbs, a mix of Chocolate Labrador and Doberman or Rottweiler. There was something regal about the way he stood—as if he were trained as a show dog. But he was not the dog Heather wanted; she wanted "Bubba," the Shi Tzu in the tiny dog section. Because we'd been looking for our first dog together for months, with several close adoptions, I'd relented and agreed on the tiny dog. The next day, Heather drove alone to the shelter with a new collar for Bubba. By the time she arrived, he was already gone. That's when she decided it was time to adopt Bewley.
Bewley was named after the road of our first residence together. The apartment was one of the few major decisions during our marriage that we instantly agreed on. We walked into the Bewley residence with the landlord, took one look at the built-in glass cabinets, turned to each other, and simultaneously said, "We'll take it!"
I was anxious and nervous the day I picked up Bewley from the shelter. While Heather had grown up with a dog at home, I had not. She grew up in rural, upstate New York in a white middle-class family. I grew up poor in Trenton, the son of Cambodian refugees and once had a stray kitten. So, when my workday was over, I scrambled to get ready for the big moment. I placed garbage bags over the seats of my new car and made an appointment to get Bewley professionally bathed.
When I arrived at the shelter, I filled out paperwork and paid the adoption fee. I looked at his biography and was reminded that his temporary name was "Malta," an awful name for a dog. There wasn't much known about his history; he was found abandoned in Chester, PA. I was worried he might have experienced some abuse, but he showed no signs of aggression during the times I'd visited him.
Getting him home, in retrospect, was easy. As we walked through the pet store, he seemed to love people, and they all adored him. And after his grooming, he smelled and strutted like a winner. I bought him a fancy bed. When Heather got home, she instantly fell in love.
We were only in our second year of marriage when we adopted Bewley and still figuring out how to mesh with each other. Our relationship had always had major challenges. During pre-marital counseling, the therapist suggested we reconsider our engagement. We had regular clashes. But we plowed forward, hoping that love would be enough. We were both twenty-seven. Maybe it was that I was graduating and starting my career and felt the pressure to lay down a foundation. Maybe she was tired of living with her older sister and wanted to chart her own path. For many years after we separated, I turned the questions of our marriage over and over like a rosary that I'd hoped would give me a divine answer.
The first few weeks with Bewley were extremely difficult for us, particularly me. The expensive bed I bought him lasted only two nights before he chewed out the stuffing. He would try to hump everything in sight, which I found odd. Heather worked long nursing shifts at the hospital three days a week, and, on those days, I would drive home in the middle of my workday to walk him and then head back to campus. It grew increasingly stressful.
We decided to crate Bewley. As he adjusted, he'd bark at night. In our tiny rowhouse, that meant he ended up in the basement. He had been so quiet in the kennel—it was one of the main reasons why I liked him. I felt betrayed. I tried to comfort him, even singing to quiet him. One night in the bedroom, while Heather read a magazine on the bed, I brushed Bewley on the floor. I was so frustrated, I blurted, "I don't know if I can keep doing this."
She came down on the floor and started petting Bewley. "I know," she said. "I can see you're trying."  Her voice cracked. "But if it's too hard for you, we can take him back."
This felt like one of my first great challenges as a husband. I had made a commitment to Bewley and the thought of quitting on him after one month made me feel like a failure. I'd understood that getting a dog was one of Heather's non-negotiables when we discussed marriage. There was no guarantee that another dog would be an immediate improvement, and I held out hope that Bewley could be better. "No," I said softly, "We can't do that. I'll find a way to make it work."
The scariest thing about him was his aggression. Typically, he was playful but nondestructive (aside from his beds). But he had this other side. Two things riled him up: certain dogs and men. A veterinarian estimated Bewley was only about two-and-a-half. It was a mystery what kind of treatment he received in his early stages. He could have experienced abuse by other dogs or people and any reminders would retrigger rage and fear. I felt the power of it once when I was walking with Bewley at my side. A man strolled by and Bewley lunged at this man with such ferocity and anger that I thought he would tear the man to shreds. The only things that spared the man were his own reflexes and the length of the leash, which choked the dog as he fell to the ground. I repeatedly apologized as the man walked away with a horrified face.
After this and regular dramatic confrontations with other dogs during our daily strolls, I grew committed to changing this behavior. I researched various training programs. The trainer that fascinated me the most was Cesar Millan. I read his work and watched episodes of "The Dog Whisperer" in which he starred and featured dogs far worse than Bewley. I admired Millan's ability to rehabilitate the fiercest dogs. His simple philosophy of "exercise, discipline, and affection" became my mantra.
I started walking Bewley "the Cesar way," which required strict obedience and a short distance between owner and dog. By controlling Bewley's head, I'd control his attention and keep it on me. I'd practice starting and stopping, restricting bathroom stops, and having him wait or even submit when another dog walked by. In essence, I was trying to focus on his discipline. And this worked, mostly.
Then Heather got pregnant. Two years later, we had a second child.
With two kids, a full-time job, and a working wife, being Bewley's main trainer lost priority for me. I always wanted to be a father—that was my non-negotiable. I delighted in watching Sovi and Asher crack their first smiles, take their first steps, and go through each phase of early life. I had very little time for Bewley. And so did Heather.
When we agreed to get a dog, there was this understanding that Heather would be the primary caregiver. She was the dog-lover, after all. However, since Bewley had this aggression I was hell-bent on fixing, I became more involved than planned. Heather enjoyed Bewley, and they had a very different kind of relationship. She was the good-cop; I was the bad-cop. But she didn't do things I'd assumed she'd do, like groom him regularly. It seemed she loved loving a dog but not caring for a dog, and I started to resent her for it.
One breaking point for me occurred when we moved to the suburbs and obtained a real backyard. Early on, I started noticing dog droppings under our holly tree near the fence at the property line of our neighbor. They had two dogs and a concrete yard with a tile pool. They had a habit of letting their dogs do their business until they couldn't safely walk around it. Only then would they clean up. So, I'd see the dog poop under our tree, look at their yard and conclude: the neighbors were throwing the poop into our yard.
"How could the neighbors do that!" I said to Heather.
"I know," she said, "it's so gross."
It kept happening. Bewildered, I finally decided to confront the neighbors. That got Heather's attention, and she confessed. Since we now had a yard, she started letting Bewley use it as a bathroom instead of walking him around the neighborhood as we had agreed. I felt betrayed.
The new house was outdated, so we went through renovations of the kitchens, ceilings, walls, and floors. I spent many hours pulling out every single nail and staple left over from the carpets I had removed. And when I refinished the floors, I wanted to keep them that way. The great antagonist to my newly surfaced floors, however, were Bewley's nails.
Sovi and Asher were three and one-and-a-half when we moved into the new house. We'd increasingly become worried about Bewley accidentally hurting the kids, so we'd often gate him in another room. He'd spend much of his time away from the rest of the family. The weight of married life with children increasingly sucked much of the joy of owning a dog. And it was increasingly making for a sad and frustrated dog.
We kept on plodding along for several months until the day Heather broke. "You need to find him a new home," she said to me on the phone. "He growled at one of the children. I don't feel safe with him around them."  I had recently contemplated that idea myself but was stuck on that commitment I made four years earlier. I never imagined that Heather would be the one to ask for Bewley's removal. I was sad, but I reconciled that if I could find Bewley a better situation I would do it for everyone's sake.
***
Bud and I spent about a good hour talking about life, our families, and his experiences with dogs. He looked to be in his late-sixties or early-seventies, tufts of silver hair sticking under his military baseball cap. He had a leather bomber jacket on, and in his hands his own dog leash. It was much longer than the ones I used. "I have a huge property," he said. "I love taking dogs on long walks and giving them enough slack to let them explore."  He and Bewley hit it off right away. Bud loved Bewley with the intensity of a man who had recently mourned the death of his own. I felt a peaceful sadness as I handed Bewley over.
With my phone, I took a picture of them that is frozen in my mind, of Bud in his black pickup truck with Bewley in shotgun, without any awareness that he was leaving our family forever. Heather was at work that morning; the kids were in daycare. I didn't even have the heart to tell the kids beforehand. As Bud backed down my driveway, Bewley's face tilted, as if he was realizing something amiss. When I watched them turn off onto the street, I imagined Bewley jumping out the window and running back toward me.
I ran back into the house and wept. I started putting away items in the basement that Bud had declined. I felt Bewley's presence more than ever before, seeing his head appear in the basement window, and imagining him sleeping in the kids' beds, which I would have never allowed in real life.
It wasn't until years later that I realized that day was the beginning of the end of my marriage. It became easier to let the seams fray. Surprisingly, Heather was less distraught than I was about Bewley's departure. Probably I'd made the environment so miserable for her that she simply lost the joy of having a dog. I don't remember seeing her cry once about him. Likely her goodbye was a slow one that had taken place long before mine. The sad truth is that in the weeks following his departure, we knew we had made the right decision—a great weight had been lifted—and we took comfort in knowing that he was in a better situation.
Bud twice brought Bewley over to visit over the following two years. By the second time, Heather and I were living apart. Bewley was almost ten and no longer had his youthful energy. He had silver patches in his coat. Yet he remembered the tricks I taught him, such as standing on two legs and begging for treats. I had memories of taking him for long walks with Heather, when we sometimes would let him off the leash in the middle of the woods and he'd bolt around. Watching him run carefree brought a smile to my face. It was one of those rare moments where I'd let my real affection for him show. I was only good at two of the three pillars of Cesar's Way: exercise and discipline. I was never so good at affection—with Bewley or Heather. In that way, I failed them both.
The last time I saw Bud and Bewley, Bud struggled to walk up my stairs. This was partly why I stopped reaching out to him. I wanted him to stop feeling obligated to me. But over the years, I have thought about both of their advancing ages, and if perhaps Bewley may need my rescue again. I've imagined him living with me. And from time to time, I think about reaching out to Bud to see how they are both doing, but I always stop short of sending off a message.
---
Pol-Paul Pat is currently working on a novel about Cambodian Americans set in the Philadelphia area. He earned his MFA from Penn State University and teaches English composition and creative writing at Delaware County Community College in Media, PA.