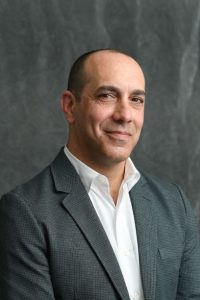 Four maple shelves sit on black metal brackets along a wall in the kitchen of my family's Fairmount home, nestled between two windows that let light into the rear portion of the house. My brother built them from a tree that was cut down on his property in West Virginia. They were installed recently, not long after we moved in, but they look like they have been there for a long, long time.
Before relocating to Philadelphia in the middle of the pandemic, my husband Patrick and I lived in Seattle. East coast transplants to the Pacific Northwest, it was where we lived for almost three decades. We met and were married there. It's where we adopted our two kids, and where they grew up. It's a place we called home.
When Patrick and I first considered buying our Seattle house, the kitchen was the biggest drawback. It was small and boxed in. For two people who love to cook and enjoy entertaining, we worried it just wouldn't work. However, that was the only real issue with the house. The location was convenient, it was newer construction and in decent shape, and our kids each had their own room plus there was a spare room for grandparents and other visitors. Our real estate agent helped us imagine remodel opportunities, so we looked past the one glaring deficiency and bought it.
After a few years, the renovations began. Walls came down. A main floor powder room was removed. A local carpenter crafted custom cabinets and fashioned a twelve-foot island, topped with a single piece live-edge counter cut from a monkeypod tree. A local furniture design studio built a solid, oversized dining room table made of metal that sat on repurposed legs from an old lathe.
For two years we were able to spread out, welcoming friends and family to join us at the island while preparing meals and drinking wine. We crammed as many as we could around the table, tucked into a built-in bench or on extra stools and chairs we pulled from all over the house.
Thanksgiving dinners. Christmas Eve celebrations. Wedding and baby showers. Game nights. Fundraising events. Happy hours near the fire. Annual farm-to-table dinners. Birthday parties.  Date nights. Weeknight family dinners. Our Seattle home saw it all.
Around our table we welcomed friends we've known for years, sharing stories we told and retold countless times, and still, our laughter increased with each retelling. There were intent conversations with other parents who were meeting the challenges of parenting while trying to remain sane, and we listened, commiserated, and supported one another as best we could. New friends became good friends over a Sunday brunch. Good friends reconnected over drinks and games late into the night. Anyone who wanted was welcome to stay in the guest room or on the couch in the basement. Coffee was plentiful the following morning.
And then the pandemic struck. Patrick tested positive for Covid-19 just as the lockdowns started, and days later so did I. That same week, Patrick was offered a job at the University of Pennsylvania. Within two months, we sold our house and were ready to move.
In a flash, boxes were packed, travel plans made, and we closed the door on that remodel, completed with such diligence and care, our dream kitchen, perfect in so many ways. Now someone else would celebrate there. Thanksgivings and Christmas Eves and date nights that we had initially imagined for ourselves were now destined for someone else. We drove away from the home we loved, a home I was convinced we would never sell.
We arrived in Philly in July of 2020. Bought a house. Settled in. The kitchen here is fine. Not cramped but nothing we would have dreamed up for ourselves. It does open to the dining room and also onto a back courtyard, where we tentatively hosted family and visiting friends when the Covid-19 rates and vaccines allowed. We toss out ideas to one another about how we might remodel to make things better. But for now, it is good enough.
The kitchen shelves remind me of the island from our Seattle home, but they are something all their own. They're stacked with plates and glasses and cookbooks, convenient for unloading from the dishwasher and setting the table. The plates and glasses and books came with us from Seattle.  It's strange to see them here, and also comforting. Patrick thinks we need to buy some new glasses, but I am reluctant to let these go. It helps to see these, reminders that although some things change, not everything does. Or has to.
We've cooked two Thanksgiving dinners in our new kitchen. Last June we hosted family to celebrate our daughter's graduation from high school. New neighborhood friends have come over for happy hour, and Zoom happy hours continue our connection with friends in Seattle. During the shut-in months of last winter, we held weekly video meetings with my parents and brother in an attempt to shore up one another's spirits. Eating around our own tables in our own homes, we laughed, talked about politics or books, and dreamed up travel plans for when we could see one another again.
My sister-in-law Krista says our house feels warm and comfortable. That makes us happy. It is nice that she and her family can easily drive from Long Island for a day or a weekend. Another sister-in-law Patrina and her family are just a quick drive out the Main Line. We have had more grandparent visits in the past year and a half than the previous five years. It is a gift for our kids to connect more easily with their cousins. It's also a gift for us to build closer connections with our parents, siblings, nieces, nephews, and East coast friends.
And yet–I miss Seattle with an ache so deep I sometimes question the wisdom of our move. The feeling reminds me of the sadness that settled in when I returned to Seattle after a visit to Buffalo, where I grew up. For days, I would think to myself, "You are so far from home." But after many years, it was Seattle that became more familiar. We learned neighborhoods like the back of our hands. We had favorite stores, cafes, restaurants. Our friends became family and our family members became their friends as well. Our bonds with colleagues deepened over the years as did our kids' connection with their biological families, most of whom live in the Pacific Northwest.
The sun shines here, not always, but certainly more than it did in Seattle. When it did shine there, the view from our living room window was west toward the Olympic mountains, snow-capped, imposing, and eternal. Nothing compares with riding along Lake Washington on one of those days, sailboats gleaming white out on the water, Mt. Rainier towering in the distance. My bike rides here–along the Schuylkill River, up to Wissahickon Park, and back along MLK Boulevard–remind me of those rides to Seward Park and back. On the way home, the sun sets here just the same, off to the west in shades of orange and rosy pink.
Our lives were there and here, and now they are here and there. We have always been a bicoastal family and that will continue. We will travel back and forth and back again. We won't be surprised if one or both of our kids returns to Seattle to again call it home. We wouldn't rule out returning ourselves at some point.
There's been much discussion of home throughout the pandemic. As the places we eat and play and sleep became where we also work and go to school, many of us felt trapped in our homes. Others found new comfort there, the safety and security of a place that kept the disease at bay, a slowing down from an often-hectic place, a sense of peace. For too many, the financial struggles that went along with the pandemic have made finding or keeping a home especially difficult.
Poet and author Maya Angelou once wrote, "I long, as does every human being, to be at home wherever I find myself." It's the longing that I both identify with and hope to more fully understand. How can I be more entirely present in this city where I need to make new friends, learn new roads, understand new customs and norms? When will I feel rooted? How long will it take? What does it mean to be at home?
Last weekend I made a cake, a new recipe, and as it baked, a cinnamony warmth filled our home. Our neighbors came over later in the day, and we went up to the roof deck, watching as the sun sank behind the city. Blue sky turned orange and pink and gold along the horizon and a few stars twinkled on. Everything seemed to glow. We laughed and got to know one another a bit better.  We toasted one another. When we were done, we all made promises to do it again soon.
---
Christopher Drajem is an educator, writer, and LGBTQ+ advocate. He has taught high school English, mostly in the Pacific Northwest, since 2000. His 2019 collaborative memoir, written with his mother Linda Drajem, is titled Wandering Close to Home: A Gay Son and His Feminist Mother's Journey to Transform Themselves and Their Family. Christopher currently lives in Philadelphia with his husband Patrick and their two children.