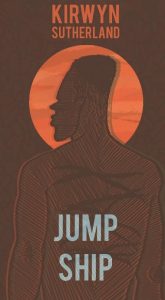 Some of the feelings within a Black life cannot be easily expressed; they contradict each other. Sometimes a person wants revenge against the oppressing majority, and other times, they seek assimilation. Despite the difficulty of translation, Kirwyn Sutherland's Jump Ship illustrates the triumphs and torment of Black people in America.
Sutherland is a poet based in Philadelphia. He has published two chapbooks, X: A Mixtape and X: A Mixtape Remastered, has written book reviews for WusGood magazine, and has poetry published by Tobeco Literary Arts Journal, Drunkinamidnightchoir, APIARY, and Public Pool. Jump Ship's illustrations are by visual artist and DJ Oluwafemi.
Jump Ship reveals the mental conversations Black people have with themselves about difficult subjects. The poem, "The Email Said" shows the hidden frustration Black people have when forced to code-switch. "Assimilation" details the mind and the fixed smile of a man who tries to conform with racist coworkers. "Taunts to the Klan" is a proclamation of pride and glee to spite racists.
Like a mind racing, Sutherland's poems read quickly. He does this by using slash marks in some poems and all caps in others. "The Email Said" uses repetition to create speed.
talking to the wall about
what you would have said
to the 'next person
who spoke so well
of your "speak so well"' (16-17)
In "Assimilation," Sutherland creates speed with imagery:
When I heard my co-workers say nigger
It almost knocked the whiteness
out of me but I caught it with my
fist and prayed whiteness wouldn't confuse
the grabbing for a power move (13-15)
"Assimilation" is also notable for its references to pop culture: an epigraph says it is inspired by Sarge from A Soldier's Story. Another poem in this collection that talks about conformity, "Uncle Tom's Redux," calls out Kanye West, Steve Harvey, and others for selling out their Black pride. The references in Jump Ship make it timely and relatable.
"Taunts to the Klan" uses speed similarly to "Assimilation"; both use description to create intense situations. But thematically, the poems conflict. The narrator of "Taunts to the Klan" can spot a closet or a proud racist within seconds, but the narrator of "Assimilation" wishes to fit in with the racists around him, so much so that he maligns his Black co-worker. Black pride and self-doubt, ideas like these are explored in Jump Ship.
Some poems use slash marks as well as line breaks to affect pacing; others use capitalization to affect the volume and intensity of specific words or phrases. Most of the poems manipulate their speed in some way, leading to a reader feeling impassioned. These poems are not contemplative gazes at nature; they're a door kicked off its hinges. They're shouts of pride and wails of agony from centuries of torment.