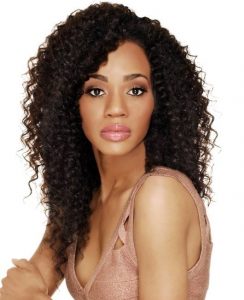 Elizabeth did the best she could to make ends meet. There were times she'd pay the light bill and times the lights went out. Sometimes we had a place to stay, other times we had to flee in exodus. Those times, I could never bring more than I could carry. We'd get to the apartment of some new artist boyfriend of hers that I had to call "uncle" so and so, and he was gonna take care of us, but it never lasted for more than a few months. We always outstayed our welcome.
I always assumed my father was one of the many artists she had lived with. I had no pictures or physical description, just the drunken ramblings of my mother yelling in an ear-piercing tone that I "looked like that motherfucker." I remember going through a phase where I studied every brown-skinned man on the street and wondered if he was my father.  His name did not appear on my birth certificate, so all I could do was wonder.
When I was around eight, she settled with Fingers, a pianist and singer.  She followed him from gig to gig, usually stumbling home in the early twilight hours. A tap at my feet would signal their return, and I'd awake to see his tall, dark figure standing over the bed.  All I could see were his eyes in the moonlight and the red-orange of his cigarette dangling from those curving dark-colored lips. I was forced to sleep on the couch in the living room.
I used to share the same bed with my mother, sleeping on her right side, while her night guest laid to her left.  Until one evening, Fingers got mad and shouted, "When is he gonna get a bed of his own?" Ever since then, I was forced to sleep on the lumpy old couch in the living room.  I hated laying there alone in the dark while he enjoyed the comfort and warmth of the bed and my mother's affections. Watching from the crack in the door as their bodies merged in the moonlight, I'd see how he held my mother, and how she looked at him. Fingers would call her "Baby," and he'd sing to her.
In the morning, I'd have to tiptoe past their sleeping half-naked bodies, with the fragrance of cigarettes, liquor, and sex stinging my young nose. Forging my way to the bathroom and stepping on their carelessly flicked cigarette butts, together with empty bottles of Night Train lining the threadbare carpet. This became a part of my morning routine. Fingers would usually stir a little when I closed the door after having used the bathroom. He'd rub his eyes, smile dryly, and say something like, "Hey little man." I'd scowl at him and walk back to the couch, wishing he'd leave so I could sleep comfortably.
When Fingers slipped out the front door in the morning before mom could prepare breakfast, I could hear her quietly sobbing in the bathroom. When she finally made her appearance in the living room, she'd push a bowl of cereal towards me.
As Fingers and Elizabeth's relationship progressed, there would be weeks Elizabeth wouldn't come home and I'd be left alone to fend for myself with nothing but liquor bottles in the apartment. Eventually I found my solace in those bottles. I'd sit in the living room and drink until I passed out, my little body numb to the reality of neglect. While alone, I began to channel my thoughts into a black and white marbled composition book, waxing poetic about the things that didn't make any sense to me, about not knowing my father, about how poorly Fingers treated Elizabeth, and how I wished for a place to call a permanent home.
By the end of the year, Fingers stayed with us. I stayed as far away from home as possible. I passed the hours after school in the library, meandering through the art section, falling in love with the surrealism of Dali, the artful graffiti of Basquiat, and the collage of Romare Bearden. I began to see my world of abandoned buildings and liquor stores in geometric patterns. I began drawing and sketching this world in a spiral pad, seeing the images before the pen ever touched the paper. I consumed the writings of Richard Wright and listened to the sounds of Gil Scott Heron and The Last Poets. I was in the library until they kicked me out.
Elizabeth and Fingers were up nights talking about moving to New York. Fingers said he was tired of taking the Chinatown bus.
"Nobody ever made it big in Philly," he told my mother.
A few weeks later, my mother told me that we were moving. I didn't bat an eye. I got up from the couch and started the familiar ritual of shoving my clothes into my duffel bag. Moving in with Fingers would be just another of our many relocations.
"What kind of dump he taking us to?" I asked.
"Baby, there ain't no place for you where we going." I walked down the stairs with my duffel bag and waited for Fingers to start up his Monte Carlo.
I hopped in the back, not sure where I was going. Fingers looked at me through the rearview mirror for a while. I wasn't about to give him the satisfaction of seeing me cry or asking my mother to pick me over her lover. Elizabeth sat in the passenger's seat and remained silent as the car went down Grays Ferry Avenue.
---
Pietra Dunmore's writing has appeared in Rogue Agent, Penumbra, Causeway Lit, Pine Hills Review, Rigorous, and Hippocampus Magazine.