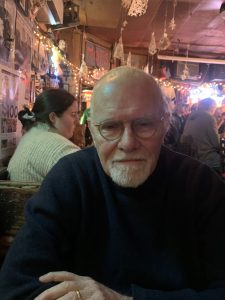 I cannot stop the world from burning
But I can add extra bittersweet chocolate
to the flourless chocolate cake, dressed with strawberries,
topped with coconut whipped cream.
I cannot replace the mounting loss of plumage,
of song, of calls.
But each morning we can enjoy the songs of the sparrows
as they squabble over breadcrumbs in the backyard.
I have no red button to stop the accelerating melting
of Greenland's ice sheet into the ocean
I can pull my pants over my belly button,
slide my glasses down to the tip of my nose,
walk with a slow shuffle into your studio
mumbling my nonsense Danish, just to make you laugh.
We can decide what can happen for us in the moment.
I can take your blouses from the dryer, iron them—
better than the Dry Cleaner—place them on hangers
put them in your closet.
---
Charles Carr, a native Philadelphian, was educated at LaSalle and Bryn Mawr College and holds a Masters in American History. In 2007, Charles was The Mad Poets Review's First Prize Winner for his poem "Waiting To Come North." Charles has two published books of poems, paradise, pennsylvania and Haitian Mudpies And Other Poems. Charles' poems have been published in various print and on-line local and national poetry journals. He is host of Philly Loves Poetry a live monthly broadcast on PhillyCAM. Charles has also hosted a Moonstone Poetry series at Fergie's, and Charles has been the host of Philly Loves Poetry for six years.