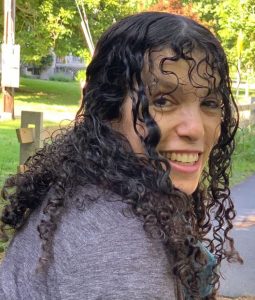 Just off Valley Forge Trail, a casino rises. Weather resistant and waterproof. Abundance and opulence atop acres of historical plots. Promiscuous promises of prizes and dry spaces. I enter—seeking refuge from a cold rain. My pockets are heavy of coin and hopes for change. The allure of games of chance and, perhaps, artificial sweeteners enhance the experience. All patrons are dutifully checked. ID please, the guard says. While his senses appear dulled, mine fully engage. I consume the ambience. Soldiers in all corners. Clocks remain on a perpetual pause. Landlines disconnect. Cunningness on LED-lit displays. Cells turn off. Slots ping on. Souls in rubber soles shuffle. Like Washington, a Sheraton once called this lot home. As I wander the carpeted floors (Berber with patterns of rectangular firs), I think of bar and bat mitzvahs of decades past. Post sanctuary parties housed in suburban hotels turned arcades. Pre-teens in Lycra and lace dresses at the buffet. Pomp and circumstance. Pay to play charades. Bright lights. Grand gestures. Trades on replay. High-heeled black patent shoes swapped for low-rise cotton socks. No coins needed.
Now grown, unfamiliar faces in familiar clothes feed machines and fuel memories. Rows of fruit-bearing slots smile. Heavily glossed lips and scantily clad hips pull levers, across multiple levels, in the grand hall. Games of war replicate a mere stone's throw (aka diesel engine and Wawa-fueled hop, skip, and jump—no pun intended) from Revolutionary War quarters (both shiny metal and Washington gray). Dealers dazzle in smart black-tie attire. Cashiers exchange chips for currency. Like gravy on Thanksgiving, stakeholders seek to smooth lumps and avoid unexpected truth dumps. False stories on full LED-lit display. Bravado and brakes on delay. Some slots promise apples—in both bushels and barrels. Others taunt lemons with powers by the dozen. Truth be told, it's a losing game. Washington chopped the tree. Cherries dropped at his feet. Casino floor plots share similarities. Mt. Vernon a shade (and shadow) of Valley Forge. Both battlegrounds. I wonder what Washington might say if I told him of what would come—the freeway, towers, and artificial flowers. The casino living on luck and a prayer. Poinsettias and pomodoro timers planted and plucked. A place where dusk blends with dawn. Silence in most corners. Charlie Chaplin as much a Founding Father as the Washington brigade.
I hear the casino is expanding. The surrounding area making gains in ways Washington might relate. King of Prussia on steroids. A modern-day encampment. Rooks and guards stand ready, eager to stake a claim in this allegedly impressive feat. Players in a game of smiles and nods (give and take). We're a democracy, Washington whispers. As big-boxes and bandstands bounce corner shops and convictions, I retreat. Retrace my steps. Shoulders at rest. Past the tables – all cards on deck. Past the slots – all marks made. Through the oversized concrete lot. Up hills. To Washington's Valley Forge encampment. A man sleeps on a bench. The log cabins cold this time of year. The sod still damp. I find a tree and sit—just beyond the cabins where souls in rubber soles wept. Stacked and stocked on wooden cots in vertical fashion. A man hikes. A biker sings. I trade seats with a white-tailed deer. Toss tokens—heads or tails. Wait for cherries to drop.
---
Jen Schneider is an educator who lives, writes, and works in small spaces throughout Pennsylvania. Recent works include A Collection of Recollections, Invisible Ink, On Habits & Habitats, and Blindfolds, Bruises, and Breakups. She is the 2022-2023 Montgomery County (PA) Poet Laureate.