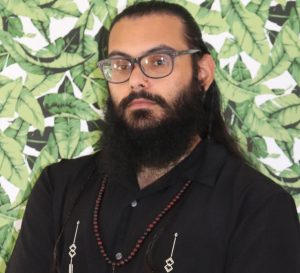 The city is alive with boom bap.
Utterly defibrillated with a bass
even alley cats can't ignore.
Car alarms set off several blocks away.
A welcoming of a foot pedal growing louder.
The clout is in the approach.
When this sound tornadoes down
every block, cutting around buildings
entering through a perchance open door
and slipping out the back window
like a secret lover hearing the
beep of a spouse's car in the lot
it vibrates to the beat
in our chests, a palindrome'd
thump-tha-thump, thump-tha-thump.
Where questions like, "Why did
the poet cross the road?" and side door
sound systems respond, girls dem sugar.
A childhood crush soon after singing
if I can be your girl is the wish
but game is weakly spit
when the Escalade approaches
beating down what's left
of ambient noise.
*italicized lines are borrowed from the 1999 dance hall hit, "Girls Dem Sugar" by Beenie Man featuring Mya
---
Dimitri Reyes is a Boricua multidisciplinary artist, YouTuber, and educator from Newark, New Jersey. Dimitri's book, Every First and Fifteenth (2021) is the winner of the Digging Press 2020 Chapbook Award and his poetry journal, Shadow Work for Poets, is now available on Amazon. His forthcoming book, Papi Pichón, will be published in 2023 by Get Fresh Books. Some of his work has been nominated for a Pushcart Prize and Best of the Net and you can find more of his writing in Poem-a-Day, Vinyl, Kweli, & Acentos. He is the Marketing & Communications Director at CavanKerry Press. Learn more about Dimitri by visiting his website at https://www.dimitrireyespoet.com/.