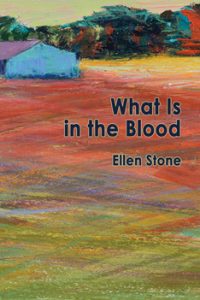 Ellen Stone, What Is in the Blood. Mayapple Press, 2020
If it is true that a humble upbringing can inspire lasting impressions in the soul of a poet, Ellen Stone's What Is in the Blood bears this out. This two-part collection of poems compassionately portrays the sensitive issue of bipolar disorder, an illness little understood in the 1960s and 1970s.
The reader is immediately introduced to the mother's mind and connections to the family, their environment, and nature. In the first two lines of the first poem, "My Mother's mind," Stone informs the reader "She doesn't remember how she lost it/We were young and needed her" (5). The trappings of daily life and nature appear several lines later, respectively: "Greasy stove/cluttered counter" and "lit shards of kindling…watching wood turn into space."
There are moments of imagination throughout the book, of the whirlwind of better days without melodrama. "My parents' hands" (8) sets an early tone of the dynamic of Stone's mother and father. Her father is distant, unaffectionate, seemingly in denial of his wife's illness. Her mother appears in nearly every poem, if not directly, then nuanced. A woman whose central role in keeping the family intact erodes before our eyes. A grandfather appears bent on attempting rote order, a futile endeavor toward cohesion.
The poetic forms range from couplets to numerous single stanza/several stanza arrangements. Some exist as prose paragraphs. Odes to the inanimate: the lawn sprinkler (47) and the blow-up pool (48), provide a bit of humor and nostalgia to the text. The sprinkler is described as a "Receptacle of arms, circulating/whirl-a-gigs, spreading over vacant thoughts." The pool (48) "My American dream for under $9.99 I want to unwrap you even now, so rainbow, so bathtub in the yard." There are epistolaries to the pool mentioned above, the garden shed, one directed toward Despair. Stone's mastery of imagery and cadence pulls the reader close to her. At moments my reading presence seemed intrusive; for instance, there is something intensely personal in "Driving to Galesburg" (44), as I read "frayed mane, tail glowing behind [her mother] like a flag, or some kind of signal." Stone held my attention in the crosshairs of her word choice. There are line twists that can leave the reader in a quandary of whether they missed something, as in "The psychiatrist talks to the family (1968)" (9):
Our mom would not be coming home with us,
We were young in a world of holes and doubt.
The shift harkens back to the intended effect that life as the family knew it was about to change irrevocably.
The before and after time frames weave among the pages, with nature as an anchoring force. Nature is used here not as an adversary but as a grounding point. Not as indifferent but different as circumstances proceed; by doing so, it guides the reader in theme recognition. Those themes include loneliness, separation within the household with the parents' divorce, and her mother's relocation to Boston, and the methodical gravitation toward the inevitable while still seeking hints of normalcy from the once mundane routine of life.  Themes further extend to the formation of Stone's feminism; insightful, not overdone. Stone expresses disillusionment that Jesus had worked so many miracles but did not rescue her mother. Every moment toward what cannot be stopped is captured by Ellen Stone with her butterfly net, landing on each page, pain-pinned for posterity.