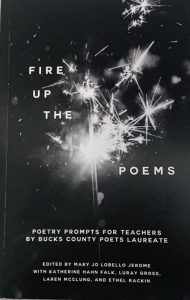 Fire Up The Poems [Bucks County Poet Laureate Program, 2021]
With the return of in-person learning in American classrooms, teachers will confront a challenge they haven't faced since the COVID-19 pandemic began: galvanizing students in a live classroom. But thanks to the generosity of Bucks County Community College, there is hope. Conceptualized by Mary Jo Lobello Jerome, the 2019 Bucks County poet laureate, Fire Up The Poems is a teacher's handbook for engaging students in poetry. Each prompt is written by a different Bucks County poet laureate. The book offers no shortage of support: after the book's publication, all BC teachers received free copies from the college and the college's poet laureate program hopes to create a PDF and an audio version to reach a wider audience.
Fire Up The Poems has concise introductions, poems, and instructions in each of its prompts (often three pages maximum). Anyone can read it and learn techniques to improve their poetry, but the handbook's true gifts are for teachers. The instructive sections, titled "Start Writing," prepare readers, teachers, and students to answer prompts with methods like asking questions or pointing to certain media to research.
In her prompt, "Letting Your Spirit Out!", 2005 Poet Laureate Patricia Goodrich explains how to teach her prompt to a class: "Before class, cut up hundreds of words. This could be a student or teacher pre-activity…In class, pass around a basket filled with words. These are the words that will help you find your own poems," (26). Goodrich concludes by explaining the ways students could share, like reading aloud or remaining anonymous while a teacher reads their work.
Prompts in Fire Up The Poems can be categorized into different styles and activities. There are prompts about literary techniques (Anaphora, Assonance, Consonance), memory, (The Risks and Rewards of Resonant Particulars, Glimpsed in Passing, The Road You Have Taken, etc.), research (Tattoo Talk, There's a World Out There, Discover a Poem in The Dictionary, etc.) and more. Research may seem difficult to teach students learning poetry—they may be easily distracted, but in her poem, "The Poem with the Teensy Tattoo," (11) 2002 Poet Laureate Luray Gross shows research can be fun and achieve fun results:
The poem with the teensy tattoo
you'll never get to see talks big
but keeps her private matters
private.
…
She let her pigtails jounce
as she skipped rope
in a corner of the playground.
Bent over her library book,
she felt them fall over her shoulders.
Gross explains this poem came to her after a tattoo conversation with a friend. In her "Start Writing," section, she suggests that students supplement their writing with research on tattoos. She points to an article from the Smithsonian magazine that says humans have marked themselves in tattoos for thousands of years. She further suggests analyzing specific tattoos and seeing what emotions they conjure in students. By using interesting facts and evoking the emotions of students, research becomes a fun tool. And like all tools, research can be used in multiple ways for multiple purposes.
As a handbook to pick out concise poetry prompts, Fire Up The Poems functions very successfully. The book is also enjoyable when read cover-to-cover, though the pace is slower when read this way. Having been written by different poets, the writing style of each prompt is unique.
With concise instructions and rules that can be adapted to fit any classroom scenario, Fire Up The Poems offers varied and exciting resources to teachers in need of engaging poetry exercises.