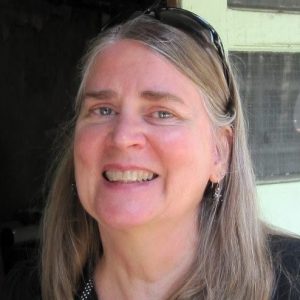 This year's virtual Push to Publish Conference will include all of the great tips, trends, and connections that writers have gotten from this popular, in-person event—but now from the comfort of your home. Below, we talk with Alison Lewis, the editor-in-chief and publisher of Frayed Edge Press. Alison will be participating in Push to Publish as a speed date editor.
PS: Tell us a bit about your background and what you're doing now.
AL: I've always been a voracious reader and have multiple English degrees. I've worked professionally as a librarian and a college professor, but I'm happy to be doing all publishing-related things now. At Parlew Associates, I help provide editorial and pre-press services for authors and publishers. I find it gratifying to fill in gaps for small presses that need extra help, and to aid authors in improving and professionalizing their work. As publisher and editor for literature at Frayed Edge Press, I'm excited to work directly with authors whose work we believe in, and to see their manuscripts grow into fully-formed books that they can be proud of.
PS: How did you get into publishing?
AL: I started out in publishing by helping out a friend who founded a small academic press. My background in English and attention to detail proved to be useful and I started getting paid for my work. In 2015, I co-founded a company to expand upon what I was already doing, and to provide services to other publishers and directly to authors. Three years later, we started Frayed Edge Press in order to publish the kinds of work we were most interested in.
PS: What trends are you seeing in the publishing industry?
AL: The dual trend of consolidation and expansion: fewer "big" publishers consolidated at the top, and more small presses, "indie" publishers, and self-publishing authors expanding at the bottom. The continued dominance of Amazon as a gatekeeper for publishing, while at the same time there is an increasing number of interesting alternatives to Amazon springing up. The saturation of the market and the ubiquity of electronic tools and the internet making pirating rampant both impact the ability of publishers and authors to be paid fairly for their work.
PS: How do you think the publishing industry has changed since the pandemic?
AL: We're scrambling to find new ways of promoting books as in-person readings and author events are largely impossible right now. There has also been a negative impact in terms of bookstores and distributors losing business, or going out of business entirely. Many publishers have cut back on the number of titles published and/or slowed down their production schedules. On the more positive side, there's still a healthy interest in reading and I've personally felt more of a need for reading as a means of "escape" these days. A lot of people stuck at home are in need of a good book!
PS: What do you think writers should avoid when approaching editors or agents?
AL: Avoid sending proposals for works that fall outside of our submission guidelines. When you send something that is in a genre we don't publish, or that doesn't meet the criteria for a particular series, you are wasting your time and ours. Avoid sending writing samples that haven't been at least minimally proofread. No one expects a manuscript to be "perfect," but multiple glaring errors show a lack of care and are a red flag for most editors and publishers.
PS: What other advice do you have for writers looking to get published?
AL: Be patient. Try to find the publisher that's the right "fit" with your work. Know that rejection of your work is a necessary part of the business and often is reflective of factors other than its intrinsic merit. Keep writing, seek out helpful feedback, and continue to grow and improve as a writer.