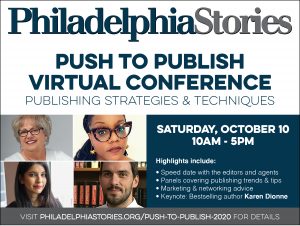 ONLINE ZOOM EVENT: Saturday, October 10, 10am – 5pm (EST)
This one-day virtual conference will include all of the great tips, trends, and connections that writers have gotten from this popular, in-person event–but now from the comfort of your home! Whether you are an established writer or just getting started, the Push to Publish conference will provide valuable resources you can use to get your work in print and online. Highlights include:
Speed date with the editors and agents: Meet editors and agents who will review and offer feedback on your work (share up to 5 pages of fiction, poetry, or nonfiction to review and discuss via Zoom)
Learn how to increase your chances of getting published
Discuss the latest writing trends with professionals in the community
Get great marketing and networking tips to break into the competitive world of publishing
Contact: Email push2publish@gmail.com or philadelphiastoriesevents@gmail.com.

CONFERENCE SCHEDULE
*We will be closing speed date signups 5pm, Friday, Oct 9th. Sample work can be shared with editors & agents via Zoom (Screen share, shareable links, etc.). Panels & workshops will be recorded and made available to attendees.
CLICK HERE FOR BIOS OF AGENTS, EDITORS, AND SPEAKERS.

10:00-11:00 Keynote Speaker (Zoom Room 1)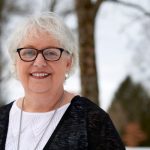 Karen Dionne is the USA Today and #1 international bestselling author of The Marsh King's Daughter, a psychological suspense novel set in Michigan's Upper Peninsula wilderness published by G.P. Putnam's Sons. Her psychological suspense novel, The Wicked Sister, was published on August 4, 2020. Karen has been active in the writing community for over twenty years. She co-founded the online writers community Backspace, and organized the Backspace Writers Conferences in New York and the Salt Cay Writers Retreat held on a private island in the Bahamas. She is a member of the International Thriller Writers, where she served on the board of directors as Vice President, Technology.
11:15-12:30 Speed Dating with Editors & Agents (Zoom Rooms 4 & 5)
Editors and agents will meet with attendees in one-on-one 10-minute Zoom sessions.
11:15-12:15 Breakout Session I: Panels & Workshops
Panel: The Publishing Journey of a Debut Author: Zoom Room 1: Listen to these debut authors share their journeys to publishing their first novel. Learn how you can find an agent, land a book deal, and execute a successful book launch. Panelists: Sarah Rose Etter, Bill Elenbark, Madi Sinha, Moderator: Ayesha F. Hamid
LINK TO VIDEO RECORDING
Workshop: Story Sleuth: How to Use Journalistic Skills to Write Your Memoir or Novel: Zoom Room 3: In this workshop, freelance journalist Katie Gilbert and creative writing instructor Susette Brooks will explain how writers can use research and interview skills to tell more nuanced fiction and nonfiction stories. They will also offer a behind-the-scenes look at how they've used these skills to tell their own stories. Presenters: Susette Brooks, Katie Gilbert
LINK TO VIDEO RECORDING
Panel: Marketing & Promotion for Authors: Zoom Room 2: This panel of book publicists and marketing experts will offer tips on building your author platform, growing your network, and ways you can promote and sell your book—whether it's your novel, memoir, or poetry collection. Panelists: Marissa Eigenbrood (VP, Smith Publicity), Jackie Karneth (Publicist, Books Forward), Bryan Buttler (President, Buttler Media Relations), Moderator: Feliza Casano (Marketing & Publicity Director, Lanternfish Press)
LINK TO VIDEO RECORDING
12:30-1:00 Meet the Editors of Philadelphia Stories
1:15-2:15 Breakout Session II: Panels & Workshops
Panel: Querying Your Book Without an Agent: Zoom Room 1:Agents are often seen as the gateway to getting published but there are a number of authors who've successfully published their books without an agent. This panel will offer tips on how to submit to publishers when you don't have an agent's connections. Panelists: Lawrence Knorr (Sunbury Press), Tara Tomczyk (Blydyn Square Books), Christine Neulieb (Lanternfish Press), Rebecca Gyllenhaal (Quirk Books), Moderator: Nathan Long
LINK TO VIDEO RECORDING (beginning-:38)
Panel: Submitting to Magazines & Journals: Essayists & Short Story Writers: Zoom Room 2: This panel of editors will share their advice on how you can submit your work to literary magazines and journals to better your chances of getting published. They can answer any questions you have regarding reading fees, themed issues, writing contests, and more. Panelists: Trish Rodriguez (Philadelphia Stories), Donna Talarico (Hippocampus Magazine), Frances Metzman (Schuylkill Valley Journal), Nikki Caffier Smith (Cleaver Magazine), Moderator: Mitchell Sommers
LINK TO VIDEO RECORDING
Workshop: Poetry Workshop on Duende: Zoom Room 3: In 1933 in Buenos Aires, the electrifying Spanish poet Federico García Lorca presented his famous lecture, "Play and Theory of the Duende." The Duende, Lorca said, is a goblin—as distinct from an angel or a muse—which inhabits great art. But what is this goblin, and what business does it have with our poems? Lorca left us a few cryptic hints. To begin with, "The Duende … will not approach at all if he does not see the possibility of death, if he is not convinced he will circle death's house …" Also, "intellect is oftentimes the foe of poetry because it imitates too much, it elevates the poet to a throne of acute angles and makes him forget that in time the ants can devour him, too …" This session will include enthusiastic discussion, and playful writing exercises. Presenter: John Wall Barger
LINK TO VIDEO RECORDING
1:30-2:30 Speed Dating With Agents (Zoom Rooms 4 & 5)
Agents will meet with attendees in one-on-one 10-minute Zoom sessions.
2:30-3:30 Breakout Session III: Panels & Workshops
Workshop: Demystifying Queries: A Guide to Writing Query Letters and First Few Pages: Zoom Room 1: What makes a query letter stand out from the slush pile? And how can you ensure that your opening pages draw a literary agent's attention? This workshop will cover the basics of writing a succinct query letter and effective sample pages. Examples will draw on literary/upmarket fiction and memoir, and the workshop is intended primarily for those writing novels or narrative nonfiction for the adult market, but the guidelines will be applicable across genres. Additional topics include how to structure your query letter, common pitfalls to avoid, and what to expect from the query process. Presenter: Jade Wong-Baxter (Agent, Massie & McQuilkin Literary Agency)
LINK TO VIDEO RECORDING (1:03-end)
Panel: Promoting Diverse Communities of Writers: Zoom Room 2: This panel will discuss the importance of diverse authors and books in publishing. Learn how you can help promote diversity and find a community of diverse writers. Panelists: Erin Entrada Kelly (2018 Newbery Medal Winner), I.W. Gregorio (We Need Diverse Books), Jeannine Cook (Owner, Harriet's Bookshop), Moderator: Yalonda Rice
LINK TO VIDEO RECORDING
Panel: Writing for Children & YA: Zoom Room 3: This panel of published authors will discuss the unique Children's and Young Adult markets and offer tips for writing for a younger audience and submitting to agents and publishers seeking work. Panelists: Victoria Strauss (YA Author), Margo Rabb (YA Author), Rajani LaRocca (Children's Author), Jack Cheng (Children's Author), Moderator: Maddy LeMaire
LINK TO VIDEO RECORDING
3:45-5:00 Breakout Session IV: Meet the Agents (Zoom Room 1)
Agents will share their tips for finding the right agent and selling your work. This interactive panel will include plenty of time for Q&A so you can get an insider's perspective on the publishing market today. Panelists: Jemiscoe Chambers-Black (ABLA), Priya Doraswamy (Lotus Lane Literary), Gina Panettieri (Talcott Notch Literary), Joyce Sweeney (The Seymour Agency), Moderator: Carla Spataro
LINK TO VIDEO RECORDING
4:00-5:00 Breakout Session V: Publishing Opportunities for Poets (Zoom Room 3)
This session is geared to poets and will focus on the niche poetry market. Join this panel to learn how you can find publishing opportunities for your work and maximize your chances of getting published. Panelists: Henry Israeli (Saturnalia Books), Gabriel Cleveland (CavanKerry Press), T. Nicole Cirone (Night Heron Barks), Kelly Andrews (Pretty Owl Poetry), Moderator: Courtney Bambrick
LINK TO VIDEO RECORDING
5:00-6:00 Happy Hour, Reading & Networking: BYO (Zoom Room 1)
Join the winners of the Marguerite McGlinn National Fiction contest for a reading, followed by an opportunity to network with other attendees.
LINK TO VIDEO RECORDING
REGISTRATION INFORMATION

Registration Fee: $95 (Students, Seniors (65 & over) $85). 50% off for Partners and Rosemont and Widener University students, faculty, and alumni.
Editor Speed-date Pass: $5 each. No more than 4 agent/editor speed dates total.
Agent Speed-date Pass: $20 each. No more than 4 agent/editor speed dates total. (NOTE: At this time, we are limiting THREE agent meetings/attendee. Please see below for more details.)
Speed Date Meetings (SPEED DATES ARE NOW CLOSED) : Attendees MUST register for the Push to Publish conference to reserve a one-on-one 10-minute Zoom meeting with an agent/editor. Attendees can reserve up to 4 meetings. At this time, we are limiting THREE AGENT meetings/attendee (if you book an agent meeting, it will be considered one of your 4 meetings).
*We strongly recommend that attendees meeting with an agent have a completed or nearly completed manuscript ready for querying. For those wishing to get feedback on their work, in-progress or completed, we recommend you meet with an editor.

PRE-CONFERENCE EVENT: MASTER CLASS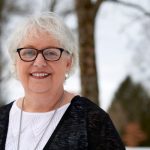 From Good to Great: Elevate Your Writing to Reach Your Publishing Goals: When Karen Dionne wrote The Marsh King's Daughter, a dark psychological suspense set in Michigan's Upper Peninsula wilderness, she never imagined the wild journey she was about to embark upon. Praised in The New York Times as "Subtle, brilliant and mature . . . as good as a thriller can be," The Marsh King's Daughter was translated into 25 languages and became a #1 international bestseller, took home several prestigious awards, was named to numerous best books of the year lists, and is in development as a major motion picture with Oscar-winning talent. And yet The Marsh King's Daughter was Karen's 4th published novel. What made this book different than the other three? How can writers use the lessons she learned to get their work noticed? In this presentation, Karen will identify the six key elements that she believes made all the difference.
Literary agents and editors say it all the time: Never mind a writer's age, or genre, or whether or not they've been published before: "It all comes down to the writing." This 4-hour masterclass from #1 internationally bestselling author Karen Dionne will consider three aspects of the writing craft which can help writers take their work to the next level. A final question and answer session will discuss the current state of the publishing world and how writers can break in—and break out!
10:00 – 11:00 – Voice: What does good writing sound like?
11:00 – 12:00 – Character: Fiction's beating heart
12:00 – 1:00 – Lunch
1:00 – 2:00 – Experimentation: Why rules must be broken
2:00 – 3:00 – Publishing "Ask Me Anything" Q&A
Where: Zoom (Online)
When: Friday, October 9, 2020, 10am-3pm
Registration Fee: $95 (Students, Seniors (65 & over) $85). 50% off for Partners and Rosemont and Widener University students, faculty, and alumni.
Thank you to our sponsors!
Greater Philadelphia Wordshop Studio
Philadelphia Writers Workshop
Rosemont College
PUSH TO PUBLISH 2020 BOOKSELLER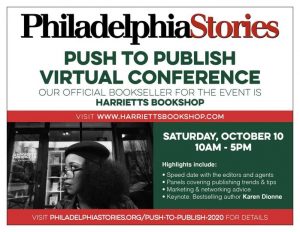 CLICK HERE TO VIEW RESOURCES & BOOKS.
*We will be closing speed date signups 5pm, Friday, Oct 9th. Sample work can be shared with editors & agents via Zoom (Screen share, shareable links, etc.). Panels & workshops will be recorded and made available to attendees.
CLICK HERE FOR BIOS OF AGENTS, EDITORS, AND SPEAKERS.
---
Agents – Speed Date
Jordy Albert
Jordy Albert is a Literary Agent and co-founder of The Booker Albert Literary Agency. She holds a B.A. in English from Pennsylvania State University, and a M.A. from Millersville University of Pennsylvania. She has worked with Marisa Corvisiero during her time at the L. Perkins Agency and the Corvisiero Literary Agency.
SEEKING: Jordy is looking for young adult contemporary, sci-fi, and fantasy (romance is a plus). She's also looking for smart, sexy contemporary and historical romance (Jordy definitely has a soft spot for a fantastic Regency). She's drawn to strong, intelligent characters (snarky, but still likable). Please note that while it isn't necessarily a deal breaker, she tends to shy away from novels with trigger topics, such as suicide and any type of abuse.
Jackie Ashton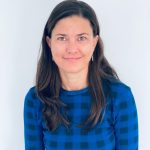 Jackie Ashton is a Literary Agent at Lucinda Literary. Jackie is a seasoned media professional with over a decade of experience in journalism, copywriting, editing, and editorial direction. Her writing on health, lifestyle, and parenting in the digital age has appeared in publications like the New York Times, the Washington Post, Salon, Real Simple, Parents, and Redbook, among others. She has provided editorial consulting for leading brands such as Airbnb, Athleta, and Omada Health.
Jackie is tirelessly passionate about helping authors find their voice and has a knack for helping clients unearth the unique essence of their projects. She received a B.A. in Commerce with a concentration in Marketing from the University of Virginia.
SEEKING: Jackie looks to represent writers in the categories of popular science, business, narrative nonfiction, memoir, and upmarket fiction. She is also interested in memoir and essay collections from accomplished writers. In nonfiction, Jackie looks for voice-driven narrative and novel, science-backed approaches that promise to radically alter the way we live. In fiction, she looks for characters that jump off the page, immersive storytelling that hooks from the opening line, and unexpected forays into little-known worlds.
Jemiscoe Chambers-Black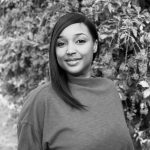 NOTE: SPEAKER
Before joining the ABLA family, Jemiscoe worked for over a decade in film and television as an Assistant Director. She has a BA and MFA in creative writing in fiction, working with mentors Wiley Cash, Jo Knowles, Marcus Burke, and Richard Adams Carey. She has also been a freelance editor and writing tutor for over five years and contributed to the online literary magazine, The Assignment.
SEEKING: Jemiscoe is currently building her client list in middle grade, YA, and adult categories. A great cast of characters is essential, as is a strong voice, and a developed hook. In middle grade, she'd like to see themes that young readers deal with, but with humor, whimsy, adventure, and wonder weaved in. This can be in the form of contemporary, graphic novels, fantasy, horror, and mystery. In YA, Jemiscoe is most interested in love stories. This can be intimate, friendships, or familial relationships. And again, this can fall into many genre categories: contemporary, romance, fantasy, thriller, mystery, and horror. Lastly, in adult fiction, Jemiscoe is looking for romance, literary fiction, fantasy, psychological thrillers, mysteries, friendship stories, strong power-women stories, or laugh-out-loud stories. She has a drive to amplify BIPOC and LGBTQIA voices in all the above categories, to be taken on a journey from diverse viewpoints.
Priya Doraswamy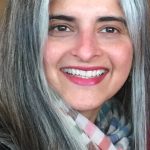 NOTE: SPEAKER
Priya Doraswamy runs a solo agency, Lotus Lane Literary based in New Jersey. Her love for books, people, and background in law makes her career as a literary agent the perfect fit for her passions and talents. Priya enjoys working with publishers and writers from around the world including the United States, United Kingdom, Singapore, and India. Although physically in the EST, her work hours are zone-free. She does admit to occasionally losing track of time zones and waking a writer with an early morning phone call. Priya has been an agent for several years and has sold several books worldwide. She is drawn to all genres of fiction and nonfiction. Prior to her agency career, she was a practicing lawyer in the United States.
SEEKING: She represents commercial and literary fiction as well as nonfiction (biography, narrative memoir and self-help).
Serene Hakim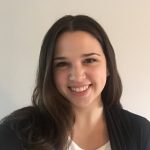 Serene Hakim is an agent at Ayesha Pande Literary. Born to Lebanese immigrants in the Midwest, Serene grew up straddling cultures and languages and still feels like a third culture kid. Her educational background is in French and Women's Studies and she holds an M.A. in French-English Translation from NYU.
SEEKING: She represents authors in a variety of genres, from MG fantasy to adult literary fiction to contemporary YA. Serene is particularly interested in both YA and adult fiction that has international themes, highlights a variety of cultures and focuses on underrepresented and/or marginalized voices. Specifically, she's looking for writing that explores different meanings of identity, home, family and parenthood/motherhood.
Alyssa Eisner Henkin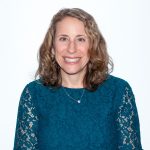 After earning her Bachelors from the University of Pennsylvania, Alyssa fulfilled a childhood dream that she professed on a home video at the age of six: move to New York and work with books. In 1999, Alyssa began her career in editorial at Simon & Schuster Books for Young Readers. Here she found "kindred spirits" who loved Anne of Green Gables as much as she did and a kids book space that was rapidly growing. In late 2006 Alyssa headed to Trident to expand the firm's children's book business. She works hard to ensure each book's longevity from brainstorming the perfect editor, title and jacket to overseeing successful foreign, merchandising, audio, film and theatrical partnerships.
SEEKING: Alyssa is seeking emerging authors and illustrators in all genres. Feisty picture book protagonists, whether real or imagined, tend to intrigue. For older readers, she wants everything from prose and verse novels brimming with underdogs, social justice, mysteries, humor, regional and ethnic flavors to intrepid genre-bending nonfiction, memoir, graphic, and otherwise. Alyssa looks to spice up the canon with projects that break new ground.
Caitlin McDonald
Caitlin McDonald joined the Donald Maass Literary Agency in 2015, and was previously at Sterling Lord Literistic. Caitlin grew up overseas and has a BA in Creative Writing from Columbia University.
SEEKING: She represents adult and young adult science-fiction, fantasy, horror, and related subgenres, as well as contemporary fiction about geeky characters. She is particularly looking for stories with diverse casts and fresh takes on popular tropes or important topics of today's world; genre-bending and crossover works; complex female leads and female-focused relationships; and any kind of heist. She also handles a small amount of nonfiction in geeky areas, with a focus on food, feminist theory/women's issues, and pop culture.
James Mustelier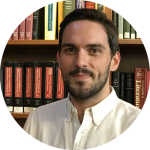 I am an agent at the Bent Agency as well as the in-house Editorial Consultant. I was born in Miami, Florida, and lived in Spain, France and Italy before moving to New York. I studied Creative Writing at Florida State University and received my MFA in Creative Writing from the City College of New York, where I served as the Graduate Editor of the literary journal. I've worked as an editorial associate at Fiction magazine and as a freelance editor.
SEEKING: I'm looking for both literary and commercial adult fiction. In literary fiction, I'm specifically drawn to visceral honesty coupled with a dark sense of humor. In commercial fiction I'm looking for horror, mystery, and thrillers. My favorite books have distinct and memorable voices that grab the reader's attention, and a narrative gravity that permeates every action in the story.
Mariah Nichols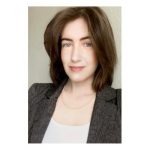 Mariah Nichols is a Literary Agent with the D4EO Literary Agency. She earned a B.S. degree in Business with the goal to apply her education towards the world of books. After interning at a boutique agency her senior year, she soon transitioned to the role as a reader and in-house editor for the D4EO Literary Agency in 2019, working with Bob Diforio in all aspects of the business before transitioning as an agent.
SEEKING: Mariah is interested in adult and young adult fiction with genres including thriller, upmarket, romance/rom-com, horror, family drama, science fiction/paranormal, and women's fiction. She is also wanting to represent nonfiction in categories such as cookbooks, memoirs, self-help, lifestyle, and how-to. Stories that showcase diversity and highlight mental health or special needs is something that she would especially like to see.
Twitter:@LitAgentMariah
Gina Panettieri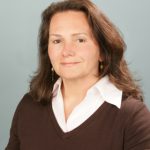 NOTE: SPEAKER
Founded in 2003, Talcott Notch Literary is a rapidly-growing mid-size literary and screen rights agency representing the freshest new voices in both fiction and nonfiction. Their founder, Gina Panettieri has expertise in every aspect of writing and publishing and has helped thousands of writers achieve their goals. She has successfully placed hundreds of books with such well-known publishers as Berkley, St. Martin's Press, Adams Media, Palgrave-Macmillan, McGraw-Hill, John Wiley & Sons and many others. In more than twenty years in the publishing industry, Gina has appeared as a speaker at scores of national and regional conferences, leading workshops on a range of subjects ranging from characterization, dialogue and query letters, to the changing publishing market, publicity and new trends in fiction.
SEEKING: Gina has such trouble limiting herself to just a few genres. She finds it all fascinating! History, business, self-help, science, gardening, cookbooks, crafts, parenting, memoir, true crime and travel. Teach her something new, something she couldn't find somewhere else, something based on original research and that's the hook she's looking for. With fiction, she loves quirky, edgy characters. Send her women's fiction, paranormal, urban fantasy, horror, science fiction, historical, mystery, thrillers and suspense.
Jas Perry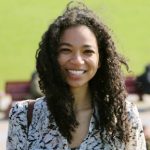 Jas Perry is a freelance editor and Manhattan-based Associate Agent with KT Literary. She attended New York University in Florence and London before graduating with a degree in English from CUNY Hunter College. She was awarded the We Need Diverse Books Internship Grant and held several editorial intern positions with Levine Querido and Scholastic's Arthur A. Levine Books, where she assisted on titles by Kelly Yang, Varian Johnson, Daniel José Older, Eric Gansworth, A.S. King, Francisco X Stork, and Cherie Priest, among others. Jas is Black American/Japanese and interested in representing a diverse range of strong voices — especially by disabled and/or QTPOC creators.
SEEKING: Jas represents Middle Grade and Young Adult fiction — including novels-in-verse and graphic novels. In particular, she is seeking grounded SFF, voicey MG, and well-researched contemporary YA that engages a range of adolescent subjects. Joyful #OwnVoices stories are always welcome.
Joyce Sweeney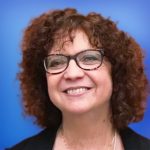 NOTE: SPEAKER
In 2020, Joyce Sweeney joined The Seymour Agency as an agent representing picture books and middle grade fiction and non-fiction. Joyce has worn a lot of hats. She is the author of fourteen novels for young adults, and two chapbooks of poetry. She created and managed a local theater company in South Florida for ten years, mentoring local playwrights, producing and directing their plays. For the past twenty-five years, she has taught creative writing, both in person and online, and has mentored over sixty of her students to traditional publishing contracts. She has edited countless manuscripts and will be the quintessential 'editorial agent'. Most of all, she is a champion for writers and this new role is a great chance to take that to a higher level.
SEEKING: In Picture Books: Fiction or non-fiction. I am drawn to lyrical voices, fun syntax and offbeat concepts. I like unusual characters, and plots that make me cry or laugh out loud. Illustrator/authors welcome and rhyme (if you REALLY know how to do it) is fine. Diversity, please. Most of all, be unique. In Middle Grade: I am especially drawn to humor, fantasy and sci-fi, but a realistic novel that makes me cry will work too. Actively looking for graphic novels. Advocate of books for boys. Would love to see more LGBTQ as well.
Jade Wong-Baxter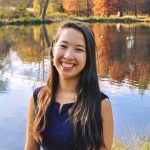 NOTE: SPEAKER
JADE WONG-BAXTER – junior agent and foreign rights associate – got her start in publishing at Writers House, W. W. Norton, and Folio Literary Management. A graduate of Vassar College, she joined Massie & McQuilkin in 2017.
SEEKING: She's looking for adult literary/upmarket fiction and narrative nonfiction, with an emphasis on narratives by and about people of color, as well as the perspectives of marginalized identities.
CLICK HERE FOR BIOS OF AGENTS, EDITORS, AND SPEAKERS.
---
Editors – Speed Date
Kelly Andrews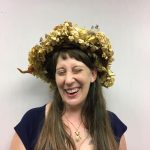 NOTE: SPEAKER
Kelly Lorraine Andrews is the editor-in-chief of Pretty Owl Poetry. She is the author of five chapbooks, most recently "Sonnets in Which the Speaker Is on Display" (Stranded Oak Press, 2019). She received her MFA in poetry from the University of Pittsburgh. Additional information can be found at kellyandrewspoetry.com.
GENRES: POETRY, FLASH FICTION
Courtney Bambrick
NOTE: SPEAKER
COURTNEY K. BAMBRICK is poetry editor of the regional literary magazine Philadelphia Stories. Her poetry has appeared online or in print in Apiary, Certain Circuits, Dirty Napkin, Philadelphia Poets, Mad Poets Review, and Schuylkill Valley Journal. She performed as part of the 2016 Welcome to Boog City Festival. Her chapbook Rape Baby was a runner up in the 2013 Pavement Saw chapbook competition and most of it was published as "Caring for Your Rape" in the Body Map series at The Fanzine, curated by Sarah Rose Etter. Courtney has taught composition, creative writing, and literature at a number of colleges and universities in the Philadelphia area. In addition to poetry, Courtney has written and directed adaptations of plays and musicals for young people. She coordinates the Children's Arts Program at Old Academy Players in Philadelphia. She lives outside the city with poet, painter, and musician, Peter Baroth.
GENRE: POETRY
Britny Brooks-Perilli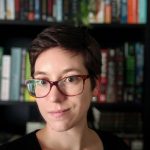 Britny Brooks-Perilli an assistant editor at Running Press and a fiction writer. As a big pop culture fan and the official office nerd, she wants to publish books that explore and celebrate pop culture, fandom, and the amazing communities that make them up. She acquires and works on books for adults and children, but when she isn't working, she is reading manga, playing indie video games, or taking a nap. Britny is seeking adult nonfiction and both fiction and nonfiction for kids.
GENRES: FICTION, NONFICTION
T. Nicole Cirone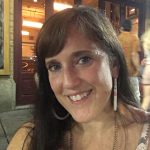 NOTE: SPEAKER
T. Nicole Cirone is the poetry editor for The Night Heron Barks and the author of Nine Nails: A Novel in Essays (Serving House Books, 2019). Her work has appeared in several literary journals, including Serving House Journal, Ovunque Siamo: A Journal of Italian-American Writing, Hippocampus, Perigee, Red River Review and Philadelphia Stories; and in three anthologies: The Best of Philadelphia Stories Anthology, Reaching Beyond the Saguaros: A Prosimetric Travelogue and Gateways. Ms. Cirone holds undergraduate degrees in Italian Studies and Political Science and an MA in English from Rosemont College; and a dual-concentration MFA in Creative Writing, Poetry and Creative Non-Fiction, from Fairleigh Dickinson University. She teaches literature on the secondary level and writing on the college level. Follow her on Instagram @catmumu123.
GENRE: POETRY
Joan Cusack Handler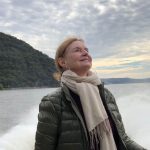 Joan Cusack Handler is a poet, memoirist, publisher and psychologist whose creative project in her own writing and the work she publishes is the exploration of the emotional and psychological underpinnings of human experience. Her poems have been widely published and have received the Sampler Award from The Boston Review and five Pushcart nominations. She has four published books: three poetry and one prose memoir: GlOrious, The Red Canoe: Love in Its Making; Confessions of Joan the Tall, and Orphans. In her other lives, she's the founder and publisher of CavanKerry Press and author of the PsychologyToday.com blog, "Of Art and Science."
CavanKerry Press publishes works that explore the emotional and psychological landscapes of everyday life. They accept submissions for poetry collections, nonfiction essay collections, and memoir. Please note they are only open to submissions during even-numbered years. Their next open submission period will be August 2022.
GENRES: POETRY, NONFICTION
Athena Dixon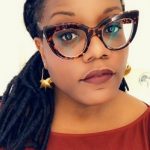 A native of Northeast Ohio, Athena Dixon is a poet, essayist, and editor. She is Founder of Linden Avenue Literary Journal. Athena's work has appeared in various publications including GAY Magazine and Narratively. She is a Pushcart Prize and Best of the Net nominee. A Callaloo fellow, a V.O.N.A. fellow, and a Tin House Workshop attendee, Athena is the author of No God In This Room, a poetry chapbook (Argus House Press). Her work also appears in The BreakBeat Poets Vol. 2: Black Girl Magic (Haymarket Books). Athena is the co-host of the New Books in Poetry Podcast via the New Books Network. She resides in Philadelphia. Learn more about the author at www.athenadixon.com.
GENRES: FICTION, NONFICTION
Mike Good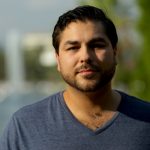 Mike Good lives in Pittsburgh and serves as managing editor at Autumn House Press. His recent poetry and book reviews can be found in or are forthcoming at december, The Carolina Quarterly, Five Points, Forklift, OH, Full Stop, The Georgia Review, Pleiades, Salamander, Spillway, SOFTBLOW, and elsewhere. His work has received support from the Sewanee Writers' Conference and The Sun, and he holds an MFA from Hollins University.
Autumn House Press is a nonprofit, literary publisher based in Pittsburgh, PA. We publish full-length collections of poetry, fiction, and nonfiction.
GENRES: FICTION, NONFICTION, POETRY
Rebecca Gyllenhaal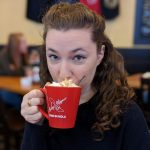 NOTE: SPEAKER
Rebecca Gyllenhaal is the Assistant Editor at Quirk Books in Philadelphia, where she acquires and edits high-concept commercial nonfiction and fiction for adults. In nonfiction, she specializes in pop history, pop culture, gift, and humor. In fiction, she focuses on mystery, psychological and domestic thriller, and horror. Her greatest love is Gothic fiction, especially when it deliberately plays with the tropes, but she is attracted to anything strange, macabre, or obscure. In addition to her work in the adult realm, Rebecca also writes and edits the licensed Pop Classics series, which adapts cult classics films and TV shows into picture books. Recent titles in the series have included Karate Kid, Doctor Who, and Elf. Prior to her tenure at Quirk Books, Rebecca worked in marketing and publicity at Jessica Kingsley Publishers, a UK-based educational/professional publisher, and read fiction for the Adroit Journal. She writes fiction in her free time and is an on-again-off-again member of the Rittenhouse Writers' Group, the longest-running independent fiction workshop in America. Writers interested in querying their work can submit to Quirk's general inbox, with a note indicating their project might be a good fit for Rebecca.
GENRES: FICTION, NONFICTION
Alison Hicks
Alison Hicks is the founder of Greater Philadelphia Wordshop Studio, which offers community-based writing workshops. She is also the author of poetry collections You Who Took the Boat Out and Kiss, a chapbook Falling Dreams, a novella, Love: A Story of Images, and an anthology, Prompted. Her work has been nominated for a Pushcart Prize by Green Hills Literary Lantern, and has appeared in Eclipse, Fifth Wednesday, Gargoyle, Louisville Review, Passager, Permafrost, Poet Lore, and Whiskey Island, among other journals. Awards include the 2011 Philadelphia City Paper Poetry Prize and two Pennsylvania Council on the Arts fellowships. She will be happy to read literary or mainstream fiction, nonfiction and poetry.
GENRES: FICTION, NONFICTION, POETRY
Lawrence Knorr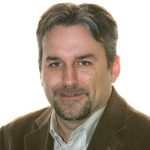 NOTE: SPEAKER
Lawrence Knorr is the founder and CEO of Sunbury Press, Inc., a trade publisher based in Pennsylvania since 2004. Sunbury Press publishes books under 11 different imprints, and sells them worldwide, wherever books are sold. Sunbury Press is a traditional royalty-paying publisher that does not charge fees. We only make money by selling books. We currently represent over 400 authors and 800 titles and are always looking for new authors and manuscripts. More than half of our authors are new or emerging.
GENRES: FICTION, NONFICTION
Rachel Kolman
Rachel Kolman is the managing editor of the Rathalla Review, a literary journal at Rosemont College. She is a writer and editor based in Philadelphia, PA, and an MFA candidate at Rosemont. She received her first MFA in fiction from the University of Central Florida, and has returned to Rosemont to focus on nonfiction. She also teaches in the First Year Writing Program at Drexel University. Her writing online can be found in Bustle, Good Housekeeping, Elle, Cosmo, Bodega Magazine, WhiskeyPaper, and others.
GENRES: FICTION, NONFICTION, FLASH FICTION
Suzy Krogulski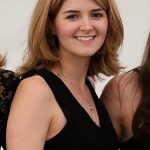 Suzy Krogulski is an Assistant Editor at Boyds Mills & Kane for the Boyds Mills Press, Calkins Creek, and Wordsong imprints. She's been with the BMP team for almost 3 years, having previously worked with Bloomsbury Publishing, Taylor & Francis Group, Full Circle Literary Agency, and Inklings Literary. She has a M.A. in Publishing with a concentration in children's literature.
Regarding her editorial goals, she is looking for middle grade and young adult novels with intricate plots, astute, sincere voices from diverse backgrounds, and thoughtful character arcs. She especially appreciates realistic fiction, mysteries, and nonfiction puzzles or investigations. For picture books, she is looking for stories that use silliness and fun to explore heartfelt themes or unique storytelling that helps engage readers in science topics.
Suzy is currently looking for titles, preferably middle grade, in the BMK tradition of books like MARVELWOOD MAGICIANS and MOONSHINE. She looks forward to acquiring YA titles in the same vein as IN OTHER LANDS, middle grade tiles like SMALL SPACES, GABY LOST AND FOUND, and THE BEST AT IT, picture books like A GREYHOUND, A GROUNDHOG and GRAND CANYON. You can reach her at skrogulski@bmkbooks.com.
GENRES: FICTION, NONFICTION
Alison Lewis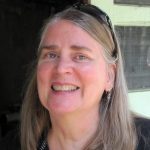 Alison Lewis is editor and publisher at Frayed Edge Press, a small, independent press based in Philadelphia. She has been actively involved in the publishing world since 2011, starting out in editing and production work for a small academic press. In 2015, she co-founded and became managing partner for Parlew Associates, a group that provides support services for publishers and authors. In her current role at Frayed Edge Press, she does most of the editing for literature titles and manages work flow and production duties for the press. Some of her favorite things include gardening, animals, and of course, reading.
Frayed Edge Press publishes literary fiction and poetry, as well as non-fiction titles in history and political science. We also publish the Street Smart Series of Short Fiction, consisting of contemporary, urban-set, novelette-length works. We especially welcome marginalized voices and works that wrestle with important questions challenging contemporary society.
GENRES: FICTION, NONFICTION, POETRY
Frances Metzman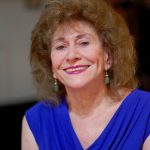 NOTE: SPEAKER
Frances Metzman is the fiction editor at Schuylkill Valley Journal. She authored a novel, THE CHA-CHA BABES OF PELICAN WAY (2nd printing by Tree of Life Books), that came out June, 2020. It was met with high praise from the Philadelphia Inquirer, The Kirkus Review, The Baltimore Sun, Orlando Centennial, Chicago Tribune, Hall of Fame, Digital Journal, Vine Voice, California Herald and several others. She's had a short story collection published, 2012, THE HUNGRY HEART STORIES, (Wilderness House Press.) Before that she co-authored and published a novel, UGLY COOKIES, (Pella Press, 2000). Most recently, she has achieved, Best Seller on Amazon, 2019, for her novel, The Cha-Cha Babes of Pelican Way. In 2018 she was nominated for the Pushcart Prize. She has published 50 articles in well-known journals on health and relationship issues, 2018/2019. Publishing 29 short stories in college and university journals, she also speaks on panels of various writing conferences. She has a Master's Degree from the University of Pennsylvania. Frances will be reading both fiction and nonfiction for SVJ.
GENRES: FICTION, NONFICTION
Christine Neulieb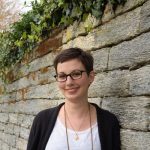 NOTE: SPEAKER
Christine is the Editorial Director of Lanternfish Press. Founded in Philadelphia in 2013, Lanternfish publishes literature of the rare and strange: fiction that crosses the boundary between literary and speculative; real or imagined tales of characters at the margins of history; essays rooted in a strong sense of place; a cabinet of curious Victorian reprints. We seek the grotesque, the alien made familiar, the "I don't know what this is—but I love it." Lanternfish aims to make books and publication accessible to readers and writers who fall outside the literary mainstream, whether in race, sexuality, gender, situation, or pure individual oddity. We're a home for books that defy pigeonholes—and for the readers who love them.
GENRES: FICTION, NONFICTION
Claire Oleson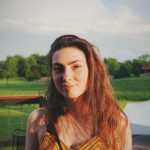 Claire Oleson is the Senior Poetry Editor for Cleaver Magazine. Claire is a queer writer hailing from Grand Rapids, MI. She's a 2019 graduate of Kenyon College. Her work has been published by the Kenyon Review online, the University of Kentucky's graduate literary journal, Limestone, the LA Review of Books, and Newfound Press, among others. She is the 2019 winner of the Newfound Prose Prize. Her chapbook, Things from the Creek Bed We Could Have Been, is available for purchase here. Claire will be reading both poetry and fiction for Cleaver.
GENRES: POETRY, FICTION
Trish Rodriguez
NOTE: SPEAKER
Trish Rodriguez is the fiction editor for Philadelphia Stories. Trish lives, reads, and writes in Media, PA. She received her MFA in Creative Writing from Rosemont College where she teaches in the Rosemont Writers' Studio. Her writing has been published in Awakened Voices and Animal: A Beast of a Literary Magazine. She has served as managing editor for Rathalla Review and is also the prose editor for Typehouse Literary Magazine.
GENRES: FICTION, NONFICTION
Donna Talarico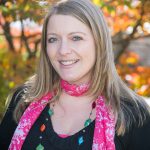 NOTE: SPEAKER
Donna Talarico is an independent writer and content marketing consultant, and she also is the founder of Hippocampus Magazine and its books division and annual conference, HippoCamp. Donna has more than two decades of experience in marketing and communications, and about half that time has been in higher education. She speaks at higher education and publishing conferences, writes an adult learner recruiting column for Wiley, and has contributed to Guardian Higher Education Network, The Writer, mental_floss, Games World of Puzzles, and others. Her creative nonfiction appears in The Los Angeles Review and The Los Angeles Times. Donna teaches or has taught about branding and digital identity in several graduate creative writing programs, including Wilkes University and Rosemont College, as well as at Pennsylvania College of Art & Design.
GENRE: NONFICTION
Sydney Tammarine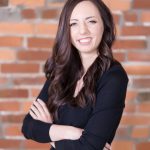 Sydney Tammarine's work has appeared in Ploughshares, LIT, Pithead Chapel, The Missing Slate, and others. She is the co-translator of a book of poems, The Most Beautiful Cemetery in Chile. She holds an MFA in Creative Writing from Hollins University, edits creative nonfiction and flash for Cleaver Magazine, and teaches writing at Virginia Military Institute. You can find her at www.sydneytammarine.com.
GENRE: NONFICTION
Tara Tomczyk
NOTE: SPEAKER
Tara Tomczyk is editor in chief at Blydyn Square Books, headquartered in Lansdale, PA and Kenilworth, NJ. She has been a professional editor for over 24 years. She began her career at Enslow Publishers in New Jersey, where she specialized in editing nonfiction books for the young adult market, working primarily as a history, social studies, and biography editor. She then moved to McGraw-Hill, where she developed textbooks and other educational materials. She has also worked for Chelsea House Publishers/Facts on File, where she served as the executive editor in charge of science titles. In 2005, she started her own editorial services company. She eventually narrowed her focus to book publishing and helped launch Blydyn Square Books in 2015.
Blydyn Square Books specializes in literary fiction, but will consider any title that fits its company motto: Books That Make You Think. Tara's favorite part of her job is discovering talented new writers—especially people who have never been published before—and working with them over the years to develop their writing. She will consider anything other than poetry and children's books, with a main focus on literary and contemporary fiction.
GENRES: FICTION, NONFICTION
CLICK HERE FOR BIOS OF AGENTS, EDITORS, AND SPEAKERS.
---
Speakers
Please note that speakers are not available for speed dates unless otherwise noted.
CLICK HERE TO VIEW RESOURCES & BOOKS.
Kelly Andrews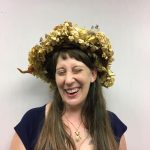 NOTE: SPEED DATE EDITOR
Kelly Lorraine Andrews is the editor-in-chief of Pretty Owl Poetry. She is the author of five chapbooks, most recently "Sonnets in Which the Speaker Is on Display" (Stranded Oak Press, 2019). She received her MFA in poetry from the University of Pittsburgh. Additional information can be found at kellyandrewspoetry.com. Panel: Publishing Opportunities for Poets
Courtney K. Bambrick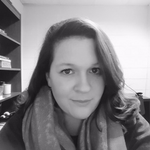 NOTE: SPEED DATE EDITOR
COURTNEY K. BAMBRICK is poetry editor of the regional literary magazine Philadelphia Stories. Her poetry has appeared online or in print in Apiary, Certain Circuits, Dirty Napkin, Philadelphia Poets, Mad Poets Review, and Schuylkill Valley Journal. She performed as part of the 2016 Welcome to Boog City Festival. Her chapbook Rape Baby was a runner up in the 2013 Pavement Saw chapbook competition and most of it was published as "Caring for Your Rape" in the Body Map series at The Fanzine, curated by Sarah Rose Etter. Courtney has taught composition, creative writing, and literature at a number of colleges and universities in the Philadelphia area. In addition to poetry, Courtney has written and directed adaptations of plays and musicals for young people. She coordinates the Children's Arts Program at Old Academy Players in Philadelphia. She lives outside the city with poet, painter, and musician, Peter Baroth. Panel: Publishing Opportunities for Poets, Moderator
Susette Brooks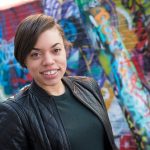 Susette Nicole Brooks is a writer and a descendant of Paterson, New Jersey's literary history, which includes being home to the young Allen Ginsberg and the inspiration for the William Carlos Williams epic poem, Paterson. Susette enjoys managing multiple responsibilities. She recently earned an MFA in Nonfiction from Goucher College where she started a memoir in essays about the lenses through which she has understood black identity, sexual power, and traumatic loss. For the past 12 years, Susette has served and has held several roles in the New Jersey Army National Guard. In her current role, she leads a team of soldier-journalists who tell the Army story using multimedia narratives. Susette is the former nonfiction editor at Philadelphia Stories and currently serves on the magazine's editorial board. She also works full time as a public relations coordinator at the New Jersey State Library. She splits her time between Paterson and Philadelphia. Workshop: Story Sleuth: How to Use Journalistic Skills to Write Your Memoir or Novel
Bryan Buttler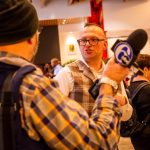 Bryan brings a unique and passionate perspective to media relations. Some of his current and past clients include Cirque du Soleil, Borgata, The Wilma Theater, Arden Theater Company, FringeArts, and more. As a former journalist, he covered arts, entertainment, and news for a variety of regional print and online publications. Since 2016, his media relations firm has changed how arts and entertainment organizations "tell their stories" in the greater Philadelphia region and beyond. He has worked in markets across Eastern Pennsylvania, New Jersey, Washington D.C., and more. Known for his practical and results-driven approaches, Bryan believes that relationship building and quick but careful execution is key in today's media market. His clients have been featured in all the major media outlets in their perspective markets and in industry-leading national publications. Bryan holds a B.A. and M.A. in English from Rutgers University Camden, and has served on the faculties of Rowan College South Jersey, Rutgers Camden, and others. More at bryanbuttlermediarelations.com. Panel: Marketing & Promotion for Authors
Feliza Casano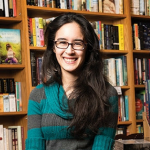 Feliza Casano is the Marketing & Publicity Director at Lanternfish Press, an independent publisher located in Philadelphia that publishes literary and speculative fiction, nonfiction, and new takes on classic favorites. She specializes in speculative fiction, and her essays and reviews have appeared in The Portalist, The Mary Sue, The Skiffy & Fanty Podcast blog, and Unbound Worlds. Panel: Marketing & Promotion for Authors, Moderator
Jemiscoe Chambers-Black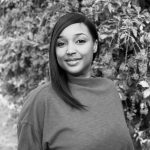 NOTE: SPEED DATE AGENT
Before joining the ABLA family, Jemiscoe worked for over a decade in film and television as an Assistant Director. She has a BA and MFA in creative writing in fiction, working with mentors Wiley Cash, Jo Knowles, Marcus Burke, and Richard Adams Carey. She has also been a freelance editor and writing tutor for over five years and contributed to the online literary magazine, The Assignment. Panel: Meet the Agents
Jack Cheng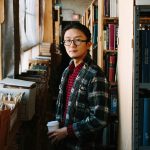 Jack Cheng is a Shanghai-born, Detroit-based author of critically acclaimed fiction for young readers. His debut children's novel, See You in the Cosmos, is winner of the 2017 Golden Kite and Great Lakes, Great Reads awards for Best Middle Grade Fiction. He has visited schools around the world speaking with students about finding their paths as writers and artists, and he volunteers with 826michigan on in-class writing projects in Detroit public schools. He is a 2019 Kresge Artist Fellow. Panel: Writing for Children & YA
T. Nicole Cirone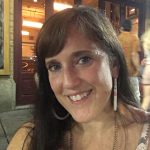 NOTE: SPEED DATE EDITOR
T. Nicole Cirone is the poetry editor for The Night Heron Barks and the author of Nine Nails: A Novel in Essays (Serving House Books, 2019). Her work has appeared in several literary journals, including Serving House Journal, Ovunque Siamo: A Journal of Italian-American Writing, Hippocampus, Perigee, Red River Review and Philadelphia Stories; and in three anthologies: The Best of Philadelphia Stories Anthology, Reaching Beyond the Saguaros: A Prosimetric Travelogue and Gateways. Ms. Cirone holds undergraduate degrees in Italian Studies and Political Science and an MA in English from Rosemont College; and a dual-concentration MFA in Creative Writing, Poetry and Creative Non-Fiction, from Fairleigh Dickinson University. She teaches literature on the secondary level and writing on the college level. Follow her on Instagram @catmumu123. Panel: Publishing Opportunities for Poets
Gabriel Cleveland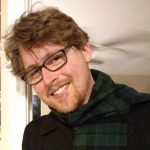 Gabriel Cleveland is the managing editor of CavanKerry Press. He is a poet and fiction writer with an MFA in Creative Writing from Pine Manor College. An avid video gamer and music lover, Gabriel is also a mental health advocate, often working online to raise awareness, visibility, and money for psychological and psychosocial issues. He has spent several years in the field of caregiving for people with increased physical and/or mental needs and wants you to know that you're not alone. Panel: Publishing Opportunities for Poets
Jeannine Cook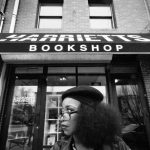 For the last 10 years, Jeannine Cook has worked as a trusted writer for several startups, corporations, non-profits, and influencers. In addition to a holding a master's degree from The University of the Arts, Jeannine is also a Leeway Art & Transformation Grantee and a winner of the South Philly Review Difference Maker Award. Jeannine's work has been recognized by several news outlets including Vogue Magazine, INC, MSNBC, The Strategist, and the Washington Post. She recently spent time in Nairobi, Kenya facilitating social justice creative writing with youth from 15 countries around the world. She writes about the complex intersections of motherhood, activism, and community. Her pieces are featured in several publications including the Philadelphia Inquirer, Root Quarterly, Printworks, and midnight & indigo. She is the proud new owner of Harriett's Bookshop in the Fishtown section of Philadelphia. Panel: Promoting Diverse Communities of Writers
Karen Dionne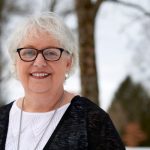 Karen Dionne is the USA Today and #1 international bestselling author of The Marsh King's Daughter, a psychological suspense novel set in Michigan's Upper Peninsula wilderness published by G.P. Putnam's Sons. Her psychological suspense novel, The Wicked Sister, was published on August 4, 2020. Karen has been active in the writing community for over twenty years. She co-founded the online writers community Backspace, and organized the Backspace Writers Conferences in New York and the Salt Cay Writers Retreat held on a private island in the Bahamas. She is a member of the International Thriller Writers, where she served on the board of directors as Vice President, Technology. Keynote Speaker
Priya Doraswamy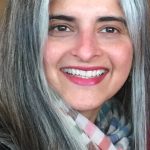 NOTE: SPEED DATE AGENT
Priya Doraswamy runs a solo agency, Lotus Lane Literary based in New Jersey. Her love for books, people, and background in law makes her career as a literary agent the perfect fit for her passions and talents. Priya enjoys working with publishers and writers from around the world including the United States, United Kingdom, Singapore, and India. Although physically in the EST, her work hours are zone-free. She does admit to occasionally losing track of time zones and waking a writer with an early morning phone call. Priya has been an agent for several years and has sold several books worldwide. She is drawn to all genres of fiction and nonfiction. Prior to her agency career, she was a practicing lawyer in the United States. Panel: Meet the Agents
Marissa Eigenbrood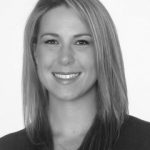 Marissa Eigenbrood is Vice President of Smith Publicity, working closely with all teams across the company. Throughout her career in public relations, she has worked with non-profits, Fortune 500 corporations, international brands, college/universities, tech start-ups and the publishing industry, including small to large-sized publishers, hybrid presses, debut authors and industry thought leaders. She brings extensive knowledge of the public relations realm, as well as an organized and dedicated focus, to all she does. Joining the Smith Publicity team in 2009, she began her career as a publicist, then expanding into business development before taking on a variety of leadership roles, which provided her with a diverse understanding of the goals and strategies critical to campaign success and an in-depth knowledge of the industry and company as a whole. Marissa holds a Bachelor of Arts in Communications with a minor in Business Management from Marist College and resides outside of Philadelphia with her husband and fur family. Panel: Marketing & Promotion for Authors
Bill Elenbark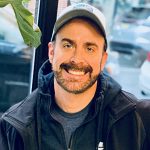 Bill Elenbark wrote his first novel longhand in the empty pages of engineering class notebooks at Rutgers University, while tuning out professors blithely discussing the Mechanics of Solids. He went on to get an engineering degree but continued to write in his spare time and eventually returned to school at Rowan University for a writing degree, where he fell in love with and began writing YA stories, particularly those with an indie rock theme or undercurrent. He grew up in southern New Jersey across the river from Philadelphia and has lived for the past eight years in Hoboken, NJ, with his partner Mike and their dog Elie. https://www.billelenbark.com Panel: The Publishing Journey of a Debut Author
Sarah Rose Etter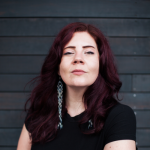 Sarah Rose Etter is the author of Tongue Party and The Book of X (Two Dollar Radio), her debut novel, which won the 2019 Shirley Jackson Novel Award. The Book of X was also longlisted for The Believer Book Award and The Golden Poppy Award, and named a Best Book of 2019 by Thrillist, Buzzfeed, and Vulture. Her work has appeared or is forthcoming in BOMB, Guernica, The Cut, VICE, and more. You can find out more at www.sarahroseetter.com. Panel: The Publishing Journey of a Debut Author
Katie Gilbert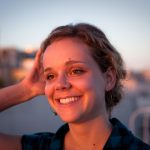 Katie is a Philly-based freelance writer and editor. Her features and essays have appeared in the Oxford American, Pacific Standard, The Atlantic, Al Jazeera America, Psychology Today, and elsewhere. She taught journalism for three years as an adjunct professor at Manhattanville College in Purchase, New York, and holds an MFA in Creative Nonfiction from Goucher College. Workshop: Story Sleuth: How to Use Journalistic Skills to Write Your Memoir or Novel
I.W. Gregorio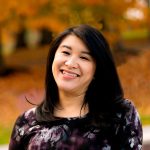 I.W. Gregorio is a practicing surgeon by day, masked avenging YA writer by night. After getting her MD, she did her residency at Stanford, where she met the intersex patient who inspired her debut novel, None of the Above, which was a Lambda Literary Finalist, a Publishers Weekly Flying Start, an ABC Children's Group Best Book for Young Readers and an American Library Association Rainbow List selection. Her next novel, This Is My Brain in Love, was named an Amazon Best YA Book of April 2020 and a 2020 NEIBA Windows and Mirrors Book. She is proud to be a board member of interACT: Advocates for Intersex Youth, and is a founding member of We Need Diverse Books. Her essays have been published in Newsweek, The Washington Post, The San Francisco Chronicle, The Philadelphia Inquirer, and Scientific American, among others. Find her online at www.iwgregorio.com and on Twitter/Instagram at @iwgregorio. Panel: Promoting Diverse Communities of Writers
Rebecca Gyllenhaal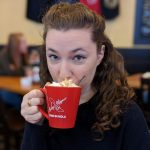 NOTE: SPEED DATE EDITOR
Rebecca Gyllenhaal is the Assistant Editor at Quirk Books in Philadelphia, where she acquires and edits high-concept commercial nonfiction and fiction for adults. In nonfiction, she specializes in pop history, pop culture, gift, and humor. In fiction, she focuses on mystery, psychological and domestic thriller, and horror. Her greatest love is Gothic fiction, especially when it deliberately plays with the tropes, but she is attracted to anything strange, macabre, or obscure. In addition to her work in the adult realm, Rebecca also writes and edits the licensed Pop Classics series, which adapts cult classics films and TV shows into picture books. Recent titles in the series have included Karate Kid, Doctor Who, and Elf. Prior to her tenure at Quirk Books, Rebecca worked in marketing and publicity at Jessica Kingsley Publishers, a UK-based educational/professional publisher, and read fiction for the Adroit Journal. She writes fiction in her free time and is an on-again-off-again member of the Rittenhouse Writers' Group, the longest-running independent fiction workshop in America. Panel: Querying Your Book Without an Agent
Ayesha F. Hamid
Ayesha F. Hamid is a poet and creative nonfiction writer, published in Big Easy Review, Philly Flash Inferno, and Rathalla Review. Her full-length memoir, The Borderland Between Worlds, is available through Auctus Publishers at Barnes and Nobles, Amazon, and Target. Ayesha holds an M.F.A. in Creative Writing and an M.A. in Publishing from Rosemont College. She also holds an M.A. in Sociology from Brooklyn College. She is the Editor-in-Chief at The City Key. Aside from writing, Ayesha also loves travel and photography. Panel: The Publishing Journey of a Debut Author, Moderator
Henry Israeli
Henry Israeli's poetry collections are Our Age of Anxiety (White Pine: 2019), god's breath hovering across the waters, (Four Way Books: 2016), Praying to the Black Cat (Del Sol: 2010), and New Messiahs (Four Way Books: 2002). He is also the translator of three books by Albanian poet Luljeta Lleshanaku. He has been awarded fellowship grants from the National Endowment for the Arts, Canada Council on the Arts, and elsewhere. His poetry has appeared in numerous journals including American Poetry Review, Boston Review, and The Harvard Review, as well as several anthologies. Henry Israeli is also the founder and editor of Saturnalia Books, and teaches in the English and Philosophy Department of Drexel University. Panel: Publishing Opportunities for Poets
Jackie Karneth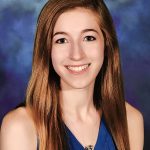 Jackie Karneth is a literary publicist with Books Forward. She holds dual degrees in English Literature and Publishing from Nashville's Belmont University, where she also served as the poetry editor of the Belmont Literary Review. At Books Forward, she works with authors of all genres, and is passionate about helping writers share their stories and reach new and unexpected audiences. Panel: Marketing & Promotion for Authors
Erin Entrada Kelly
Erin Entrada Kelly received the 2018 Newbery Medal for Hello, Universe, the 2017 APALA Award for The Land of Forgotten Girls, and the 2016 Golden Kite Honor Award for Blackbird Fly, among other honors. She is a New York Times bestseller whose work has been translated into several languages. Netflix is currently adapting Hello, Universe into a feature film, and her fourth novel, You Go First, has been optioned for the stage. Her most recent work, Lalani of the Distant Sea (September 2019), is a Junior Library Guild Selection. Erin is also a short story writer. Her short fiction has been nominated for the Philippines Free Press Literary Award for Short Fiction and the Pushcart Prize. She has a bachelor's degree in women's studies and liberal arts from McNeese State University and an MFA from Rosemont College. Erin was raised in Louisiana, but now lives in Delaware. Erin is mestiza and identifies as Filipina-American. Her mother is Visay. Panel: Promoting Diverse Communities of Writers
Lawrence Knorr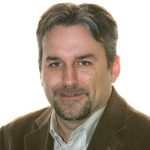 NOTE: SPEED DATE EDITOR
Lawrence Knorr is the founder and CEO of Sunbury Press, Inc., a trade publisher based in Pennsylvania since 2004. Sunbury Press publishes books under 11 different imprints, and sells them worldwide, wherever books are sold. Panel: Querying Your Book Without an Agent
Rajani LaRocca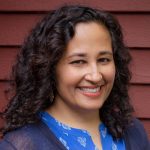 Rajani LaRocca was born in India, raised in Kentucky, and now lives in the Boston area with her wonderful family and impossibly cute dog. A graduate of Harvard College and Harvard Medical School, she spends her time writing novels and picture books when she's not practicing medicine. Her middle grade debut, Midsummer's Mayhem (Yellow Jacket/Little Bee Books), an Indian-American mashup of A Midsummer Night's Dream and competitive baking, was an Indies Introduce selection, an Indie Next pick, a Kirkus Best Middle Grade Book of 2019, and a 2020 Massachusetts "Must-Read" title. Her forthcoming middle grade novel-in-verse, Red, White, and Whole, will be published by Quill Tree Books/HarperCollins in February 2021 and involves heritage and fitting in, Hindu mythology and 80s pop music, holding on and letting go. Her third middle grade novel, Much Ado About Baseball, will publish in June 2021. Her debut picture book, Seven Golden Rings: A Tale of Music and Math (Lee & Low Books, October 2020) is set in ancient India and involves a math puzzle and an explanation of binary numbers. You can learn about her other forthcoming books at www.RajaniLaRocca.com and find her on Twitter and Instagram @rajanilarocca. Panel: Writing for Children & YA
Maddy LeMaire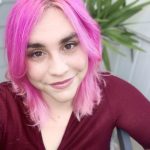 Maddy LeMaire is an author who focuses on sci-fi and fantasy, with an affinity to crossbreed the two, but dabbles in horror, domestic mystery, and contemporary romance on the down low. A zealous researcher, she attributes this to her Bachelor of Anthropology and holds a Master of Publishing and a Master of Creative Writing. Her preferences lie between YA and adult, and she is an avid supporter and voice for reviving the new adult genre. She's worked as an editor for a literary magazine and as a digital marketer and social media campaigner for an independent publishing house. She lives in Honolulu, Hawaii with her two dogs. Catch her hiking mountains on days she's not allergic to the entire island or completely holed up in her office writing, editing, blogging, or tapping into her well of never-ending ideas for future books. Panel: Writing for Children & YA, Moderator
Nathan Long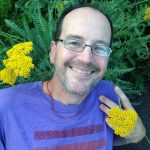 Nathan Alling Long's work has won several international story competitions, appeared on NPR, and been published in over 100 publications, including Tin House, Glimmer Train, The Sun, Witness, and Best of Microfiction 2020. Nathan's collection of fifty short fictions, The Origin of Doubt, was a 2019 Lambda Literary Award finalist. His second manuscript, Everything Merges with the Night, was a finalist for both the Hudson Book Manuscript Prize and the Iowa Fiction Award. Other awards include a Mellon Foundation Fellowship, a Truman Capote Literary Scholarship, three Pushcart nominations, and scholarships to Bread Loaf and Sewanee Writers Conferences. Nathan lives in Philadelphia and teaches at Stockton University. Panel: Querying Your Book Without an Agent, Moderator
Frances Metzman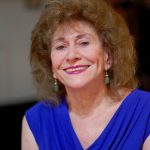 NOTE: SPEED DATE EDITOR
Frances Metzman is the fiction editor at Schuylkill Valley Journal. She authored a novel, THE CHA-CHA BABES OF PELICAN WAY (2nd printing by Tree of Life Books), that came out June, 2020. It was met with high praise from the Philadelphia Inquirer, The Kirkus Review, The Baltimore Sun, Orlando Centennial, Chicago Tribune, Hall of Fame, Digital Journal, Vine Voice, California Herald and several others. She's had a short story collection published, 2012, THE HUNGRY HEART STORIES, (Wilderness House Press.) Before that she co-authored and published a novel, UGLY COOKIES, (Pella Press, 2000). Most recently, she has achieved, Best Seller on Amazon, 2019, for her novel, The Cha-Cha Babes of Pelican Way. In 2018 she was nominated for the Pushcart Prize. She has published 50 articles in well-known journals on health and relationship issues, 2018/2019. Publishing 29 short stories in college and university journals, she also speaks on panels of various writing conferences. She has a Master's Degree from the University of Pennsylvania. Panel: Submitting to Magazines & Journals
Christine Neulieb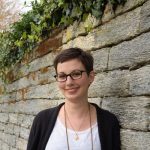 NOTE: SPEED DATE EDITOR
Christine is the Editorial Director of Lanternfish Press. Founded in Philadelphia in 2013, Lanternfish publishes literature of the rare and strange: fiction that crosses the boundary between literary and speculative; real or imagined tales of characters at the margins of history; essays rooted in a strong sense of place; a cabinet of curious Victorian reprints. We seek the grotesque, the alien made familiar, the "I don't know what this is—but I love it." Lanternfish aims to make books and publication accessible to readers and writers who fall outside the literary mainstream, whether in race, sexuality, gender, situation, or pure individual oddity. We're a home for books that defy pigeonholes—and for the readers who love them. Panel: Querying Your Book Without an Agent
Gina Panettieri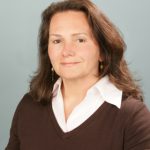 NOTE: SPEED DATE AGENT
Founded in 2003, Talcott Notch Literary is a rapidly-growing mid-size literary and screen rights agency representing the freshest new voices in both fiction and nonfiction. Their founder, Gina Panettieri has expertise in every aspect of writing and publishing and has helped thousands of writers achieve their goals. She has successfully placed hundreds of books with such well-known publishers as Berkley, St. Martin's Press, Adams Media, Palgrave-Macmillan, McGraw-Hill, John Wiley & Sons and many others. In more than twenty years in the publishing industry, Gina has appeared as a speaker at scores of national and regional conferences, leading workshops on a range of subjects ranging from characterization, dialogue and query letters, to the changing publishing market, publicity and new trends in fiction. Panel: Meet the Agents
Margo Rabb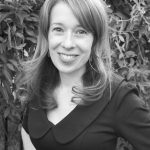 Margo Rabb is the author of the novels Kissing in America, Cures for Heartbreak, and the forthcoming Lucy Clark Will Not Apologize, all published by HarperCollins. Kissing in America was named a best book of the year by the New York Public Library, the Chicago Public Library, and the American Library Association,and was named to the Amelia Bloomer Project's List of Recommended Feminist Literature. Her essays, journalism, book reviews, and short stories have been published in The New York Times, The Atlantic, Slate, Salon, Marie Claire, The Rumpus, Zoetrope: All-Story, Seventeen, Best New American Voices, One Story, and elsewhere, and have been broadcast on NPR. Visit her online at www.margorabb.com. Panel: Writing for Children & YA
Yalonda Rice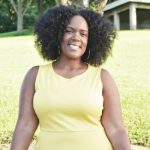 Yalonda Rice received her MFA in Creative Writing from Rosemont College in Philadelphia, PA. Currently, she serves as Managing Editor of Philadelphia Stories, a literary magazine serving the Delaware, New Jersey, and Pennsylvania communities. She resides in Millersville, PA. Panel: Promoting Diverse Communities of Writers, Moderator
Trish Rodriguez
NOTE: SPEED DATE EDITOR
Trish Rodriguez is the fiction editor for Philadelphia Stories. Trish lives, reads, and writes in Media, PA. She received her MFA in Creative Writing from Rosemont College where she teaches in the Rosemont Writers' Studio. Her writing has been published in Awakened Voices and Animal: A Beast of a Literary Magazine. She has served as managing editor for Rathalla Review and is also the prose editor for Typehouse Literary Magazine. Panel: Submitting to Magazines & Journals
Madi Sinha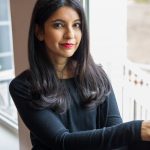 Madi Sinha is a writer and practicing physician who loves the nervous system, bookshops, tea with milk and snarky conversation (but not necessarily in that order). She lives in New Jersey. THE WHITE COAT DIARIES is her first novel. Panel: The Publishing Journey of a Debut Author
Nikki Caffier Smith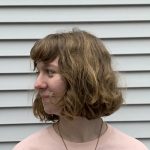 Nikki Caffier Smith is the fiction editor for Cleaver Magazine. She is a queer writer based in Brooklyn. She received a BA in Creative Writing from The Gallatin School at New York University. Her writing has appeared in Anti-Heroin Chic, Typishly, and Awakened Voices Magazine, and is forthcoming in Strange Horizons, 42 Stories Anthology and on the podcast Kaleidocast. In addition to serving as a fiction editor for Cleaver Magazine, she is also a reading committee member for Carve Magazine. She lives with her partner and their two ill-behaved cats. Panel: Submitting to Magazines & Journals
Mitchell Sommers
Mitchell Sommers is the former fiction editor for Philadelphia Stories. He practices law in Lancaster County, concentrating in the area of consumer bankruptcy. He received his MFA from the University of New Orleans. He's currently working on a novel set in colonial Pennsylvania. Panel: Submitting to Magazines & Journals, Moderator
Carla Spataro
Carla "C.J." Spataro is the MFA program director at Rosemont College and the editorial director of Philadelphia Stories and PS Books. She is an award-winning short story writer, Pushcart Prize nominee, and a Pennsylvania Council on the Arts grant winner. Her short fiction has appeared in Phantom Drift, december magazine, Italian Americana, Iron Horse Literary Review, Pithead Chapel, Permafrost, The Baltimore Review, Painted Bride Quarterly, and others. Poetry has appeared in Ovunque Siamo. Her work has also been anthologized in Another Breath, Forgotten Philadelphia, Extraordinary Gifts, and 50 Over 50. Panel: Meet the Agents, Moderator
Victoria Strauss
Victoria Strauss is the author of nine novels for adults and young adults, including the Way of Arata epic fantasy duology (The Burning Land and The Awakened City) and a pair of historical novels for teens, Passion Blue and Color Song. She has written hundreds of book reviews for magazines and ezines, including Fantasy magazine and SF Site, and her articles on writing have appeared in Writer's Digest and elsewhere. She has also served as a judge for the World Fantasy Awards. Victoria is co-founder, with Ann C. Crispin, of Writer Beware, a publishing industry watchdog group sponsored by the Science Fiction and Fantasy Writers of America that tracks and warns about the many schemes and scams that prey on writers. She maintains the Writer Beware website and blog. She's a 2009 recipient of the SFWA Service Award, and was honored in 2012 with an Independent Book Blogger Award. Panel: Writing for Children & YA
Joyce Sweeney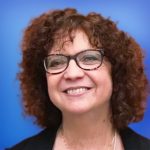 NOTE: SPEED DATE AGENT
In 2020, Joyce Sweeney joined The Seymour Agency as an agent representing picture books and middle grade fiction and non-fiction. Joyce has worn a lot of hats. She is the author of fourteen novels for young adults, and two chapbooks of poetry. She created and managed a local theater company in South Florida for ten years, mentoring local playwrights, producing and directing their plays. For the past twenty-five years, she has taught creative writing, both in person and online, and has mentored over sixty of her students to traditional publishing contracts. She has edited countless manuscripts and will be the quintessential 'editorial agent'. Most of all, she is a champion for writers and this new role is a great chance to take that to a higher level. Panel: Meet the Agents
Donna Talarico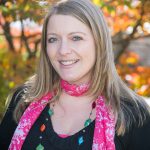 NOTE: SPEED DATE EDITOR
Donna Talarico is an independent writer and content marketing consultant, and she also is the founder of Hippocampus Magazine and its books division and annual conference, HippoCamp. Donna has more than two decades of experience in marketing and communications, and about half that time has been in higher education. She speaks at higher education and publishing conferences, writes an adult learner recruiting column for Wiley, and has contributed to Guardian Higher Education Network, The Writer, mental_floss, Games World of Puzzles, and others. Her creative nonfiction appears in The Los Angeles Review and The Los Angeles Times. Donna teaches or has taught about branding and digital identity in several graduate creative writing programs, including Wilkes University and Rosemont College, as well as at Pennsylvania College of Art & Design. Panel: Submitting to Magazines & Journals
Tara Tomczyk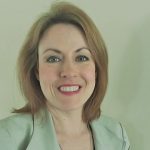 NOTE: SPEED DATE EDITOR
Tara Tomczyk is editor in chief at Blydyn Square Books, headquartered in Lansdale, PA and Kenilworth, NJ. She has been a professional editor for over 24 years. She began her career at Enslow Publishers in New Jersey, where she specialized in editing nonfiction books for the young adult market, working primarily as a history, social studies, and biography editor. She then moved to McGraw-Hill, where she developed textbooks and other educational materials. She has also worked for Chelsea House Publishers/Facts on File, where she served as the executive editor in charge of science titles. In 2005, she started her own editorial services company. She eventually narrowed her focus to book publishing and helped launch Blydyn Square Books in 2015. Panel: Querying Your Book Without an Agent
John Wall Barger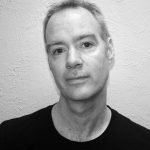 John Wall Barger's poems and critical writing have appeared in American Poetry Review, Kenyon Review, The Hopkins Review, Alaska Quarterly Review, Rattle, The Cincinnati Review, Poetry Ireland Review, and Best of the Best Canadian Poetry. His poem, "Smog Mother," was co-winner of The Malahat Review's 2017 Long Poem Prize. His fourth book, The Mean Game (Palimpsest, 2019) is currently in its second print run. He lives in West Philadelphia, and teaches Creative Writing at The University of the Arts. johnwallbarger.com Workshop: Poetry Workshop on Duende
Jade Wong-Baxter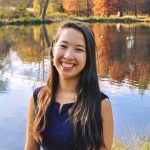 NOTE: SPEED DATE AGENT
JADE WONG-BAXTER – junior agent and foreign rights associate – got her start in publishing at Writers House, W. W. Norton, and Folio Literary Management. A graduate of Vassar College, she joined Massie & McQuilkin in 2017. Workshop: Demystifying Queries: A Guide to Writing Query Letters and First Few Pages