WHEN: April 4, 2020, 9:30 am – 3:30 pm
WHERE: Hirsh Community Center
Rosemont College, 1400 Montgomery Ave, Rosemont, PA 19010 (click here for campus map)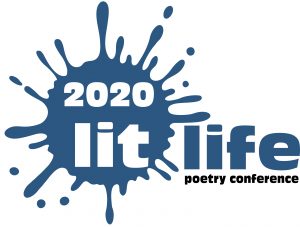 Join Philadelphia Stories editors and poets along with Rosemont College's MFA in Creative Writing, and the Montgomery County Poet Laureate Program for the LitLife Poetry Conference, a day of master classes, discussions, readings, and more—including a celebration of the Sandy Crimmins Poetry Prize and Montgomery County Poet Laureate winners. This sixth annual poetry conference at Rosemont College brings together poets and poetry lovers to celebrate and discuss the art. The day features workshops, engaging panels and presentations, readings, and opportunities to talk to other poets and poetry editors.
10:00-12:00
Kirwyn Sutherland and Ashley Davis will co-facilitate a master class entitled "Ekphrasis: The Act of Repurposing Image": 
Traditionally, ekphrasis involves the viewing of an image (most frequently a painting) followed by the creation of a poem that puts the writer in conversation with the image.  In this workshop we will explore what it means to snatch and repurpose an image, as well as interpret the images our bodies create. Together, we'll view contemporary art work, photography, music videos, listen to select audio, and explore image making through movement in an effort to "collect" the images that move us.  Through poetic language and performance techniques we will exhibit our transformed images.
1:30-3:30
Yolanda Wisher, inaugural Montgomery County Poet Laureate and recent Philadelphia Poet Laureate, will run a master class entitled "Preachin to the Poetry Choir":
In her  poem "Letter to My Sister," Trapeta Mayson writes "A famous writer once said that eventually I will tire of myself and will be compelled to tell the I-less stories…." This class is for the weary. We will approach poetry as a space for multiple voices, sometimesorking harmoniously, sometimes dissonantly. We'll playfully explore the echoes, dialogue, and collaboration possible in poetry driven by the power and musicality of the human voice. Working individually or in a small group, you'll arrange a poem of your own or someone else's into a score for multiple voices. Then we'll perform the poems using our own voices and bodies.
In addition and running concurrently with the master classes, we will be offering hour-long panel discussions covering  a variety of topics including:

10:00
A Poet's Responsibility: Poets are alternately told that "poetry does nothing" and that poets are "the unacknowledged legislators of the world." We can sometimes feel that our work is self-serving and navel-gazing. Other times, the work feels like a sacred task. How do poets balance their needs against the needs of the larger world? These panelists will discuss how their work engages with the larger world and how they decide what goes into the poetry and what work goes alongside it.
Panelists:  Keith Kopka, Hayden Saunier, and Lindo Jones
11:00
Using Research in Poetry: In this panel, poets will discuss the relationship between research and their work. We will talk about how difficult topics or historical trauma can take a toll on the poet who writes about them. How should poets approach research ethically and responsibly? How can poets protect themselves from second-hand trauma?
Panelists: JC Todd, Maria James-Thiaw, and Vernita Hall
12:10 Keynote Address/Craft Talk from Kirwyn Sutherland
LUNCH
1:30
The Evolving Pastoral Poem: The tradition of pastoral poetry stretches as far back as poetry itself. In this panel, poets will discuss the ways that they approach writing about nature in a time when our relationship to nature is changing. What of the pastoral tradition can help us enhance our connections to the natural world? How can our writing reflect the urgency of the current moment? These panelists will discuss their approaches to writing about the natural world as well as their reflections on how this work is evolving as the natural world evolves.
Panelists: Grant Clauser,  Cleveland Wall, and Liz Chang
2:30
Manuscript Development: In this panel, poets and editors talk about the work that goes into creating a book or a chapbook. How closely do presses work with poets? What should a poet know about submitting work during open reading times or contests? What are some of the expected and unexpected challenges of assembling a manuscript for publication?
Panelists: Gabriel Cleveland & Fred Shaw of Cavankerry; Shanna Compton & Pattie McCarthy of Bloof Books
4:00-6:00
Reception for Crimmins Winners and MCPL
Following the conference, we will be celebrating the winners of the Sandy Crimmins National Prize in Poetry selected by Iain Haley Pollock and the 2020 Montgomery County Poet Laureate selected by Yolanda Wisher.
7:00-8:00
Open Mic at Main Point Books in Wayne, PA
Grab a quick dinner and join us for an open mic featuring work generated in workshops at LitLife! Main Point Books: 116 N. Wayne Avenue, Wayne, PA 19087.