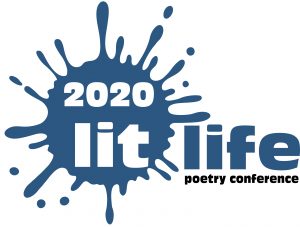 Rescheduled: LitLife 2020
WHEN: April 4, 2020, 9:30 am – 3:30 pm
WHERE: Sharon Latchaw Hirsh Community Center, Rosemont College, 1400 Montgomery Ave, Rosemont, PA 19010 (click here for campus map)
We hope that you will remain connected to Philadelphia Stories via social media [@philastories at Twitter] and our website, philadelphiastories.org. We are currently looking for poetry for the summer issue and we hope to see lots of poets submit their social distancing poems!
Look for LitLife programming during Push to Publish, October 10 at Rosemont College.
Please consider looking up our 2020 scheduled panelists and workshop leaders and supporting them! We asked them to join us originally because we thought you'd love their work and appreciate their insight. We still believe that. If you are currently spending time in isolation, consider ordering a book from one of these poets!
Bios for LitLife Panelists and Workshop Leaders
Ashley Davis a black Queer androfemme (they/she) performance artist, writer, human who works to center the intergenerational black femme and build spaces for rest and inner children to play. Ashley blends theater and poetics, publishing their work in journals such as Apiary (2020), and anthologies centering black joy, as well as performing with theatrical ensembles. 2016 Ashley performed at the National Poetry Slam where their team took 3rd place. Ashley plays with magic, fantasy, Afro-futurism & surrealism to deal with themes of surviving childhood sexual abuse (CSA), navigating mental health, examining patterns of intergenerational trauma, and building systems of collective care rooted in transformative justice and reconciliation.
Kirwyn Sutherland is a Clinical Research Professional and poet who makes poems centering the black experience in America. He is a Watering Hole fellow and has attended workshops/residencies at Cave Canem, Winter Tangerine, Poets House, Philadelphia Sculpture Gym, and Pearlstein Art Gallery at Drexel University. Kirwyn was a member of the 2015 Philadelphia Pigeon Slam Team that made Semi-Finals at the National Poetry Slam and also was a member of  the 2016 Philadelphia Fuze Poetry Slam Team. Kirwyn's work has been published in American Poetry Review, Blueshift Journal, APIARY Magazine, FOLDER, The Wanderer and elsewhere. Kirwyn has served as Editor of Lists/Book Reviewer for WusGood magazine and poetry editor for APIARY Magazine. Kirwyn is currently teaching Spoken Word/Poetry Performance at the University of the Arts. Kirwyn's chapbook Jump Ship was released in December 2019 by Thread Makes Blanket Press and distributed by AK Press.
Yolanda Wisher is the author of Monk Eats an Afro (Hanging Loose Press, 2014) and the co-editor of Peace is a Haiku Song (Philadelphia Mural Arts, 2013). Wisher was named the inaugural Poet Laureate of Montgomery County, Pennsylvania in 1999 and the third Poet Laureate of Philadelphia in 2016. A Pew and Cave Canem Fellow, she was a Writer in Residence at Hedgebrook and Aspen Words and a CPCW Fellow in Poetics and Poetic Practice at the University of Pennsylvania. A former high school English teacher, she has been active in Philadelphia's artistic and cultural sphere for two decades. Wisher founded and directed a Germantown neighborhood poetry festival, worked as Director of Art Education for Philadelphia Mural Arts, and has spearheaded numerous community-driven programs with partners such as The Philadelphia Museum of Art, The Rosenbach Museum and Library, Historic Germantown, and the U.S. Department of Arts and Culture. Wisher currently works as the Curator of Spoken Word at Philadelphia Contemporary and regularly performs a unique blend of poetry and song with her band The Afroeaters. In collaboration with Philly literary organization Blue Stoop, Wisher recently launched the School of Guerrilla Poetics, a training ground for folks interested in nurturing and mobilizing communities through poetry. Wisher lives in Germantown. You can find more about her work and projects at yolandawisher.com, and you can listen to her podcast Love Jawns: A Mixtape here.
Liz Chang was 2012 Montgomery County Poet Laureate in Pennsylvania. Her 2018 chapbook Animal Nocturne is available from Moonstone Press. Her poems have recently appeared in Verse Daily, Origins Journal, Breakwater Review and Stoneboat Literary Journal, among others. She is an Associate Professor of English at Delaware County Community College.
Grant Clauser is the author of four books, most recently The Magician's Handbook and Reckless Constellations. His awards include the Cider Press Review Book Award, the Dogfish Head Poetry Prize and the Montgomery County Poet Laureate. His poems have appeared in The American Poetry Review, Cortland Review, The Journal, The Literary Review, Painted Bride Quarterly, Southern Poetry Review, and others. He's a contributing editor to the online publication Cleaver and works as a senior editor for Wirecutter at the New York Times.
Gabriel Cleveland is the Managing Editor at CavanKerry Press. A poet and fiction writer with an MFA in Creative Writing from Pine Manor College, he is an avid video gamer and music lover as well as a mental health advocate, often working online to raise awareness, visibility, and money for psychological and psychosocial issues. Gabriel has spent several years in the field of caregiving for people with increased physical and/or mental needs and wants you to know that you're not alone.
Shanna Compton's most recent book is Creature Sounds Fade, forthcoming from Black Lawrence Press in 2020. Her poetry and essays are widely published, appearing in Best American Poetry, the Nation, American Poetry Review, and elsewhere. She is the founder of Bloof Books, and works for several other small presses as a freelance book designer. She lives in Lambertville, NJ. For more, see shannacompton.com.
Vernita Hall is the author of Where William Walked: Poems About Philadelphia and Its People of Color, winner of the Willow Books Grand Prize for Poetry and of the Robert Creeley Prize from Marsh Hawk Press; and The Hitchhiking Robot Learns About Philadelphians, winner of the Moonstone (Press) Chapbook Contest. Poems have appeared or are forthcoming in numerous anthologies and journals, including American Poetry Review, African American Review, Atlanta Review, and Mezzo Cammin. Hall holds an MFA in Creative Writing from Rosemont College and serves on the poetry review board of Philadelphia Stories.
Poet/Playwright, Maria James-Thiaw is CEO and founder of Reclaim Artist Collective (RAC), a nonprofit focused on arts programming for and about individuals in marginalized communities. She developed the American Griot Project, a program in which she teaches students to use research and oral history to develop choreopoems. She was inspired to start RAC after her first choreopoem, Reclaiming My Time, sold out 6 shows in 2018. The show was based on oral history research and featured poetic translations of women's memories of the Civil Rights era. In 2018 works from Reclaiming My Time won the Art of Protest Poetry Prize from the Center of American Literary Studies at Penn State University. Maria is a spoken word artist and the author of three poetry books. After 16 years as a professor at Central Penn College, she enthusiastically took charge of the Creative Writing program at the Capital Area School for the Arts in Harrisburg, PA. She lives in the Harrisburg area with her husband and two little boys who are a constant source of both exhaustion and inspiration
Keith Kopka is the author of Count Four (University of Tampa Press, 2020). His poetry and criticism have recently appeared in Best New Poets, Mid-American Review, New Ohio Review, Berfrois, Ninth Letter, The International Journal of The Book, and many others. He is also the author of the critical text, Asking a Shadow to Dance: An Introduction to the Practice of Poetry and the recipient of the 2017 International Award for Excellence from the Books, Publishing, & Libraries Research Network. Kopka is a Senior Editor at Narrative Magazine and the co-founder and the Director of Operations for Writers Resist.
LindoYes is a spoken word artist, actor, and emcee born and raised in Philadelphia, PA. His work takes the beat of the city streets and transforms it from a sunrise to a starry throne. Paying homage to the wordsmiths that surround and inspire him daily, he embodies their character and champions their unique stories to audiences of all varieties. Seeking to create larger conversations with his art, LindoYes addresses the constructs of love, gender identity, and social injustice. LindoYes' talents have allowed him to travel across the east coast featuring at various colleges such as Bucknell University, Haverford College, Ursinus College, Drexel University, Lincoln Unversity, Community College of Philadelphia and Cheney University of Pennsylvania. He has been a featured performer at venues such as BusBoys and Poets and SpitDat in DC and Virginia, The Drunken Retort in Michigan, and Urban Grind, Apache Cafe and Do You Lyrics Lounge in Atlanta. When LindoYes is not performing he operates on the organizational team for local Philadelphia open mic; Breedlove and the Freedom Party. He also works as a teaching artist helping youth express themselves through the mediums of creative writing, visual art and performing art linked to activism. They have taught at the following organizations ArtWell, EducationWorks, and Congreso. He has also done advocacy work with SoulsShot, Refuse Fascism Philly, Sunrise Movement Philly, and Moms Demand Action PA. LINDOYES! Creates images with words, taking audiences beyond their immediate experiences, he makes the world his canvas.
Pattie McCarthy is the author of six books, most recently Quiet Book from Apogee Press. Her previous books include Nulls (2014, Horse Less Press), Marybones (Apogee, 2012), Table Alphabetical of Hard Words (Apogee, 2010), Verso (2004), and Bk of H(r)s (Apogee, 2001). She has also written several chapbooks, most recently scenes from the lives of my parents (Bloof, 2013) and x y z && (Ahsahta, 2015). A former Pew Fellow in the Arts, she teaches at Temple University. Pattie's chapbook mercy, a midden is forthcoming from Bloof in 2020.
Risa Pappas is a poet, filmmaker, writer, editor, audiobook narrator, and public speaker. She has most recently been published in the River Heron Review, Inklette Magazine, and bluntly magazine and is a senior editor at Tolsun Books. Risa received her MFA in creative writing at Fairleigh Dickinson University. She currently resides near Philadelphia.
Hayden Saunier is the author of four poetry collections: How to Wear This Body, Say Luck, Tips for Domestic Travel, and a chapbook, Field Trip to the Underworld. Her work has been widely published and awarded the Pablo Neruda Prize, Rattle Poetry Prize, Gell Poetry Award and Keystone Chapbook Prize. She is an actor with 30 years of theatre credits and appearances in The Sixth Sense, Mindhunter, House of Cards, Philadelphia Diary, and as the voice of a broken-down stove for Ikea. She is the founder/director of the poetry + improvisation performance group, No River Twice. (www.haydensaunier.com)
Fred Shaw is a graduate of the University of Pittsburgh and Carlow University, where he received his MFA. He teaches writing and literature at Point Park University and Carlow University. A book reviewer and Poetry Editor for Pittsburgh Quarterly, his poem, "Argot," was featured in the 2018 full-length documentary, Eating & Working & Eating & Working. The film focuses on the lives of local service-industry workers. His poem "Scraping Away" was selected for the PA Public Poetry Project in 2017 and his first full length collection, Scraping Away will be released by CavanKerry Press in April 2020. He lives in Pittsburgh with his wife and rescued hound dog.
J.C. Todd's recent work explores the traumatic effects of war on women, both civilians and combatants. She is author of Beyond Repair, forthcoming in 2020 from Able Muse Press, What Space This Body, The Damages of Morning, a 2019 Eric Hoffer Award finalist, and a manuscript in-process responding to the life and work of Kåthe Kollwitz. In collaboration with visual artist MaryAnn L. Miller, she has published FUBAR (Lucia Press, 2016) and On Foot / By Hand (Lucia Press, 2018); both are in the collection of the National Museum of Women in the Arts. JC is the winner of the 2016 Rita Dove Prize in Poetry and holds fellowships in poetry from the Pew Center for Arts & Heritage, the Pennsylvania Council on the Arts, the Bemis Center and others. Her work has been published in American Poetry Review, Beloit Poetry Journal, THRUSH, The Paris Review, and Fifty Over Fifty.
Cleveland Wall is a poet, editor, and teaching artist. Her work has appeared in Philadelphia Stories, Möbius, Schuylkill Valley Journal, and beyond. She is a founding member of the poetry improv group No River Twice and cohost of Tuesday Muse, a monthly performance series at Bethlehem's Ice House. She also performs with poetry/classical guitar combo The Starry Eyes. Her first poetry collection, Let X=X, was published by Kelsay Books, fall 2019.