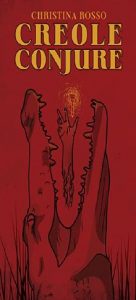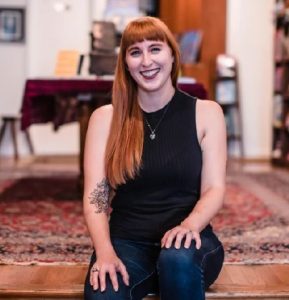 Christina Rosso-Schneider (she/they) lives and writes outside of Philadelphia with her two rescue pups and bearded husband. Together, they run an independent bookstore and event space called A Novel Idea on Passyunk. In 2016, Christina received an MFA in Creative Writing and an MA in English from Arcadia University. She is the author of CREOLE CONJURE (Maudlin House) and SHE IS A BEAST (APEP Publications). Their fiction and nonfiction work centers around gender, sexuality, fairy tales, and the occult, and has been nominated for Best of the Net, Best Small Fictions, and the Pushcart Prize. She is represented by Eric Smith at P.S. Literary Agency. When Christina isn't writing or working at the bookstore, they lead various writing and occult-based workshops.
Review of Christina Rosso, Creole Conjure
By Linda Romanowski
Horror fiction is not a realm I visit often. My recent exposure and appreciation for the short story genre led me to read beyond my comfort zone and find a most compelling story collection written by Christina Rosso. I was partly drawn to Rosso's book because in 1977, I
visited New Orleans during Mardi Gras. Aside from the raucous activities, there was time to tour the area. I never gave a passing thought to swamp-witch sorcery in a place noted for its refinement and charm. I unconsciously braced myself as the tourism aspect of the city
disappeared and the fog of the mysterious dominated my thoughts while reading this collection of stories. The curiosity of the spells and occurrences described dove my physical memory of New Orleans underground. I felt the shift in location. The word "Creole" in the title sets in my mind an immediate image of unfamiliar territory, a culture floating around me and apart from me, yet rooted in the fiber of the surroundings. Rosso's dedication, "For New Orleans. This is a love letter to you" questions what that means.
This is a reading where revenge and vengeance is in the eye of the beholder, the villain, the scorned, whether real or imagined. It did not cross my mind until days after my reading of Creole Conjure, that women control the narrative in every one of the nine selections. They are the protagonists. They are not infantilized but strong and determined, They become demi-gods as their stories are unveiled. In my reading experience of mythology, women are often punished by the whims of the gods, with loss of physical beauty a common outcome of some act or situation. In this collection, it is not the prevailing issue. Theirs is a persistent, at times disguised manic control of lure and punishment.
There are moments when wincing before reading the next paragraph became nearly routine. But with the squeamishness, there are moments of tenderness, encased in wondrous imagery and prose. Most central to Rosso's presentations are the backstories, enough to explain
but not excuse the characters' motivations. They keep our near repulsion in check. Disclosed in bits and pieces, they provide a texture to the tapestry of the unfolding tales, perhaps quelling judgment. They provide layers and challenge the reader's thinking. Rosso's is not a gratuitous spate of random exploits. What you read might bring a reaction of horror or upset, but her presentation draws your mind back to the page. The motifs of beauty and ugliness are not so dramatic here; it's more a delineation of the victims, all males.
The concept of The Seven Deadly Sins came to mind as they manifested in the men-turned-victim and are the draw to the perpetrators. Pride, greed, lust, envy, gluttony, wrath, and sloth highlight and destroy, perhaps causing the reader to respond, "Take that!" As the
reader is drawn through every telling, they become captive to the action (p.1) …riding the carousel at the carnival,…always with a new attraction waiting for you. Meanwhile, prose as beautiful as it is alarming jumps from the pages when you least expect it.
These stories are separate puzzles that attest to the spiritual, to realms nefarious to those who scoff at the presence of the invisible. Rosso makes us pause and ask who the monsters truly are. You might find yourself asking this question. Each tale is worth reading again. Try one read from the tourist's point of view. And save the last line of the book for its deserved proper place in your reading.
---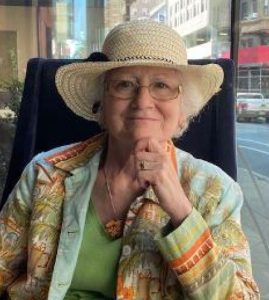 Linda M. Romanowski graduated from Rosemont College with an MFA in Creative Writing in 2021. Her thesis, her hybrid Italian memoir, Final Touchstones, is pending publication with Sunbury Press. Her non-fiction and poetry publications include The City Key, the Marion Lanza Institute Facebook page and website, Moonstone Arts, Ovunque Siamo, and Vine Leaves Press.