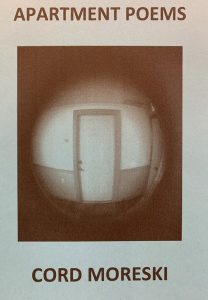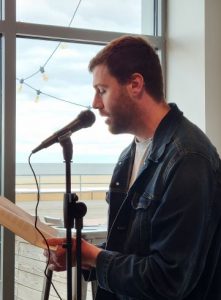 Cord Moreski is a poet from the Jersey Shore. Moreski is the author of Apartment Poems(Between Shadows Press, 2022), Confined Spaces (Two Key Customs, 2022), The News Around Town (Maverick Duck Press, 2020), Shaking Hands with Time (Indigent Press,
2018) and was featured in the PBS show Driving Jersey for the NJ Poetry Renaissance. He is currently the host of the New Jersey poetry series Coffee & Words in Asbury Park, and the virtual poetry series The Couch Poets Collective. When he is not writing, Cord waits tables
for a living and teaches middle school children that poetry is awesome. You can follow Cord here: www.cordmoreski.com.
Review of Cord Moreski, Apartment Poems
by Jada Cox
From the title alone, I instantly connected with this collection. Having lived in an apartment all my life, New Jersey native poet Cord Moreski's newest chapbook "Apartment Poems" takes issues, culture, and diversity of apartment living to make poems that read more like small stories/snippets of Moreski's community than actual poems. The voice of each one of his neighbors echoes different themes and feelings about apartment living and the sub-culture that surrounds it.
The first poem, "Welcome," introduces the poet's voice as a wildflower living in a world of differences in a small apartment complex. Each line reads with a flow that pulls you into this small, diverse complex. As a reader, if you close your eyes, you can see the place Moreski builds with each line using descriptive smells of weed, dusty doormats, and barking dogs. He pulls you down the hallways with him as he describes the neighbors and the landscape he calls home. The contrast between the loud environment and the graciousness of the last line, "just
watch your step," brought me back to my days as an administrator of an apartment building. It always felt like the world was at your feet culturally as people of all walks of life lived all around you, so many people that you may never see, but you can hear and smell what they leave behind.
Moreski continues the soft tones of remorse in "ANGEL." Each line has a velvety softness that amplifies the depressing thought of someone overdosing. You feel sorry for Angel, but hopefully he's on the other side. As a reader, you feel reminiscent of a familiar death, as he connects you with these characters right from the beginning of the collection. For me, this poem brought a vision to what could have happened to the spirit of my uncle, who has recently passed; who had a drug problem. "Angel" ends with hopes of redemption for troubled souls.
In "Casual Friday", the lines contrast the a flamboyant neighbor who hides in a gray suit. Gray being a color of bland, static, and nothingness. The writer pushes the reader to think about how what they wear could tell a lot about how they feel about themselves. Similarly to how you decorate your apartment, the poems leading this one center around being who you are, even if the world may not accept it. This particular poem pushes its reader to question if the outside matches the inside.
These poems are more than just a collection of poems but a love letter to the people that Moreski leaves around. They are memories of what used to be, homages to the person hiding in normalness, and a tribute to complex community culture and the people inside it. Moreski uses a light and relatable narrative that allows the reader to connect easily with each poem. He goes past stereotypes and clichés and pays tribute to the people who live there and the culture they bring.
---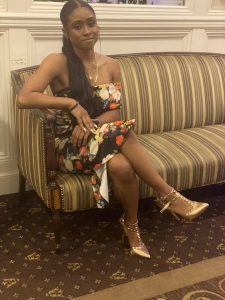 Jada Cox is a spoken word poet, event planner, and filmmaker, born and raised in Union, NJ. In 2022, she founded Blk Hippe Productions, a full-service creative entertainment company that supports POC talent, stories, and ideas.This idea came about while she was attending graduate school, where she earned an MA in screenwriting from Wilkes University. In the summer of 2022, she released her first short film called "Part/time." Currently, Cox is working on an MFA in Directing and Production while launching her podcast "Damn's She's Strong," a podcast focused on health, fitness, cannabis, and spirituality.