Writing For Social Justice — Column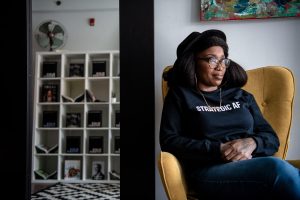 As He says also in Hosea: "I will call them My people, who were not My people, And her beloved, who was not beloved." Romans 9:25
I am convinced that Toni Morrison is sending me messages from the other side. Maybe those are her knuckles brushing against my cheek when I sleep. Maybe those are her footsteps that come and go after things go silent. And that is why I've returned yet again to her story, Beloved.
This time, my sister Jazzy and I are using our new podcast as an excuse for yet another walk down Morrison's Bluestone Road looking for clues to heal the chokecherry tree society's back—clueless about what I mean? Then you have your homework.
This is not the first or the last time my sister and I will read Beloved or restudy the screenplay or rewatch the film knowing that the answers are all there. Our continued question—how do we complete the ultimate social exorcism and banish the evil of colonialism once and for all? We both agree wholeheartedly that Beloved holds the answers; it is just a matter of respecting the text and respecting our foremother enough to take a second look.
In our work as facilitators, before the bookshop, we reminded youth in countries around the world that the etymology of the word respect means to look again. We find in our society it is all too easy and highly common to make assumptions and conclusions about people, art, philosophies, and books based on our first impressions.
But respect requires us to return and see more—ask more questions—a second (or even in our case six hundredth) look lets you see what you never remembered you'd forgotten. Like it was Toni who took a second look at her own Black Book to better understand the woman she featured there, Margaret Garner. This woman who at first glance is seen as a wild slave and a horrific child murderer; at a second glance, she becomes a beacon of motherhood and the definition of freedom.
So, because we respect the heck out of this book and Toni Morrison, we find ourselves reading it like it is the first time. I am recognizing how much I've changed this time around simply by the questions that I find myself asking myself. Like, in 2012, I was obsessed with the feet. In 2014, it was the colors. In 2016, it was the men. In 2018, it was the mothers. And this time around, I am caught up in the Fugitive Slave Act and what its modern equivalent may be, how we treat felons, and how we know we are free. I always wonder how I miss so much. And wonder who I will be the next time I read it and what she will see that I cannot yet see.
So, the other night, my sister and I spent the night in the bookshop determined to unpack this book once again. "We have to do it for the podcast," we said laughing. We poured libations for the ancestors, held hands, and invited Toni Morrison and Margaret Garner to "Come on. Come on. You may as well just come on."
"60 million," I read the book's dedication out of respect for the 60 million who died during the transatlantic trade of people.
"60 million," Jazzy repeats.
"You are my people," I say out of respect for the book's opening biblical quote about second chances.
"You are my people," she repeats.
"This is not a story to pass on," we say in unison.
From 9 p.m. to 9 a.m., we post sticky note after sticky note on the walls asking ourselves who was Beloved? And why we are being haunted by her. And whether we are wild or free. And how we are Sethe. And whether we have two legs or four. And why the community failed Baby Suggs. And what it means to be loved. And finally, we run out of sticky notes. We sit on the floor staring up at the wall and realize, once again we've only just begun.
My hope is that on your journey to wherever you may be headed, you will return to the books and the authors who are your beloved and take a second look. And that you will find your people and discuss it with them. And that you will find the clues to join us on the ultimate social exorcism so we can banish this thing once and for all.
Ase.
---
For the last 10 years, Jeannine Cook has worked as a trusted writer for several startups, corporations, non-profits, and influencers. In addition to a holding a master's degree from The University of the Arts, Jeannine is a Leeway Art & Transformation Grantee and a winner of the South Philly Review Difference Maker Award. Jeannine's work has been recognized by several news outlets including Vogue Magazine, INC, MSNBC, The Strategist, and the Washington Post. She recently returned from Nairobi, Kenya facilitating social justice creative writing with youth from 15 countries around the world. She writes about the complex intersections of motherhood, activism, and community. Her pieces are featured in several publications including the Philadelphia Inquirer, Root Quarterly, Printworks, and midnight & indigo. She is the proud new owner of Harriett's Bookshop in the Fishtown section of Philadelphia.