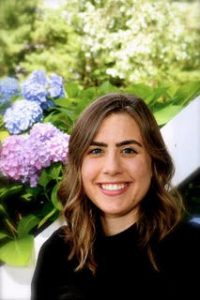 This year's virtual Push to Publish Conference will include all of the great tips, trends, and connections that writers have gotten from this popular, in-person event—but now from the comfort of your home. Below, we talk with K.L. Walther, the author of If We Were Us. Walther will be speaking at the panel The Publishing Journey of a Debut Author.
PS: Tell us a bit about your background and what you're doing now.
KLW: I grew up in an old (but not haunted) farmhouse in Bucks County, Pennsylvania and am the oldest of three children. I played ice hockey from elementary school through college, and graduated from the University of Virginia. Right now, I am revising my second young adult novel and drafting my third!
PS: How did you get into publishing?
KLW: I have always loved to read, and took a creative writing class in college on a whim and discovered I had a passion for creating characters and telling their stories.
PS: What trends are you seeing in the publishing industry?
KLW: In the young adult genre, there is a true call for diverse characters and stories, and that makes it exciting for both writers and readers! Romantic comedies are also on the rise, since everyone loves a hopeful and feel- good story.
PS: How do you think the publishing industry has changed since the pandemic?
KLW: I know most editors are currently working remotely, along with book conferences and events being moved to virtual formats, so reaching readers has changed. Social media is now more important than ever. My own publisher does a wonderful job hosting Instagram takeovers and book clubs to spotlight our work.
PS: What do you think writers should avoid when approaching editors or agents?
KLW: Don't immediately pitch your book when approaching an agent or editor in person at a conference. Play it cool. If you follow them on social media, or if you read an article about them, or read a book by one of their clients, those are great icebreakers. Pitch them your book when you are scheduled to pitch! If you weren't able to get a slot, you can always query them later and then use your conversation as a way to personalize your letter. If you do have a pitch appointment, be prepared to talk about your book, and if you need a script, that's okay! Agents and editors understand it can be nerve wracking. They will ask questions, but you can also use the opportunity to ask them your burning publishing questions too. They love talking about books and the industry, so take advantage of the face time.
PS: What other advice do you have for writers looking to get published?
KLW: You need discipline, tenacity, and a thick skin, since chances are, you will receive more rejections than requests. Be open to other viewpoints, directions, and perspectives. Don't lose sight or be deterred from your goal! I know that sounds cliché, but if you really love your writing and believe in it, the hard work is worth it.