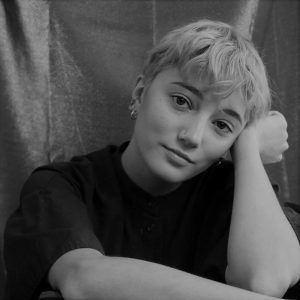 Becoming intimate with spirits,
I put my ear to the ground and listen
to the ocean rumble
I see wolves
they wear their hides like masks
prey on the flesh that peeks out from under skirts,
between breasts
what wanders in the dark
eschúchame, mi amor
Make yourself hard to chew
The ants are hardworking–
carry petals like treasures,
heavy and bright
 each a wish already made
Take one
rendición
Attune to the water, cold like a first breath
Most of the fruit is half lost,
decays slowly
like magic
feeds the strays
soaks the sand
The darkness is a friend
Perhaps this is why the air is sweet,
why I find kisses in the cracks of the pavement
awaken dreaming
a face I remember
but don't recognize
This is how they paint the sky–
the gods I mean
Drinking moments like mead,
danger is dust behind them
they follow a golden road
and it never ends
---
Liora Hassan (she/they) is an ambitious nonbinary writer and recent graduate of the University of Pittsburgh's English department. Hassan likes to draw from various facets of her identity as well her everyday experiences to guide her work. They're fascinated by the potential that literary art has to upset the norm and unearth new considerations. Hassan recently made Philadelphia to be her new home and looks forward to the changes it will bring.