By Eric-Ross McLaren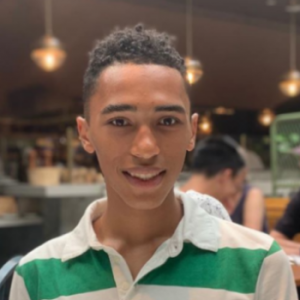 I'm a rising senior at the Friends' Central School, and I worked on Philadelphia Stories and Mighty Writer's most recent issue, PS Junior 2020, as the Lead Editor!
I've been working with Philadelphia Stories and Mighty Writers since my freshman year of high school. In my two years working with both organizations, I've learned that they're home to a very creative and unique group of students and mentors. They have a very special place in my heart, and I am grateful to the program directors for giving me such a wonderful opportunity.
I've gotta say, these past few months have been beyond abnormal. Who knew that we would be told to stay in our homes, and if otherwise, be victim to a nasty this wicked virus.
I remember chatting with a couple of friends a few days before New Year's eve (2019), talking about how "2020 is going to be the year" and how "it better kick 2019's butt!" We had yet to learn about a global pandemic sweeping through not only the states, but the world itself. This most definitely caught my friends at Mighty Writers and myself off-guard.
We were working on the PS Junior 2020 issue when Governor Wolf sent out an order to quarantine. It was a very scary and uncertain time, and the mentoring editors and I had to come together to come up with a new gameplan: "What should we do?" The team and I had to follow a new and unfamiliar format when finalizing the issue. We had to hold many "ZOOM calls", a term everyone had become accustomed to a few weeks into quarantine. Schools were going virtual, and many people's schedules were running rampant, frazzled with uncertainty.
The editing process of PS Junior follows a carefully planned procedure: gather student-submitted creative pieces, organize editors into teams and assign stories, select and edit the stories, send all creative pieces to our designer, then have the actual issue printed. It's a very tedious process, especially when we fall back on deadlines. Yet, I am still surprised to this day how cooperative and hard-working the team was during the height of the pandemic. They stayed connected with me throughout the whole "virtual" editorial process, which was very difficult. Many of our editors either had family disruptions, or they had to take care of a younger sibling while also juggling tasks for the issue. I am so proud of every single one of them.
During this whole process — having to transition to a virtual platform while also managing a team of student editors — there's one very important skill I learned and developed: how to take immediate action as a leader, and how to uplift and embrace those who work alongside you. You are nothing without a team of like-minded, hard-working individuals, and I saw this amongst my team at Mighty Writers West.
I am proud that, despite the pandemic, this team was still able to produce a collection of stories, poems, and artwork that you can read in the latest issue of PS Junior. I look forward to working with the Mighty Writers editorial team on the next issue, PS Teen, for writers aged 13-18. The deadline is October 9. If you'd like to submit, you can submit through this link — we'd like to read your work!