by Pete Able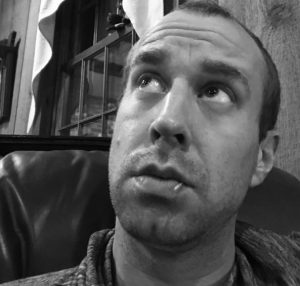 It was September, the beginning of a new school year, and I was having a snack in the teacher's room when I was told about my parents' accident. I left the school without hardly a word to anyone, knowing I'd never go back. I needed time to figure things out and, also, I'd just inherited several million dollars. As devastated as I was, it was some consolation to know that I'd now be free to follow my dream of not being a middle school math teacher. For the time being at least, I could not be one to my heart's content.
The realization of this particular dream began that night when I drank several vodka martinis on a school night and continued into the next afternoon when I got out of bed at the crack of noon and went to IHOP for waffles. I went with the Belgian and gobbled up three. Then it was back to my place for Bloody Marys. I kept up this general routine for several weeks. I thought the alcohol and comfort food would help me to grieve, and, in some small way, I think they did help soothe the confusion as I learned how to deal with the loss.
I'd made the arrangements and gone to the funeral but, after that, I was mostly avoiding friends and family. I hunkered down in my miniature, one-story, two-bedroom house and didn't take any calls. But one night I got a call from a familiar number that I decided to answer. It was the principal of the school, expressing his condolences and asking how I was doing. I said, "Oh, you know, fine, more or less," but I don't think my tone and slurred speech were very convincing.
"Andy, a lot of people in positions like yours benefit from support groups."
I was confused and looked around my messy house.
"My position?"
"Yes, needing help is nothing to be ashamed of."
"I don't know…"
"The meetings are pretty innocuous. You could even give a fake name."
"Why would I do that?"
"Anonymity can be like a suit of armor in a way."
I was just inebriated enough to jot down the address of the group he'd researched for me. With a martini in hand, almost everything sounded like a good idea, or at least highly possible.
The group met at 2pm in the basement of a church on Pacific Avenue, not far from the Atlantic City beach where I'd spread my parents' ashes into the surf. That Wednesday I limited myself to one mid-afternoon Bloody Mary and drove into town to see what it was all about. I figured, at the very least, it would be educational. As a former educator I was a big proponent of getting a well-rounded education.
The church was an ornate, faded, stone structure. It had two short spires at the front corners and one taller spire in the center. Or was it a steeple? I didn't know. It was a lovely building. Unfortunately it represented something I didn't believe in and couldn't condone. But I had to admit the architecture and stained-glass above the large wooden doors were beautiful, and there was organized religion to thank.
I'm not a tall man but still managed to bang my head on the ceiling as I made my way down the stairs. The floor was green shag carpet and the air had a musty smell, like someone's outdated and forgotten fallout shelter. It could have been the piles of books, the exercise equipment in the corner, or the stacks of canned food on the shelves, but there was definitely an end-of-days feel to the space.
Ten metal folding chairs were arranged in a circle and one open seat remained in between a large, mannish blond woman and a small, Middle Eastern man in a mechanic's blue jumpsuit. As I took my seat the man smiled a warm but crooked smile, made more noticeably crooked by his thin black mustache.
The head guru in charge, a middle-aged woman with tan skin, black hair, dark red lipstick and a clipboard resting on her crossed legs, welcomed me as a newcomer and asked if I'd like to introduce myself. I kept it short.
"My name's Andy. I'm 28. I'm a middle school math teacher. I recently lost my parents in a freak skydiving accident. I inherited some money and took an indefinite leave of absence from my school. I'm doing okay but well… I guess I'm here because I'm wondering if maybe I could be handling it better."
The guru woman asked me some questions, as did some of the other members, but I felt a little squeamish about getting too personal with a bunch of strangers. When I told them as much, the guru checked something off on her clipboard and we moved on to focus on other group members' issues. Space freed up in my chest when the attention was taken off of me.
The youngest member by far was a teenaged girl named Sam who recently lost her first boyfriend to leukemia. She was having issues with depression and anorexia and was struggling to keep up with her college-prep classes. She kept a sullen expression, had a lip ring, streaks of green and purple in her hair, and said "fuck" a lot.
Javier, a short, muscle-bound Mexican man, was dealing with the grief of having his wife and two small children deported. He sent almost all of the money he made in his landscaping business to them but he still felt guilty and wasn't sure staying in the States was the right thing to do. After wrapping up his share he said, "It's so hard," and sobbed into the crook of his muscly, tattooed arm.
The Middle Eastern mechanic sitting beside me introduced himself as "Sai, the widower." His wife had drowned in an undertow in the Atlantic two years earlier and he was lonesome and sad and on the verge of being suicidal. In a soft voice he thanked everyone present for being there because, "this group really helps."
To this Sam said, "You're welcome but, just so you know, I'd literally rather be anywhere else." So far, she was my favorite.
A woman, probably in her forties, with long blond hair and two impressive front chompers, whose name I didn't catch, talked rather eloquently about grief as a process. Among other things, she said, "I thought I'd be through at least some of the five stages by now. And yet I keep going back and forth between them as if they were the strings of a banjo and someone was plucking out a complex melody."
Eventually, the woman leading the group, whose name was Jasmine, "like the tea," thanked everyone for their shares and closed the meeting, saying next week there would be Rice Krispies Treats courtesy of Sarah, a silent, frumpy woman wearing a plaid shawl sitting on her right.
It was a heavy first group. All of that concentrated sorrow and grief sent me into a bit of a tailspin. I was angry and then depressed from one second to the next on the drive home along the marsh on Route 30. I was sure I was experiencing at least three of the five stages of grief myself, and all at the same time. I didn't feel under control again until I was starting in on my third martini, swallowing my ninth stuffed olive.
It seemed more often than not my dinner consisted solely of vodka and vodka-soaked martini olives.
I took up dancing after letting loose one night at a local bar. I had always been a terrible dancer and avoided it so as not to embarrass myself. But now I didn't care. It came as a much-needed release. I'd go out, have several drinks or more, and then sway or shake my parts around to whatever music happened to be playing. Over the next few weeks, I would singlehandedly clear more than a dozen dance floors.
Whenever I found myself dancing alone I'd make my way to the bar, but, the moment I'd see someone starting up again, I couldn't stop myself from getting back out there and executing more of my awkward, chaotic moves. Not once did a woman engage with me on the dance floor, and if they had been talking to me at the bar before they saw me dance, they quickly shut that down after seeing me dance.
"What were we talking about before?" I'd ask.
"I think you were mostly talking to yourself," they'd reply.
"Yeah, that checks out."
Sometimes I was too drunk to feel lonely. Other times I was too lonely to feel all that drunk.
I tried making waffles late one night but the batter came out thicker than cookie dough and I couldn't get it off of the spoon.
I remembered to duck my head as I made my way down into the basement of the church my second time there. I don't remember the real name of the church now, but I got to thinking of it as The Church of Perpetual Sorrow. I couldn't recall anything bumming me out more than that group did. In fact, I surprised myself a little by going back. Each time I descended those stairs I felt like I was attending my parents' funeral all over again.
"When I lost my little Bobby four years ago," said a woman with curly hair who looked as if she was both born and lived to be a mom, "I thought I'd never find meaning again. But now, fostering dogs is just my everything."
This was sad. But to me Sam's story was still the saddest. She was only 16 and her parents were, by all accounts, dysfunctional, poor and mean. I wanted to hear more from her but she didn't take a turn this time. Javier spoke more about how he was depriving himself in order to send more and more money to his family in Mexico, which to me sounded a little severe and unnecessary. Though he had a successful business he was eating only rice and beans and ramen noodles every day. Sai went on for a while about being grateful for the group. He sounded sincere, but I had a tough time relating to him for some reason. A couple of the other members spoke too, hitting similarly pitiful notes. When it came to my turn I couldn't think of a thing to say.
I parroted Sam and said simply, "I pass."
Though they were a little hard and stale, frumpy Sarah's Rice Krispies Treats were still the highlight of the session. It certainly wasn't the flavorless, lukewarm coffee we had to wash them down.
Jasmine took me aside after we closed things down. She put a hand on my back and drew me closer, smelling like my mom's herb garden. "If you're going to continue to drink before our groups, I must ask you to start using mouthwash and/or cologne. Some of our members battle with alcoholism, and I like this to be a safe space for them. It's nothing personal, nor an affront to your mode of grieving. It's just out of respect, you understand. Okay, dear?" From an apparent bottomless well of understanding, she smiled and gave my shoulder a good squeeze.
From the church I walked to the boardwalk to have a look at the ocean. It was only a couple of blocks. On the way I pulled the hood of my coat down tight against the wind and wished things were different. It seemed strange that I could see no real use for my parents' millions. Why was it that I could see only the things money got me out of doing, and not any of the things it could allow me to do?
The blue-gray Atlantic rolled, crashed and receded, but gave no answers.
It was around then that the third stage of "bargaining" kicked in for me. I started thinking in hypotheticals. If only their parachutes had opened. If only they had taken up bungee jumping instead. If only they hadn't gone to that bargain skydiving company they found on Craigslist. Whatever way you sliced it, I was in a desperate state of mind. If anything, I felt my sadness was deepening. I sometimes pictured myself stuck at the bottom of a bottle of maple syrup, unable to move, able only to exist and feel bad.
I used the first $104 of my inheritance to buy a comfortable pair of shoes so I could stay out on the dance floor longer. That's where I felt things clicking into place. That's where, I thought, I would discover how to move forward.
With my arms up in the air I could almost reach the pipes and wooden beams of the ceiling at Earthworm, my favorite bar for dancing. It was a bit of a dive, nothing much to look at from inside or out, but on Saturday nights it was always packed because the headlining deejay had a reputation. He was this tall, weathered-looking Asian guy with dreadlocks who played the choicest current stuff but also peppered in classics from the 90s and early 2000s and 2010s. From 11 to 2am the place would echo with the most beautiful and intense vibes. While his tracks played people seemed to set aside their differences and personal struggles and moved as one large organism, almost as if in a trance.
As far as moves go, as I've said, I didn't know what I was doing. Sometimes I kicked my feet out. Sometimes I brought a knee up—clapped my hands. My facial expressions were out of control too. I tried to smile but would get distracted and bite my lip, open my mouth, make duck lips as I moved my hips in little circles or from side to side. I must've looked like I was having a seizure half the time. But at the very least I was out of the house and getting exercise. And I thought maybe, just maybe, I could sweat out some of the sorrow and loss I was feeling. Towards the end of the night, as my shirt would become soaked through, I'd imagine some of the demons were evaporating from my body.
The nights I didn't go out to the bar I watched old movies in my living room and played drinking games with myself. I'd watch old Meg Ryan movies and would take a big sip of martini every time she did something adorable. I had a bit of a crush on her, so halfway into one of her movies I'd be fairly wasted. I can't even count the number of times I blacked out watching When Harry Met Sally… (I literally can't count them. I don't remember.)
People continued to call, of course, but I wouldn't answer. I'd apologize out loud to the white ceilings of my small, crummy house as their numbers appeared on my phone, listing imaginary excuses.
"Sorry, George, I'm swamped with paperwork."
"So sorry, Aunt Carol, I'm indisposed in the bath."
"Oh no, Aunt Lucy, it's terrible timing! I've just been drafted into the neighborhood watch!"
I didn't feel right ignoring my grandpa though. He was my dad's dad and we were pretty close. I put him on speaker and let his raspy voice fill my increasingly filthy living room. In the middle of the conversation he stopped and repeated my name, as if he didn't already have my attention.
"Andy," he said, "Listen to me! You have to keep going. No matter what! It's what your parents would have wanted."
Grandpa had lost an arm in Vietnam and had a sort of combative approach toward life.
"Okay, Grandpa."
"No, Andy, listen. No matter what! Even if life sucks and it's a terrible, terrible burden. Keep going! You owe it to your parents!"
"Okay, I will."
"Andy, I mean it! Even if you get sick and you're in horrible pain! Don't be a wuss!"
"Okay, Grandpa. Thanks for calling."
Another Wednesday found me once more in the basement fallout shelter of The Church of Perpetual Sorrow. I was stone-cold sober and so, a little shaky. The quote of the day from guru Jasmine was, "Ends are also transitions into new experiences." Most everyone except Sai the widower, who still appeared to be in some form of denial, seemed put out by the statement.
Sam, in her shrill, girlish voice, said, "I don't want to fucking transition!"
I couldn't help but admire the disgruntled, distraught teenager for her spirit.
Then I heard frumpy Sarah speak for the first time when she said that she didn't have the energy for new experiences. "I'm 65 and my husband is dead," she said. "Everything I worked at all my life is gone, and I'm too tired to start again." She looked surprised by the words that had come out of her mouth, her face flushed.
And the fun continued…
A chubby, bald man I hadn't seen in the group before was all blubbery, "I'm afraid… Without John—I'm afraid of everything. I don't want to face the world without him."
"I can't take it no more," said Javier. "I'm going back to Mexico."
And Sam chimed in again. "This is bullshit! I'm too young. If this is just the beginning, I'm not sure I want to see how it all turns out."
Many more grumblings filled out the hour, and then the kindhearted Jasmine closed out the meeting by telling us to continue to "explore your grief." Saying, "it may be uncomfortable, but you will be rewarded."
On my way up the stairs, I was imagining Jasmine in some spotless, amenity-flush apartment listening to old-timey jazz music for some reason, when I banged my head on the ceiling again.
That night, to properly explore my grief, I didn't drink. I watched Joe Versus the Volcano, and every time Meg Ryan did something adorable, instead of sipping a martini, I sobbed a little. Teardrop by teardrop, I lubricated my soul for a new experience. I began to feel different somehow. I guess "sober" is the word, but also something more. After meditating during the end credits of the movie, I got changed and headed for the club at the Borgata Hotel and Casino.
The Premier Nightclub at the Borgata was a swanky establishment. The bar was long and black. The booths, along with their leather cushions, wrapped around the large low tables of the VIP areas. The purple and red lights set just the right atmosphere, leaving just the right dim glow in the wide, sort of intangible room. Everyone was dressed smartly and flashily. To me, who had been dancing in nothing but crummy bars, it felt as if I had leveled up or been promoted to a higher floor.
Almost immediately, I discovered I was a much better dancer without alcohol. I guess it took a clear head for me to properly feel the music. I stopped rushing my movements and let the rhythm come to me, discovering a sense of style. Women began to take notice. A few smiled in my direction, and some even brought themselves into the orbit of my flow. I wasn't terrible looking after all, with a decent shave and haircut.
Elated and full of energy, I didn't want to leave the dancefloor, but after two hours or so I got tired and went to the bar for a drink. As it was Wednesday, it wasn't all that crowded, and I was able to find a spot easily.
"I've been watching you dance," said a girl with short yellow hair and jade green dangling earrings. She was sitting on the edge of her stool in a black miniskirt, grinning at me.
"Me?" I said. "That's embarrassing."
"You must be thirsty."
"I am. Can I get you something to drink?"
She seemed more interested in me than my previously rock-bottom spirits would've warranted. We did a shot of tequila then I ordered myself a water and we began chatting over the club music. She was with her girlfriends, visiting from Delaware. One of them had gotten a promotion and they were celebrating.
There was a break in the conversation and she looked down at her hands.
"Do you have a room here?" she asked.
"No, I live nearby."
"Really? Do you work in the casinos?"
"No, I'm not working now."
For the first time since we began talking, the corners of her mouth drooped down.
"I'm in a bit of a transitional stage," I explained. "I recently lost my parents."
I realized I'd never said this out loud outside of the group before.
"I'm sorry to hear that," said the girl. But she was already looking away. Back out toward the crowded dance floor. And that was fine.
The following week outside of the church before the group, Sam was leaning against the stairway railing, smoking a cigarette. It was a cold November day and she was wearing a cream-colored hoody with the hood up, a gray coat and matching gray fingerless gloves. Compared to the stained glass reflecting in the sunlight on the church front above her, Sam's colors were dreary, but there was a brightness in her eyes and her features didn't seem quite as morose as they usually did.
I didn't know whether I should stop and engage or not so as I approached I just nodded my head and kept heading for the side door that went down into the basement.
"Hey," she said.
I stopped and turned toward her.
"Hey."
"Do you think you're really getting anything out of these groups?" she asked.
I had a feeling of déjà vu. It was like when one of my students asked me a question about algebra. Only now I didn't have the answer.
"I don't know."
Sam took a puff of her cigarette and looked off over my shoulder.
"Sai seems to think so, but then why is he still coming, two years later? It's fucking depressing."
I stuffed my hands into my pockets.
"If I'm still coming to this group in two years, remind me to off myself," said Sam.
"I wouldn't worry. You're young. In two years, you'll be in college. You'll be too busy to be depressed."
"Oh yeah, college, sure. Are you kidding? I'm not going to college. I can't afford it. Besides, my parents don't want me to go. They want me to get a job."
I thought then that if my parents' money enabled me to help this unlucky, bitter girl get an education, then maybe I could find a way to move forward with my life. Maybe I could find a sense of purpose. That wouldn't be the craziest thing I'd ever heard.
---
Pete Able's work has been published in Literally Stories, Philadelphia Stories, Blue Lake Review, Spillwords Press, and others. He lives in southern New Jersey.