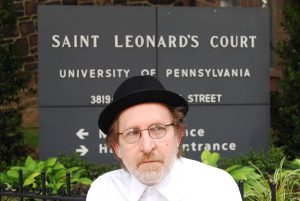 George Segal, 1975, 2020. Plaster, wood, plastic, metal and electric light.         
Lot of good it did me. Rising before dark.
There was a bench in the woods. I sat on it and waited for Autumn. It came too.
Light (tangelo bruise) brushed the leaves.
The wolf's head in my satchel. Smells of fresh laundry and evil. Now the
Building across the way is burning. And not just that one, but all of them.
The floor feels good under me, cool. Sunlight hacked into fragments.
Shaved, paper-thin layers. I think I used to know the word
In Spanish. I'll wait right
Here, dammit. One day they will
Deliver milk again. I'll learn the Spanish for thank-you and betray.
I'll step out the door to The End of The World to admire
Eros and the roses I spend so much
Time on. The yard, at night,
Illumined with strange light.
---
Leonard Gontarek is the author of eight books of poems, including The Long Way Home (2021). His poems have appeared in Field, Verse Daily, Fence, American Poetry Review, Joyful Noise: An Anthology of American Spiritual Poetry, and The Best American Poetry (edited by Paul Muldoon). He coordinates Peace/Works, Poetry In Common, Philly Poetry Day, and was Poetry Consultant for Whitman at 200: Art and Democracy. He conducts the poetry workshop: Making Poems That Last.