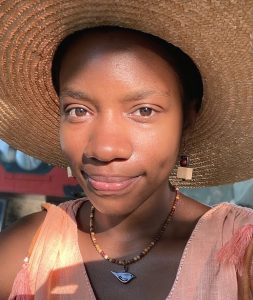 Crows & their eyes' starry glint,
brassy anklets of sparrows, ruby-crowned kinglets:
among these trees all limb & lung, each is a jewel
churning hours, draping Earth in necklaces of song
that rain onto my bed of ringlets
black as crows & their starry glint.
My dark volunteers decide where they belong.
Abiding by the current of these glossy rivulets,
I shrug at the slim rings crowning my head, fussy jewels
I swear stand on end when the crows arrive each dawn.
Breezing from the trees (those gem cabinets)
the crows nearly appear to wink—that starry, starry glint.
I toss them some peanuts on the roof and lawn,
willing our adjacent lives to better bisect,
hoping they've glimpsed in this gesture a jewel
of goodness. The human shock of my face gone
softer, daily, till in beaks of black intellect
the crows carry a kinship with my own starry glint.
All limb & lung, wing & song, each of us: jewels.
---
Basia Wilson is a poet with a BA in English from Temple University. A finalist for the 2022 Banyan Poetry Prize, Basia's work has most recently been published in Voicemail Poems and bedfellows magazine. Selected for Moving Words 2023, her work will soon be adapted for animation in an international collaboration between writers, animators and filmmakers with ARTS By The People.