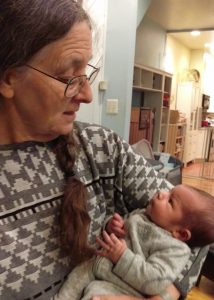 Take the afternoon train toward
forgetting.
Fill the saddlebags of your Harley.
Go in peace.
I will wait under the birch
for the owls to cry.
Hitchhike to Columbus.
Carry a calico bandana full of lightning.
I will remember the hedgerow,
the small silver trout,
the history of icicles,
the taste of juniper berries on your tongue.
Pack your trunk, take your pistol,
Measure the wingspan of a barnwood flag.
I carry a snail in my backpack.
He chases a grasshopper
under stones.
Heartsick, your highway
whispers 'tomorrow, heart,
ache'. This is a film,
twice forgotten:
a spaghetti western,
this balloon lifting
you from sleep.
---
Pediatrician Kelley White has worked in inner-city Philadelphia and rural New Hampshire. Her poems have appeared in Exquisite Corpse, Rattle and JAMA. Her most recent chapbook is A Field Guide to Northern Tattoos (Main Street Rag Press.) She received a 2008 Pennsylvania Council on the Arts grant and is currently Poet in Residence at Drexel University College of Medicine. Her newest collection, NO.HOPE STREET has just been published by Kelsay Books.