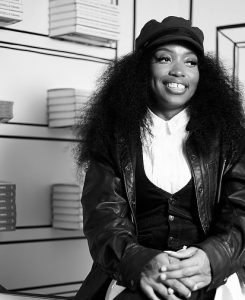 1926 Prospect Place dressed up as the Pentecostal House of Prayer for All People on Sundays. The Lord's house was a solid brick Brooklyn building adorned with cracked stained glass and a winged foot of Hermes soaring high above domed double doors. In the early 80s, this house for prayer was not for all people, just his chosen few. And no angels, nor gods, no faith, nor reason could save me from the devilment that went on in the building's basement. Crown Heights. Brooklyn. New York.
At 1926 Prospect Place, everyone was related. We had real parents and play parents and real grandparents and play grandparents and church aunts and church uncles. We worshiped as one body from the "rising of the sun 'til the going down of the saints." Our family, extended family, and play family were intoxicated by 1926. We were seduced into stomping to the rhythms of its unrelenting drum. Seduced into slapping tambourine hide against calloused thumbs. High off the breeze from swaying church fans. Captivated by the stench of hot combed hair grease and the organist's jheri curl activation cologne.
One Sunday, at 1926 Prospect Place, a three-year-old asthmatic me was sitting on my real grandmother, Rebecca's, size 16 lap. Thirty years prior, Rebecca had come north to the Pentecostal House of Prayer for All People from Sumter, South Carolina to live with her younger sister, Henrietta, who already called this church home. In 1949, just days after arriving in Brooklyn, Rebecca met her future husband, my grandfather Richard who was handsomely dressed, but singing off key in the Pentecostal House of Prayer men's choir.  Richard was also from Sumter although the two had never met. It is rumored that he'd fled to Brooklyn after he killed a man who proclaimed that my grandfather would be hanged because he owed the lynch man a debt. No one knew much about Richard, not his real age, birthday, or last name. It is also rumored that Richard loved Rebecca's size 16 lap which led to the two fornicating, maybe in the church's basement, until they immaculately conceived a son–my father. Some say Richard, who was the most caring, God-fearing man at church, smacked and kicked Rebecca around at home. One evening after service, she defended herself with a high heel shoe. Unbeknownst to either of them, the point may have jabbed him in his liver where alcohol poison had set in. That night Richard would die in a hospital room hallway, leaving behind his only begotten son, my three-year-old asthmatic father Richard Anthony Moses. Rumor has it that at my grandfather's funeral Rebecca sat in the same pew where she and my grandfather first met.
Thirty years later Rebecca was still sitting in her favorite seat, but instead of kneading Vicks Vapor Rub into my father's asthmatic neck and chest, now she was massaging it into mine. She was ensuring I could breathe in the New York summer's suffocating heat, when a group of spirits must have crept into my grandmother's shoes and then into her stomping feet. The spirits ran up her calves like fire ants until her legs shook and finally, she had to take me off of her lap and place me and my Vicks Vapor Rub down on the wooden pew beside her so the spirits wouldn't get inside of me.
The ants took over Rebecca's body in waves, forcing her to stand and then march and then slow dance out into the aisle and up to the hand carved cross covered altar at the front of 1926 Prospect Place–leaving behind a teary-eyed, terrified, menthol smelling me. With the spiritual ants now in her hair and mouth and eyes, my grandmother bellowed to her church family with a guttural childbirth like plea, "I was glad when they said unto me," her arms outstretched to the heavens, "Oh let us go into the house of the lord." And at once, as if a summer's breeze rushed in off the East River, and its mighty wind blew down heaven's front door, as if ancient spirits had been summoned by my grandmother's cries, in flew 1926 Prospect Place's invisible legion inhabiting my real parents and play parents and real grandparents and play grandparents and church aunts and church uncles  in ways that caused them to holler, run, drop, twirl, twist, and shake without control.
This is how I met my play grandmother– Regina. Regina was a hairy tween. A step half cousin with big hands and a light mustache and peazy arm hairs. She was not afraid of my Auntie Jeannine, my father's play sister on his cousin's mother's side who I am named after, passing out with a scream. Auntie Jeannine always passed out with a scream when the spirits came. Regina slid in on the far side of the pew next to a clinging, pleading, tantruming me. I was caught alone in a whirlwind of spiritual milieu and my play grandmother was here to save me. Or so I thought.
"Don't be a crybaby," Regina said, pretending to laugh and cry like the cartoon on the side of the Crybaby's candy box. Her sugar filled siren song lured me closer and closer to the cross at the end of the wooden pew. I gave her a half smile and scooted toward her with my hand out, trusting her enough to wipe my tears and give me more treats.
"Let me show you something," Regina said, swiping the Vicks and taking me by the arm passed my passed-out Auntie Jeannine, passed the piss smeared bathroom and downstairs into the dimly lit basement where our families congregated for dinner in the evenings and other manners of mischief we, all the while popping handfuls of sour candy into my cheeks.
The basement was like a little city—down here the older kids were our strict play mothers and play grandmothers and all of us toddlers were their human baby dolls.
Everyone was busy. Some play mothers and play grandmothers were doing their human baby doll's hair, some were reading books to their human baby dolls, some were dressing and undressing their human baby dolls' from head to toe. Some play mothers and grandmothers played church, jumping and chanting and pretending to have ants in their pants like our parents upstairs.
Regina's playhouse was a neat area between two cafeteria tables. She put a purse full of Chico Sticks and Crybabys and Now Laters and lollipops on my shoulder and went to kiss me on the cheek.
"You smell like…"
"Vicks," I wheezed.
"Are you a smart girl?"
I shook my head yes.
"Are you a good girl?"
I shook my head yes.
"Are you a sweet girl?"
I shook my head yes.
"Say yes grandmother," she petted me like a kitty before sitting me down in a chair.
"Yes, grandmuva," I replied through a jaw full of Now and Laters. And then Regina told me to stay quiet unless she told me to speak. Twirling on the toes of her patent leather Mary Janes, she was off to boss around her other human baby dolls.
"Clean this room. Do your homework," she commanded, handing out stinging hand pops to those who disobeyed.
When Regina came back to our playhouse, I was a good listener and hadn't by moved an inch. She picked me up onto her lap and held me close like my real grandmother would.
"Good girl," she huffed, flustered from taking care of so many play children. With my head to her chest, I listened to her hurried heartbeat, and sniffed in her musky church sweat, and tried to ignore the thumps from our families dropping like fallen angels to the ground upstairs above our heads..
"Eat this," she shoved two more Crybabys into my mouth. I sucked the candy with sour sore lips and stroked her peazy arm hairs until I started to fall asleep.
"I think you need more Vicks," she interrupted my dream, reaching into her pocket for the bottle. "You sound like it hurts to breathe." It did.
And then, Regina was just like my real grandmother, rubbing clumps of camphor, menthol, spirits of turpentine, oil of eucalyptus, cedarwood, nutmeg, and thymol in circles down my bare bird chest and back. But not like my real grandmother when she started rubbing it generously on my legs, then my knees, like that would help me breathe. It did not.
"You need to pee?" she asked.
I shook my head no.  Which I guess she mistook for permission to put her manly hands up my pretty purple peasant dress.
"You sure?" she said, her nails scratching the walls of my inner thighs. "Lemme check."
I shook my head no.  Which I guess she mistook for permission to rub the outside of my Sunday best polka dot panties.
"What about now?"
I shook my head no. Which I guess she mistook for permission to insert her fingers of camphor, menthol, spirits of turpentine, oil of eucalyptus, cedarwood, nutmeg, and thymol up inside of me. I winced and cringed and lost my breath from the icy heat, but Regina kept her hands there in my Sunday panties, vapor rubbing me to death. I bit down on my Crybaby, but couldn't cry. I held it in, stared at the blank white wall and gasped for air–taking short staccato breaths to the rhythm of 1926 Prospect Place's drum beat. "Don't be a cry baby. Don't be a cry baby. Don't be a cry." I sang inside my head.
"Little Jeannine is my granddaughter now," Regina announced to the group of play grandmothers, her hand still up in my dress like a ventriloquist. I musta looked like a real dummy. No one said otherwise. No one objected. The city was busy.
That evening, after the spiritual ants disappeared into their mounds, Regina returned me to my real grandmother who thanked Regina for taking such good care of me. Our church family congregated in the basement for our weekly meal of crispy fried chicken, creamy canned corn, parboiled white rice, and sweet buttery cornbread.
"Eat this," my real grandmother insisted, "or you won't get cake." She held a spoonful of rice and chicken to my mouth.
Cake was my favorite. But I was not hungry.  I was not speaking. I could not breathe.
"Is she ok?" Regina walked up behind me smelling of camphor, menthol, spirits of turpentine, oil of eucalyptus, cedarwood, nutmeg, and thymol.
"She's good…" my grandmother was about to say to Regina, when my pee started to puddle beneath my seat.
"Bad girl," my grandmother said, popping my right hand to the tempo of her speech. "You're supposed to tell someone."
"Yes."
And with the last stinging pop, finally I could cry, but not scream.
---
For the last 10 years, Jeannine Cook has worked as a trusted writer for several startups, corporations, non-profits, and influencers. In addition to a holding a master's degree from The University of the Arts, Jeannine is a Leeway Art & Transformation Grantee and a winner of the South Philly Review Difference Maker Award. Jeannine's work has been recognized by several news outlets including Vogue Magazine, INC, MSNBC, The Strategist, and the Washington Post. In Nairobi, Kenya, Cook facilitated social justice creative writing with youth from 15 countries around the world. She writes about the complex intersections of motherhood, activism, and community. Her pieces are featured in several publications including Broad Street Review, Philadelphia Inquirer, Root Quarterly, Printworks, and midnight & indigo. In addition, she has been published by Princeton University Press. Jeannine is the proud owner of Harriett's Bookshop in the Fishtown section of Philadelphia, Ida's Bookshop in Collingswood, New Jersey, and Josephine's Bookshop in Paris, France.