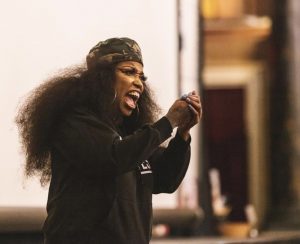 Year 2. For the last two years, we have lived and witnessed a level of community that we believe is worth a testimony.
Our testimony is that we've witnessed folks bring us cases of water to get through sidewalk sales in smoldering summer heat; we've watched piles of love letters and thank you cards and flowers and awards stack up behind our desk from well-wishers; we've hosted author readings on street corners and the orchestra in our living room and athletes and artists of every genre lend us their best.
Our community has ensured a few dozen youth have a safe nourishing place to call home–running daily operations, hosting our pop-up shops, book giveaways, and now the trolley tours.
Our community drives us to write more, and build more, and to listen more even in the face of the overt and covert vileness that seeks to take the best of us away from us. Did you know somebody almost got away with me?
Our sister bookshops are a social experiment in sisterhood and even under undeniable odds, we are thriving and flying where it matters most. But, as with any experiment, there are results to report.
The lyrics from Ntzoke Shange's 1976 choreopoem, for colored girls who considered suicide when the rainbow was enuf, provide context for one of the revelations that we wish to address–
"Somebody almost walked off wid alla of my stuff," Shange's character, Lady in Green, says as if swats these words with her hips as she shares about being in love with "a kleptomaniac who was workin hard at forgettin while stealin/stealin all my shit."
On our journey, we are more and more often finding institutions, corporations, organizations, media engines, and political figures who are way too similar to Lady In Green's kleptomaniac lover. We are finding institutions that we have "made way too much room for" attempting to seduce us into long term relationships, and even birthing their children, knowing just like "a man who's ego walked round like Rodan's shadow" that they have no intentions of true love.
Instead there is a demand for our votes, our dollars, our attention spans, our memories, our signatures, our image and likeness, and all manners of coercion to try to steal our "anonymous ripped off treasures." But this stuff is mine, Mr. Lousiana Hotlink.
This is not the first time that institutions, corporations, organizations, media engines, and political figures have tried to take off with "our stuff in a plastic bag beneath their arms." This is how it has gone for generations–through the slavery and the civil war and the jane crow and the jazz and the renaissance and the marches and the redlining and the free breakfasts and the cyphas and the cross colors at every turn taking a dime for things that we didn't even know we had. "Why dont ya find yr own things," Shange's Lady In Green says as she shimmys.
But the warning in Shange's piece is not for the greedy lover that we have made too much room for; we expect them to behave the way they have always behaved. No, the Lady in Green is calling out to her sisters from a place of both shock and caution. She reminds us that they can't have us, unless we give us away. That it is our responsibility to hold on to our stuff and to get it back if and when it gets confiscated.
Unfortunately, in the past, while some stood firm in the conviction that "I gotta have me in my pocket," others were freely given up "our fried plantains/ pineapple pear juice/ sun-ra & joseph & jules in exchange" not realizing that we are the only ones who can truly handle our stuff. Giving it up, generation after generation, is like throwing our stuff in the sewer. It's like a mammy nursing her master's baby, while her own children starve. Some stuff ain't for sale. Our stuff is not up for commodification/publication/classification/gentrification/decoration/replication.
So yeah, we taking our stuff back. We want our rhythms & our voices. We want our open mouths. We want our arms wit the hot iron scars. We want our legs wit the flea bites. We want our calloused feet & quik language. We want our stuff.
Say it loud, like the Lady In Green,
Our own things'/ that is our name.
---
For the last 10 years, Jeannine Cook has worked as a trusted writer for several startups, corporations, non-profits, and influencers. In addition to a holding a master's degree from The University of the Arts, Jeannine is a Leeway Art & Transformation Grantee and a winner of the South Philly Review Difference Maker Award. Jeannine's work has been recognized by several news outlets including Vogue Magazine, INC, MSNBC, The Strategist, and the Washington Post. She recently returned from Nairobi, Kenya facilitating social justice creative writing with youth from 15 countries around the world. She writes about the complex intersections of motherhood, activism, and community. Her pieces are featured in several publications including the Philadelphia Inquirer, Root Quarterly, Printworks, and midnight & indigo. She is the proud new owner of Harriett's Bookshop in the Fishtown section of Philadelphia.