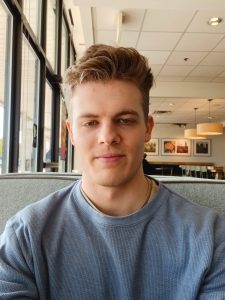 The headline says, "Rosebuds on remote
island die from water shortage,"
and for the next three weeks, the networks broadcast
the bees that are lacking honey, shaming
the greedy Americans for their plastic water bottles.
"If only they could wait a day for another cup of coffee,"
the article begins, "the rosebuds would receive
their fair share of water and could feed
the bees that are shriveling into jellybeans."
Overcome by guilt, the Americans try to save
the dehydrated blooms. They shut off their water and
live like gatherers. Anyone seen within arms distance
of a faucet is fined three hundred dollars.
After three months of conservation, they're told
the rosebuds still haven't recovered, so the Americans
storm the island carrying truckloads of water,
heartache, and honey. Upon arrival, flocks of bees
buzz overhead, and the Americans are greeted by a field
full of vibrant red. The Americans clink their keys
in their pockets and shuffle around. The next minute,
everyone gets a headline alert that says,
"Rosebuds on remote island have risen."
---
Chris Faunce is a writer from Pennsylvania. He graduated from Drexel University in 2023 with a degree in Civil Engineering. He won Drexel University's Creative Writing Award for Poetry in 2019.