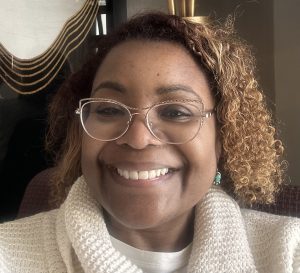 Letter from the Editor
Trish Rodriguez—Editorial Director, Philadelphia Stories
This year, I had the honor of choosing the Marguerite McGlinn Prize for Fiction finalists after several years of reading for the contest and being the contest coordinator. This has been no small feat. I worked with Teresa FitzPatrick, our Fiction Editor and Fiction Contest Coordinator, as we narrowed the hundreds of stories to submit the most resonant and well-crafted to this year's judge, Oindrila Mukherjee, Ph.D. Oindrila was a previous second-place winner in 2015 with her story, "Cul de Sac." She has gone on to great acclaim with her debut novel, The Dream Builders, published by Tin House Books this year.
It is also with bittersweet feelings that I must announce that this will be the last year for the Marguerite McGlinn Prize for Fiction. We will miss working with and receiving support from the McGlinn/Hansma family. They have decided to focus more on the devastating disease that took their precious Marguerite away from them, pancreatic cancer, which has touched and devastated many of us. We appreciate the time, effort, and support for the McGlinn fiction contest that the McGlinn/Hansma family has provided to Philadelphia Stories these past ten years. To the McGlinn/Hansma family, we at Philadelphia Stories extend a heartfelt thank you. We would also like to thank all those who have submitted to the contest, read for the contest, and our past contest winners. Personally, I am thankful to have been a part of it. I am glad to have read so many excellent stories.
Reading for a contest is one way to recognize how subjective getting published is. There are so many great stories floating about in the world. Only a few can fit in the small, allowable space. I chose the stories I connected with out of those filtered by Teresa and our contest readers for Oindrila to decide which would receive the top prize. We read anonymously without knowing the writer's background or publishing history. We just wanted to be moved by great stories.
Here are the winning stories with comments from Oindrila Mukherjee
First Place:
"Mirage" by Astha Gupta, Ann Arbor, MI
"Mirage" is a haunting story about grief and how it follows us everywhere, told in lyrical prose that evokes the melancholy beauty of landscapes, both geographical and emotional. It left me feeling both heartbroken and hopeful at the same time.
Second Place:
"The Doppler Effect" by Madeline McGrain Githler, Pittsford, NY
This quietly gripping story about memory and loss is set in such peaceful surroundings, and yet it has the low, sinister rumble of a train running through it, building suspense to an almost unbearable crescendo.
Third Place:
"The God of Ugly Things" by A.J. Bermudez, Boston, MA
"The God of Ugly Things," set against a chilling backdrop and told in such authoritative prose, is a stunning depiction of how power and control can shift suddenly in a relationship, changing everyone forever.
The Editor's Choice:
"Vicks Vapor Rub Covered Baby" by Jeannine Cook, Philadelphia, PA
With its rich details and strong voice of family legacy, "Vicks Vapor Rub Covered Baby" struck such an emotional punch that we had to include this story, which can be read online.
The other finalists were, in no particular order:
"Stunt Boy Bishu" by Nivedita Majumdar, San Bruno, CA
"Levittown" by Tina Smith Brown, Philadelphia, PA
"Daniel 9:22," by Atlas Chambers, St. Petersburg, FL
"Anomaly," by Laurel Sharon, Stamford, CT
"The Blond Bullfighter and the Police Parade," by Viviane Vives, Spicewood, TX
"Chicken Grease," by Mikhayla Robinson, Athens, GA