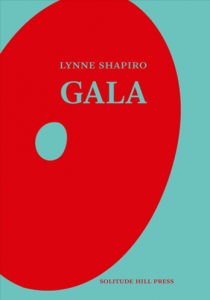 Review by Susan Williams
The poetry collection Gala by Lynne Shapiro is a transcendent collection exploring in detail the intricacies and themes of art by using a few specific works pictured in the book to guide the reader through her experience. Akin to taking a slow walk through a gallery, the reader is pulled along by a thread as the collection circles around and back again, creating an image all its own using themes of discovery, recollection, and identity. Throughout each reading of this collection, readers will find themselves discovering something new and exciting, perhaps an image they had glazed over or a connection from one piece to another. This collection is beautifully unfolding onto itself into a larger and more complex work of art. Over the course of the collection, works tie and weave into one another creating a delicate and sophisticated braided structure that keeps the audience anticipating the next strand and wondering how its themes will further expand and saturate the collective themes of musing and art.
Shapiro uses physical pieces of art as framing devices for her poetry throughout the collection, often showing them in photographs to give the reader an image to ground themself in while they read, but it often is presented after the text, which seemingly gives the reader an option to read it in their own way, they can choose to look at the presented image and factor that into their reading experience or choose to form their own image based on the text alone. It is also important to note how Shapiro uses the page space, allowing for the text to have whatever space it needs in order to breathe and hold its full effect. It frames each of the paragraphs like a piece of artwork hanging on the white walls of gallery, much mirroring the subject matter of the collection itself and yields to just a slight disruption of the eye that keeps the audience guess and looking for more. Throughout the work, you can take note of how Shapiro sees art and the reverence with which the admires different pieces, and yet also see glimpses into her wit as she includes asides throughout the collection as cheeky jokes between her and the audience themselves.
Throughout the book I found several lines to be irreverent and particularly hard-hitting. In "The Gala Apple" the audience is given two simple lines, "Is the original sin the desire for originality? – Is it the immortality that we're after?" It is this two lines I find will resonate in the hearts of all people who desire to create or consume art in any medium, as all art stems in at least some capacity from originality. There is this ongoing idea of the apple and sin throughout the collection, which ties back not only into christian mythology but is connected to so many other mythological beings in the collection as it clings tightly to the themes of temptation.
I would greatly recommend "Gala" by Lynne Shapiro to everyone I know who has appreciated art in their life time. For both poetry aficionados and to those who are rather unfamiliar with the genre, this collection is an excellent read to get you thinking about the nature of art and how it is created, not to mention what it all means on both a worldly and personal scale. "Gala" highlights the importance of the consumption of art in our everyday lives and how doing such can build connections and widen our view to a perspective beyond our own sometimes narrowed views of the world.
---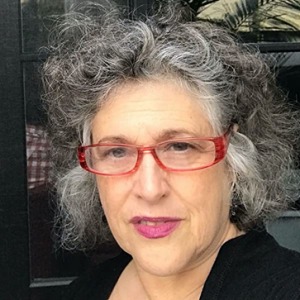 Lynne Shapiro is a poet and essayist living in Hoboken New Jersey.  Originally from Ozone Park, Queens, Lynne moved to Culver City, California when she was a pre-teen. She studied Comparative Literature at San Diego State and Brandeis University, where she earned an MA.  After graduate school, she moved to New York City to work at Farrar, Straus and Giroux Publishing company.  For over a decade she worked at the Whitney Museum of American Art and was a member of the faculty at Parsons/The New School in New York and at Hudson County Community College in New Jersey.  Culture and nature intertwine in her work to reveal a desire for wildness, magic, rootedness and authenticity.
Reviewer: Susan Williams is a graduate of Susquehanna University and writes fiction.