Runner Up: 2020 Sandy Crimmins Poetry Contest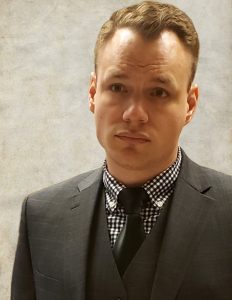 All any relationship boils down to
is are you willing to do this for me
or aren't you? Hoss and tapioca
and what remains of your life all balanced
precariously on a plastic spoon.
Every week, the grown Cartwright boys learn
another life lesson from their father
who has seen some things in his day, who knows
better. And maybe all death really is
is gradual unlearning, the pudding
crusting in your beard like infant spit-up.
I have driven two hundred miles each day
for two weeks to be here to watch old shows,
nurses prodding, your chest rising, falling,
but these are the distances that matter—
spoon to mouth, screen to face, son to father,
father to grave. Your thousand-yard stare's fixed
vaguely on the wall-arm television
where Michael Landon is falling in love
with Bonnie Bedelia, and we know
(half-century old spoiler) that Hoss dies
offscreen because Dan Blocker dies offscreen
from botched surgery. But it is enough
to know the twangy theme is still playing,
galloping into and out of the room,
even when the spoon scrapes an empty cup,
even when we pull the sheets all the way up.
---
Chad Frame's work appears in Rattle, Mom Egg Review, Barrelhouse, Rust+Moth, and other journals and anthologies, as well as on iTunes from the Library of Congress. He is the Director of the Montgomery County Poet Laureate Program and Poet Laureate Emeritus of Montgomery County, Pennsylvania, the Poetry Editor of Ovunque Siamo: New Italian-American Writing, a founding member of the No River Twice poetry improv performance troupe, and founder of the Caesura Poetry Festival and Retreat.