by Steve Burke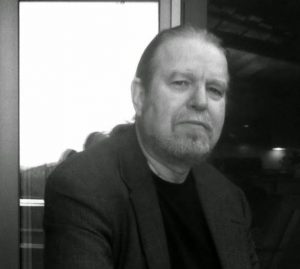 "This world is the other world too."
– Tomas Tranströmer
Sometimes the first sip is enough: shadow
ribboning into the depths, the casting
of a spindly Giacometti striding-figure.
Skeleton of music, of imagination, out
on a lawn I would keep trimmed religiously,
a caretaker sunburnt and weathered
in the name of Stillness – a stillness
that makes a case for inherent grace, that
reminds us how we move through this world,
a non-stop exchange of touch.
Alberto, you've confirmed what I've long suspected:
the soul resembles bone. Hard but darker,
coarsely-surfaced enough to skin knuckles.
But which, if the ground begins to shake,
can be gripped as if embracing another 'you' –
the one you're glad to see, the one who
runs next to your speeding train, taps your window,
then gives a little wave before peeling off, laughing,
toward the other world.
---
Steve Burke's poems have been published in a number of journals & magazines; has had two chapbooks – After The Harvest & For Now – published by Moonstone Press. He worked for many years as an obstetric nurse; lives in the Mount Airy section of Philadelphia.