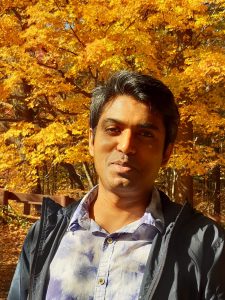 A young white officer asks her in heavily accented Bengali, "What's the purpose of your visit?"
"Cancer," Ameena replies in English, standing in front of a glass window. "My husband cancer."
The officer at the American embassy, Dhaka, gives her a sharp look, checks her papers, then abruptly disappears through the side door. When he returns, he types on his computer, and says her visa application has been approved.
Ameena thanks Allah that the man hasn't asked her any complicated questions about her husband. Twenty years ago, when Selim left for America, she was thirty-one, her son was five, and her daughter three.
Selim never returned.
The first few years he called every week and sent enough money that she was contemplating buying a small apartment. Then came the attack on the Twin Towers, and he lost his job at the store in Manhattan. That was when all the trouble began.
Outside the embassy, Ameena catches her son smoking on the street. He drops the cigarette and crushes it underfoot. "Did you get the visa?" he asks.
Ameena nods.
Beside her son in an autorickshaw, her mind wanders back to the early days of her marriage. Selim smoked a pack of Benson & Hedges every day. He loved spending time with friends and talking politics at the neighborhood cafés. He worked buying stock from garment factories and selling them to the local clothing stores.
She thinks of the day Selim took her to a char island. He had heard about this newly deposited expanse of land in the River Meghna. One Friday, they had an early breakfast and took a bus to Narayanganj. From there they had a long but refreshing rickshaw ride on dirt roads through farmlands—mile after mile of mustard fields. The scent of mustard flowers in the spring breeze was intense, intoxicating.
It was a beautiful day. After the boat dropped them off on the island, they wandered about for a few minutes and spotted no sign of human presence anywhere—only a vast, sandy land surrounded by water. Selim pulled her hand and they ran like children. He stopped and gave a Tarzan's jungle call, cupping his hands around his mouth. "Ameena," he shouted, "how about we never go back, and just live here? We'll be the king and queen of this island."
"Yeah, that'd be fantastic!" she said.
They walked side by side, his arm draped over her shoulder. They dipped their feet into the water of the Meghna. Then without warning he picked her up in his arms. She found herself dangling above the water. He rocked her body, saying, "I'm dropping you."
"No!" she screamed.
He laughed and kissed her.
**
After Selim lost his job in Manhattan, Ameena heard from him less and less. Whenever he phoned, he talked about uncertainties. Illegal immigrants were being detained. He didn't go out much fearing deportation. The other day, he said, a fat white man spat on him in the street, calling him a terrorist, telling him to go back where he came from. That same day, after getting home, Selim shaved off his short black beard.
When he had said this, Ameena had trembled and tears raced down her cheeks. She didn't mention she was having bad dreams about him. Just the night before, she had screamed for help as Selim was dragged into the street and beaten. She woke up panting, soaked in perspiration. When she came to her senses, she clasped her shaking hands together hard and asked Allah to keep her husband safe. Later, in her dawn prayer, she also prayed for the recovery of the Bangladeshi man she'd heard on the news had been shot in the face at a Dallas gas station.
"Please, come back home," she implored Selim. "We don't need American dollars. We will be happy here together."
Selim said he was moving to another state soon. "You know, Ameena, it's a great country to live in, but you need the legal status."
Months after he settled in New Jersey, his friend in New York called to tell her that Selim was living with a Mexican woman.
In April, when Ameena finally received a call from Selim, she exploded. He tried to explain that he just rented a room in her apartment in preparation for entering into a contract marriage. "Ameena, don't be mad. Some people do it here to get papers. It's not real."
She cried and begged him to return home immediately. "You have to choose either me or your America."
"Ameena, listen—"
She wouldn't listen. She yelled and cursed him. She asked him not to contact her anymore. "Many wives become widows at a young age," she said. "I'll consider my husband dead."
Ameena moved in with her mother. She loved to sew. She became a seamstress for neighbors, friends, and relatives. They paid her well, but she could meet only half of her expenses. Her twin brother, who had a thriving import business, started giving her a monthly allowance.
When anyone asked Ameena about her husband, she faked a smile and said, "He lives in America." Selim phoned occasionally to speak with the children and wired money prior to festivals. Then news reached Ameena that her husband had moved out of the home of the Mexican woman; his plan didn't work out, and now he was sleeping with a white woman. Five years later she heard from someone that his asylum application had been granted. But his new status wouldn't allow him to travel back to Bangladesh. She didn't understand.
Not long after, her son made her tea in the evening and said, "Daddy wants me to study in the U.S."
For half a minute, without a word, Ameena observed her nineteen-year-old son. Her face slowly tightened. "Never," she said. "You want to be like your father?" She pushed the cup away, spilling tea on the table.
**
In September 2016, Ameena learned from Selim's sister that he had lung cancer. At the end of the year his health deteriorated, and he had surgery. Could she fly to America to take care of her husband, his sister had asked. Ameena said no, and again she was asked in December. Then, in January, Selim called. She heard a forgotten yet familiar voice, now scratchy and strained. She pursed her lips but couldn't form any words. After a moment she managed to speak. Her words and his words were punctuated by long pauses. He told her that he would send the necessary papers. She would need to get a passport.
Her interview at the embassy was scheduled in early April.
**
Ameena has never felt so distinguished in her life. For the last three months, no matter who she met, she has heard the same question: When are you going to America?
Her flight is at one in the morning. A day's journey from Dhaka to New York, with a four-hour layover in Dubai. A bus is hired to carry her relatives, who insisted on coming to the airport to give her a send-off. They all hug her, and some cry at the immigration checkpoint.
She starts sweating when boarding begins. It's her first time flying. She is given a window seat, and a flight attendant helps her fasten the seatbelt. She stiffens and holds her breath as the plane takes off. She says a prayer, and for a moment thinks she will never see her husband or her children again. But before long she realizes that the aircraft is in midair, and she gazes in wonder at the glittering skyline of Dhaka.
**
In the arrivals lounge at JFK, Ameena catches a stranger waving his hand at her. She does not recognize him until she hears her name. Selim is shockingly thin, his face so red, Adam's apple sticking out. His head is shaved. Back home on her bedroom wall there is a family picture in which their children are standing on either side of Selim and her. Twenty years later, he matches so little of his earlier self, scarcely resembling that image of him anchored deep in her memory. It must be the cancer, she decides.
"You haven't changed much," Selim says in the car. He peppers her with questions. How was the flight? Did she face any problems anywhere? In Dubai? At immigration? He breathes heavily between sentences.
From the driver's seat his friend, Rafiq Bhai, glances at her in the rearview mirror. He says it was his idea to get her assistance at Dubai Airport, so she wouldn't have to struggle with her limited English.
"You've come at the right time," he says to her, stopping the car before a condo. "It's almost summer here."
When Selim reaches for the luggage, Rafiq Bhai says, "You're not supposed to lift anything heavy."
In the elevator, Selim stands close to Ameena, his body brushing against hers. His breathing is labored and rapid.
Selim opens an apartment door numbered 17 and guides her into a sizable living room. His friend leaves, saying to call him whenever they need him.
"You can freshen up," Selim says, pointing to another room. "I'll warm up some food."
Ameena takes one of her suitcases into the bedroom and shuts the door. She hears laughing and loud conversation emanating from outside. Through the window she peers down at the balcony of the apartment opposite. Wine glasses in hand, a couple of men with women in skimpy outfits are sitting in the late afternoon sun. She checks the window, but it has no curtain like back home. She moves into the corner of the room and changes into salwar kameez.
At the kitchen table, there is rice, mashed eggplant, chicken curry and dal.
"Eggplant?" She eyes him. "You don't eat eggplant."
"But you like it," he says, serving her rice.
"You cooked these yourself?"
He nods, asks how the kids are doing.
"Oh, I need to call them!" she says.
"I messaged them already."
She looks at his plate. He has taken a small portion of rice. He meets her eyes and says, "I can't eat much."
A small sigh escapes her lips.
He coughs. "It's the chemo. It kills the appetite."
She eats in silence. He eats in small bites.
"You're a good cook," she says.
After dinner, while Ameena does the washing-up, Selim makes her milk tea.
"Do you still take two spoons in your tea?" he asks.
She smiles. "No, one spoon now."
He hands her the tea mug. Her fingers touch his for a second.
An hour later, as she yawns, Selim tells her to get some sleep. Ameena goes to the bedroom. When she wakes up, everything is quiet and dark. She peers out the half-open window; the night sky is clear, with a crescent moon. She slips out of the bedroom to use the bathroom and finds Selim asleep on the living room sofa.
**
The following day he takes her to an Indian grocery store, just around the corner. On the streets she spots Bangladeshi faces, hears them talking aloud, and makes out a Bengali song blaring from a jewelry shop. "It doesn't feel like America here," she tells him on their way home.
"It's Jackson Heights," he says, laughing. "A little Bangladesh."
Ameena looks for spices in the kitchen cupboard and sets to cooking. Selim wants to help, but he starts coughing.
"Are you okay?" she asks.
"Yes, just tired."
"Why don't you lie down?"
"That's what I do most of the time. Let me sit at the table and talk to you."
He grabs a chair and inhales. He tells her that he drove a taxi for years, until last August, when he got the diagnosis. That was when he quit smoking.
That night Ameena settles in the sofa bed and says Selim should use the bedroom.
"You have health issues," she says. "You need a bigger bed."
"Why don't we share the bed instead?" he says.
She holds his gaze. He lowers his eyes and enters the bedroom. Rubbing lotion on her hands, Ameena stretches out on the sofa. The rooms are still; the only sound she hears now is Selim's wheeze, rhythmic and loud as the ticking of a clock at night. His words echo in her head. Why don't we share the bed instead?
She slides off the sofa and tiptoes into his room. In the semidarkness, she makes out his eyes, looking at her. He moves over and makes room in the bed. For a long while, lying side by side on their backs, they stay silent. Then he places his hand on hers. She trembles. His hand is cold.
"I'm sorry," he says.
She doesn't answer. Eyes closed; she sees Dhaka: The small one-bedroom apartment they rented after their marriage. Their Saturday nights at the movies. Their first vacation in the mountains of Chittagong. The birth of their first child.
In the first few months, after Selim left for America, she hardly slept at night, staring at his empty side of the bed. She missed his touch. His smell. His cigarette breath. His occasional snoring.
"Forgive me, Ameena," he murmurs and rubs the back of her hand. "I'm happy you came."
She sighs, staring up at the ceiling. She imagines unknown figures—the women her husband slept with—filling in the two-inch gap between her and him in the bed, pushing them apart. Hispanic, white…were there more? She feels small. Tears spill from the corners of her eyes.
**
Ameena gets up early, says her morning prayer, makes herself milk tea, and watches the day breaking from the balcony. Then she reads the Quran while sitting at the kitchen table. At eight, she wakes Selim for breakfast.
Every other day she visits the grocery store by herself to buy vegetables. Often Selim asks her to check the mailbox on her way back. She doesn't understand the washing machines in the building's basement. She prefers to hand-wash their laundry in the bathtub.
Twice, morning and afternoon, she and Selim sit on the balcony. She sips tea, and he coffee.
"Do you remember the char island in Narayanganj?" she asks him one day.
He squints for a moment and then a slow smile brightens his face. "How can I forget? We spent some beautiful hours there, didn't we?
Ameena grins.
"I enjoyed the boatman's song too," he laughs.
It was already afternoon on the char island, Ameena recalls. She asked him how they would get back to the other side of the river. They'd hired a boat to get here, but no boats were seen anchored at the island. They stood at the shore waving to the passing rowboats in the distance until a man in a canoe noticed them and came to their assistance.
The boatman agreed to ferry them across the river. On board, Selim asked him to sing a song, if he could. The man was in his twenties and chatty. He belted out a Bengali folk song. The world will remain forever as it is. And someday we'll leave this beautiful world behind…  
**
One warm Monday, Selim says, "I'm feeling good today. Let's go out."
He orders an Uber and ten minutes later they are in front of a Bengali clothing store.
"Don't waste money," she tells him. "I've brought enough dresses from Dhaka."
He doesn't listen. He buys her salwar-kameez, a sari, and a pair of sandals. Afterward, he takes her to Hudson River Park. The park is swarming with people. Ameena feels uncomfortable seeing the women everywhere wearing so little clothing.
"Why are they lying like this under this hot sun?" she asks.
"It's called sunbathing. As we love winter in Bangladesh, Americans love summer. So when it's a nice sunny day like this, people come out in the park to enjoy the sun."
They have ice cream. Ameena wonders if Selim remembers that last week was their wedding anniversary.
Later that month, Selim invites his friend to dinner. Ameena cooks all afternoon, then has a shower, and puts on the new sari.
Rafiq Bhai visits with his wife. After the meal, the two men talk about Bangladeshi politics on the balcony. Rafiq Bhai's wife is fairly young. Ameena learns from the woman that she is his second wife. The first wife, in Dhaka, divorced him and married his cousin while Rafiq Bhai was in the U.S. The young woman has been in America two years now. No, her parents didn't force her into this marriage. She herself consented to it because Rafiq Bhai had a green card.
**
On a drizzly day in August, Ameena passes Selim his morning medicines and a glass of water. "Your hair has grown long," she says. "You need a cut."
He returns the empty tumbler. "Do you want to do it? You once gave me a haircut, remember?"
She does remember. It was in the first year of their marriage. On a rainy day in Dhaka, when he was about to set off for a salon with a tattered umbrella, she suggested giving him a trim.
"It turned out not bad," he says.
She smiles demurely. "Do you have good scissors?"
Selim finds her scissors. In the living room, Ameena spreads outdated newspapers on the floor and places a chair on them. With another sheet of newspaper, she makes a hole in the center and slides it over Selim's head to catch the falling hair.
An hour later Selim stands before the bathroom mirror. "It's almost perfect." He looks at her and adds quickly, "That's my fault, of course. I couldn't provide all of the haircutting kit that barbers need."
"See, I have many skills." She leans on the bathroom doorway.
"I know. I'm amazed by your dexterous hands. Maybe we should open a salon."
They both laugh.
Before going for a shower, Selim says, "Ameena, I didn't tell, I applied for you and our kids to come over. It's a lengthy process. The problem is, to sponsor and bring you all here permanently, I need to be employed. But in my current condition—" he pauses and sighs.
She touches his shoulder. "Don't worry about these things now."
**
Over the weekend, they attend a small wedding. The groom is Bangladeshi and the bride, Pakistani, Selim informs her. Some women come to chat with Ameena. "So glad that you made it to the US at last," they say. One short woman about her age sits beside her during dinner. She tells her some of the latest community gossip. A fifteen-year-old girl invited her white boyfriend home when the parents were out, only to get caught by her father who is a devout Muslim and came to the States on DV Lottery. He gave her a good beating. She called the police and had him arrested.
"The child had her father arrested?" Ameena asks. "What kind of daughter is she?"
"Well, this is America."
She tells Ameena she was a high school teacher in Dhaka. Her early days in New York were full of struggles. She started with a cleaning job. "Think of my situation," she says. "I was a respected teacher back home. In America, I had to clean shit in toilets. They call it living the American dream." She laughs and says she now works at a nursing home and earns more than her husband.
**
In early September, Selim has increasing breathing difficulties and coughs up blood. At night, he sleeps with his head and chest elevated with three pillows. Ameena rubs lukewarm mustard oil on his chest. He stays in bed all day now, wearing a beanie she knitted for him.
In October, after two visits to the hospital, a nurse comes to the apartment to set up an oxygen machine beside the bed. She shows Ameena how to use it and tells her to call 911 in case of emergency.
Some weeks after, on a cold and windy evening, Selim is moved to the hospital. Ameena is allowed to stay overnight with him. Rafiq Bhai chauffeurs her back and forth to the apartment. A few days later, she learns how to take a bus. It's only five stops to the hospital. She cooks and brings meals for him, but he cannot eat. He drinks very little.
The next Saturday it is bitterly cold. That afternoon is the last time Selim can breathe without the ventilator.
"I wish I never came to America," he says, his hoarse voice almost a whisper. "Wish I could turn back the time."
"You really think so?"
"I regret what I've done to you, to our children." He pauses and coughs. "I don't expect you to forgive me."
"I've forgiven you already. That's why I agreed to come."
"You have a great heart, Ameena. I am—I've been terrible."
"Oh, don't say that. You'll get better soon." She interlocks her fingers with his. "After you get well, we can visit Dhaka and I will take you to the char island."
His face beams, then darkens, and then his eyes get misty.
He goes into a deep sleep. He stops responding. Tubes crisscross his body.
**
Rafiq Bhai manages everything. Hospital, burial, certificates. She has to sign a lot of papers.
It starts snowing on the day of her flight. She stands motionless by the bedroom window, watching the silent snow whitening the earth. Everything is so gray, so barren. Ameena thinks of Selim's phone call the first time he saw snow. She asked him what it looks like. "It's like cotton floating in the air," he said. Ameena slides the sash open. She extends her hand through the window to feel the falling flakes on her palm.
---
Rahad Abir is a writer from Bangladesh. His work has appeared in The Los Angeles Review, The Bombay Literary Magazine, Himal Southasian, Courrier International, The Wire, BRICK LANE TALES anthology, and elsewhere. He has an MFA in fiction from Boston University. He received the 2017-18 Charles Pick Fellowship at the University of East Anglia. Currently he is working on a short story collection, which was a finalist for the 2021 Miami Book Fair Emerging Writer Fellowship.